Emerging Currencies Fall as U.S. Jobs Outlook Stokes Fed Concern
by , , and
Gauge of exchange rates weakens for third day in a row

Oil rally lifts equity benchmark as energy companies rise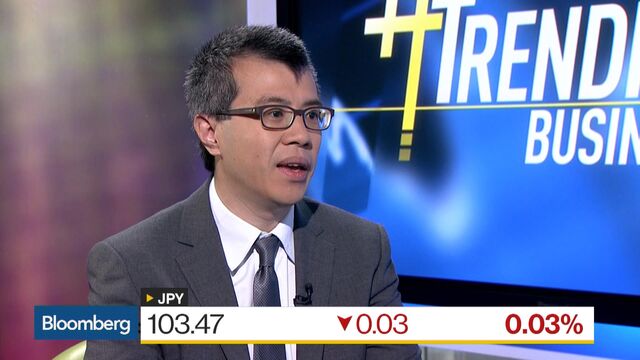 Emerging-market currencies fell for a third day as better-than-forecast U.S. jobs data strengthened the case for the Federal Reserve to raise interest rates, damping demand for riskier assets in developing nations.
The MSCI Emerging Markets Currency Index slid 0.1 percent, capping its longest streak of losses in three weeks. South Africa's rand was the worst performer. The Russian ruble rose and energy companies buoyed the developing-nation equity benchmark as Brent crude sold for the highest price in four months amid growing speculation that a global oil supply glut may clear.
Currencies weakened after a report showed U.S. jobless claims near a four-decade low. It was the latest sign that the world's largest economy may be able to withstand an increase in the low borrowing costs that have propped up demand in developing-nations as investors search for yield. Futures traders see a 64 percent chance of a Fed increase in December, up about 9 percent at the end of June, according to data compiled by Bloomberg.

"Emerging markets are at a no-man's land at the moment, " said Simon Quijano-Evans, a strategist at Legal & General Group Plc in London. "On the one hand, there is new money coming in. And on the other, everyone is wary about the U.S. elections and the Fed move. But there should be some support as we move ahead because relative growth in emerging markets versus developed markets is picking up."
The MSCI currency index has slipped 0.1 percent this month as equities gained 1.5 percent. While growing wagers for a Fed interest-rate increase are boosting the dollar and undermining the outlook for emerging-market exchange rates, the rebound in oil and other commodities as well as improving economic and corporate earnings prospects have supported stocks. Analysts increased their profit projections for companies in the MSCI Emerging Markets Index by the most since 2011 in the third quarter.
U.S. exchange-traded funds that invest in emerging markets received a net $817 million in the past five days, taking inflows this year to almost $26 billion, according to data compiled by Bloomberg. Even so, stock volatility has increased in the past two months as investors watch the campaign for U.S. presidential elections on Nov. 8, with concern that a victory for the Republican nominee Donald Trump may endanger multinational trade pacts.
Currencies
South Africa's rand declined 1.3 percent. The Romanian leu slipped 0.9 percent in the second-worst performance. The Indian rupee fell 0.3 percent. Brazil's real lost 0.1 percent.
The ruble rose 0.5 percent, pushing it's two-day gain to 0.9 percent. Oil, Russia's biggest export, rallied 1.3 percent to $52.51 a barrel in London.
The premium investors demand to own emerging-market sovereign bonds over U.S. Treasuries was little changed at 329 basis points, according to JPMorgan Chase & Co. indexes.
South African government bonds due 2026 fell, sending yields six basis points higher to 8.7 percent. The rate has increased 14 basis points in the past two days.
The MSCI Emerging Markets Index rose 0.2 percent to 917.04. A 1.6 percent gain in energy stocks helped offset declines in industries from health care to utilities and telecommunications.
The Hang Seng China Enterprises Index added 1.4 percent in Hong Kong. Oil-related companies dominated the market, with PetroChina Co. reaching a four-month high and China Shenhua Energy Co. advancing to the strongest close since July last year.
South Korea's Kospi index rose 0.6 percent. Samsung Electronics Co. jumped 4.5 percent after the company was urged by activist investor Elliott Management Corp. to restructure its business.
Before it's here, it's on the Bloomberg Terminal.
LEARN MORE