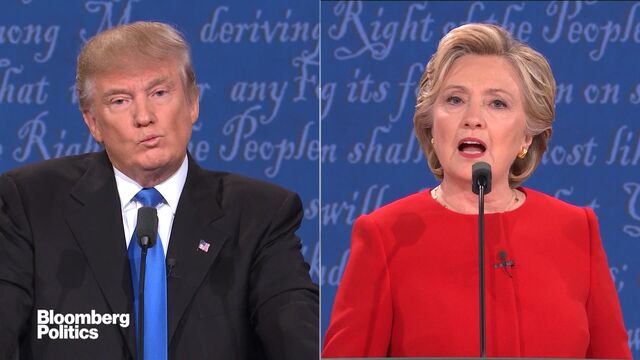 It's official: Clinton-Trump is a ratings hit. An estimated 84 million people watched the first debate between Democrat Hillary Clinton and Republican Donald Trump on Sept. 26, making it the most-watched presidential face-off in history. Their next debate, Sunday night at Washington University in St. Louis, will feature a different format, posing new opportunities and pitfalls.
1. How will Sunday's debate be different?
As has become tradition, the second debate will resemble a town hall meeting, with the candidates free to sit or roam the stage instead of standing behind podiums. Members of the audience -- uncommitted voters, screened by the Gallup Organization -- will ask half the questions. The rest will be posed by moderators Martha Raddatz of ABC News and Anderson Cooper of CNN. They've agreed to consider questions submitted to a website and voted on by the public. As of Thursday morning, the proposed questions with the most votes involve criminal background checks for all gun sales and expanding Social Security benefits.
2. What questions are audience members likely to ask?
Different ones than journalists ask. That's a big part of the appeal, and the peril, of the town hall format. Questions at town hall debates "are less pointed and provocative, less likely to cause the candidates to focus on attack and defense strategies" and more likely to "allow the candidates to talk about what they think and believe," according to a 2005 paper by John T. Morello.
3. What have audience members asked in the past?
Here are some examples from past town hall debates, as compiled by Digital First Media:
"How will your tax proposals affect me as a middle-class, 34-year-old single person with no dependents?"
"Please state your position on term limits, and, if you are in favor of them, how will you get them enacted?"
"Senator Kerry, after talking with several co-workers and family and friends, I asked the ones who said they were not voting for you, 'Why?' They said that you were too wishy-washy. Do you have a reply for them?"
"What don't you know and how will you learn it?"
4. What topics might the candidates try to introduce?
Trump's $916 million business loss on his 1995 tax returns came to light after the first debate, so it's fresh meat for Clinton if she can work it in. Trump might want to bring up the latest lapse in U.S. cybersecurity. He's also made it clear that he'd welcome a chance to discuss Bill Clinton's infidelities, though he told the New York Post's Page Six gossip column that he'll refrain from doing so during the debate.
5. What else to watch out for?
The absence of podiums makes body language speak louder than usual. At the first town hall-style presidential debate, in 1992, President George H.W. Bush was caught by the TV camera checking his watch. In her very first campaign, for a U.S. Senate seat representing New York, Hillary Clinton benefited from a debate-stage maneuver by her Republican opponent, Rick Lazio, that was viewed as an invasion of her personal space. That was during a traditional debate, with podiums. At the town hall presidential debate in 2000, Al Gore pulled a similar stunt by walking up to George W. Bush, again to poor reviews.
6. Who might benefit from the format?
When the Commission on Presidential Debates first tried out the town hall format in 1992, it was a Clinton -- Bill -- who exhibited an early mastery of the form, walking to the edge of the stage to interact with his questioners. Like her husband, Hillary Clinton has shown a skillful touch in small-group settings, though not necessarily in town hall-type settings. Trump's hallmark, by contrast, has been the massive, raucous rally.
7. How are Trump and Clinton preparing?
Trump has been coached by Chris Christie, who built a reputation for straight talk and verbal jousting during the more than 130 town hall meetings he's held as New Jersey governor. Clinton's been focused on policy briefings with her campaign team.
8. Who won the first debate?
Though Trump made much of immediate online polls of readers that showed he won, those surveys are mostly dismissed by professionals. (Slate called its own poll, which Trump won, "totally unscientific.") More rigorous polls conducted in the days following the debate gave Clinton the advantage. She was named the victor by 53 percent, versus 18 percent for Trump, in a Washington Post/ABC News poll. More consequentially, Clinton expanded her lead in national and battleground-state polls after the debate.
9. What did Clinton do well and how might she improve?
When she found herself on unfriendly terrain -- her husband's signing of the Nafta trade agreement, say, or her use of a private e-mail server -- Clinton offered a brief defense and then steered the discussion in a different direction. A more prepared and more disciplined Trump might not let her off so easily this time. If the citizen-questioners introduce a wider range of subjects than the candidates normally discuss, Clinton could get to show off her deeper experience with issues.
10. What did Trump do well and how might he improve?

During the first 30 minutes of the 90-minute debate, Trump painted Clinton as the status-quo candidate in a change election, especially by citing her past support for global trade deals. Trump's focus and message discipline waned as the debate wore on, and his performance provided fodder for a "Saturday Night Live" skit. His supporters hope for a "new, calm demeanor with a sharper focus on his best issues, like immigration," and say Trump could learn from the steady debate performance of his running mate, Mike Pence.
The Reference Shelf

Before it's here, it's on the Bloomberg Terminal.
LEARN MORE