Wavemaker Scores Latest Exit With Sale of Mobile Ad Startup
by
Xurpas acquires Art of Click for roughly $45 million

Wavemaker's strategy focuses on B2B startups in Southeast Asia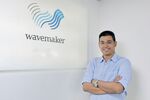 Venture capital firm Wavemaker Partners LLC has secured its latest exit with the sale of a mobile advertising startup to Xurpas Inc. for about $45 million.
Xurpas is buying Art of Click, which helps clients devise ad strategies, to boost its mobile consumer division, it said in a statement. Wavemaker was the sole institutional investor in the startup's seed round and stands to reap a return of as much as 18 times its S$664,000 ($485,000) investment.
Wavemaker, an early-stage venture firm, is acquiring a reputation for speedy high-profile deals, with the latest transaction marking the third exit for its Singapore-focused fund. Last year, it engineered the sale of online cosmetics store Luxola to LVMH Moet Hennessy Louis Vuitton SE -- at an undisclosed price -- just a few years after its inception.
Another of Wavemaker's investments made via its other, Southeast Asia-focused fund, Singapore-based chat app Pie, was acquired by Alphabet Inc.'s Google this year, in the U.S. tech giant's first acquisition in the region.
It has been focusing on startups that concentrate on business-to-business dealings rather than consumers.
"B2B is our sweet spot," managing partner Paul Santos told Bloomberg News. "We have found that B2B founders generally have insights not too many people would have and they generally hit the ground running. Many new founders now come and talk to us through referrals."
Xurpas' acquisition will add to its portfolio of mobile and gaming companies. Art of Click made a net profit of S$2.3 million on revenue of S$15.4 million in fiscal 2016, it said.
Wavemaker's other startups include Structo, which makes 3D printers for dental applications, as well as inventory management software startup TradeGecko and car-sharing service Smove.
Before it's here, it's on the Bloomberg Terminal.
LEARN MORE