Wal-Mart Forecast Disappoints as McMillon Overhaul Continues
By
Company sees more spending on e-commerce, store remodels

Retailer working to compete online against Amazon.com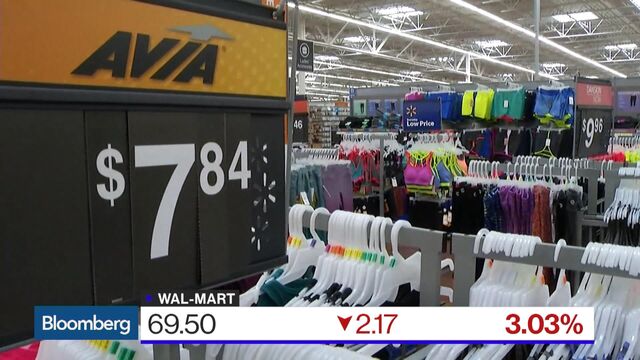 Wal-Mart Stores Inc. is still in rebuilding mode.
While the world's largest retailer has made improvements that spurred better-than-expected growth this year, the company is pulling back on new openings and instead spending more to spruce up its current stores and build out its e-commerce capabilities. With those investments in mind, Wal-Mart said Thursday that net income in the year through January 2018 will be "relatively flat" compared with this year's expected adjusted profit of $4.15 to $4.35 a share.
The outlook -- which missed analysts' estimates and sent the shares sliding -- signals that Wal-Mart sees more work ahead as it attempts to compete with Amazon.com Inc. and draw consumers to its supercenters. Wal-Mart has been pouring money into its website and mobile app, including with last month's $3.3 billion acquisition of e-commerce startup Jet.com, and Chief Executive Officer Doug McMillon said that spending will continue. The company also will use technology to reduce costs in its stores and make shopping at Wal-Mart more convenient, like with its online grocery-ordering program, he said.
"The company is acknowledging the need to move faster, accelerate e-commerce growth, and refocus on core strengths, including price, assortment, and experience," Oliver Chen, an analyst at Cowen & Co., said in a note to clients. "Investments in online growth will be a natural headwind to margins, but this is essential for future-proofing the business for the long run."
Shares of Bentonville, Arkansas-based Wal-Mart fell as much as 3.9 percent to $68.89 in New York, the biggest intraday drop since May. The stock had gained 17 percent this year through Wednesday.
McMillon has attributed Wal-Mart's profit struggles to his decision to pay higher wages and invest heavily in its online operations, but he told investors last year that growth would return once the company moved past those increased costs. Wal-Mart is spending $1.5 billion this year to raise its minimum wages to $10 an hour and improve employee training. In addition to the Jet.com purchase, Wal-Mart also plans to invest more than $1 billion on its digital operations this year.
Bribery Probe
Another episode Wal-Mart is looking to put behind it is the U.S. government's long-running foreign corruption investigation. Officials have proposed that Wal-Mart pay at least $600 million to resolve probes by the Justice Department and the Securities and Exchange Commission into whether it bribed government officials in markets from Mexico to India and China, according to three people familiar with the matter. The retailer has rebuffed the government's request, two of them said. Wal-Mart spokesman Greg Hitt said in an e-mail that the company is cooperating with the government and has no further comment.
For more on Wal-Mart's potential settlement, click here
As Wal-Mart focuses on improving its more than 5,200 U.S. locations, it will significantly slow down the number of stores it is adding. The retailer will open just 35 of its supercenters next year, down from 60 additions in the current year. It will also add fewer of its smaller-format locations, such as its grocery-store-sized Neighborhood Markets, which have been a key driver of growth in recent years. Next year it plans to open 20 of the smaller stores, compared with 70 this year and 161 last year. Analysts have questioned how much further Wal-Mart can expand its big-box model, with more than 90 percent of Americans already living within 10 miles (16 kilometers) of a store.
Outside the U.S., China will become a greater focus for the company. Wal-Mart has struggled over the years to adapt its stores to meet Chinese consumers' tastes and compete with local e-commerce and online grocery providers. Wal-Mart said Thursday that it's boosting its stake in China's second-largest e-commerce website, JD.com Inc., strengthening an alliance to win more market share.
Wal-Mart is signaling that its work may not be complete even after next year. The company said earnings per share in fiscal 2019 will grow about 5 percent. The retailer had previously projected a gain of 5 percent to 10 percent.
"The company will look even more like a tech company and it will move faster and be more customer-centric," McMillon said. "We know we have to change."
Before it's here, it's on the Bloomberg Terminal.
LEARN MORE