U.S. ELECTION WRAP: Clinton Slips in New Hampshire Amid Voter Unease
While Clinton has regained the electoral map advantage since her first debate with Trump, a new poll shows her lead narrowing in New Hampshire.
By and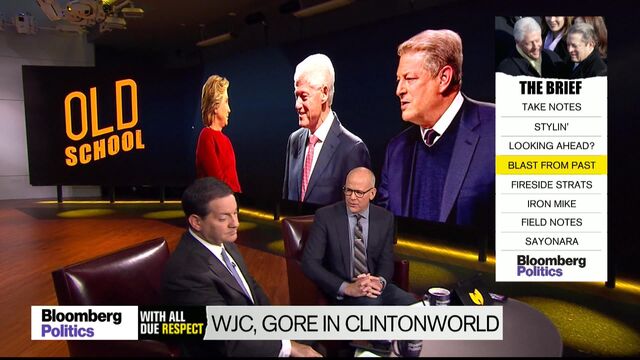 Hillary Clinton and Donald Trump are now in a statistical tie in New Hampshire, an important swing state in a close presidential election, a new Suffolk University/Boston Globe poll finds.
Clinton leads Trump 44%-42%, within the survey's margin of error and below the 6% advantage the Democratic nominee has held in the Granite State over the last two months, Boston Globe reported, citing RealClearPolitics polling average
Libertarian Gary Johnson's support is at 5%, according to the Suffolk survey; that's down from an average of almost 13%, which made N.H. his second strongest state after his home of N.M., according to the newspaper

"What makes New Hampshire unique is the drop of Johnson support, and these voters going to Trump," David Paleologos, director of the Suffolk University Political Research Center, told the Globe
"Our poll shows that neither campaign can make any presumptions about winning New Hampshire. It will likely go down to the wire. Johnson voters may be the key to who wins"

As far as the mood of N.H. voters about the presidential election, 64% said they felt "alarmed" while 21% expressed excitement, 9% boredom and 6% undecided
Sen. Bernie Sanders told N.H. voters last week that the state could decide the election and that it was "imperative" to vote for Clinton
Republican nominee Trump plans to host a "town hall- style event" in N.H. Thursday evening, marking the second time in eight days he's visited the Granite State, WMUR-TV reported
While N.H. offers just 4 electoral votes of the 270 needed to win the presidency, "no other place has more competitive races with national implications," Bloomberg's Al Hunt wrote last month

Democrats still carry the painful memory of the "Live Free or Die" state's role in the 2000 election
If Democrat Al Gore that year had won N.H., which he lost by ~7k votes, he would have won both the electoral and popular vote and taken the White House regardless of the outcome in Florida

Yet Clinton's slip in N.H. comes as overall she's re-established a "clear lead" in her bid for the White House, according to a new electoral map analysis by Sabato's Crystal Ball

Analysts for site operated by University of Virginia's Larry Sabato give Clinton 316 electoral votes, Trump 215, with 7 toss-up votes

N.H. SENATE RACE
N.H. is also poised to play a critical role in the fight for Senate control

The new Suffolk poll shows GOP incumbent Kelly Ayotte in the lead with 47% vs. 41% for her Democratic challenger, Gov. Maggie Hassan, 3% for Libertarian Brian Chabot and 1% for independent Aaron Day
Six percent remain undecided

The poll results are welcome news for Ayotte, who faced a barrage of criticism after saying during a Monday debate with Hassan that Trump "absolutely" was a role model for children; she later said she misspoke and is now running a new ad that pivots off the remark
RealClearPolitics polling average has Ayotte with a 2.3-point advantage over Hassan

ON THE TRAIL
Clinton appeared at a fundraiser at the St. Regis hotel in Midtown Manhattan; those people spotted entering the hotel around time of the event included Bill Clinton; Steven Rattner, a money manager and former Obama adviser on the U.S. auto industry bailout; and fashion designer Zac Posen

CNN reported Wednesday that except for a few fundraisers, the Democratic nominee will be off the campaign trail ahead of Sunday's second presidential debate
Clinton surrogates, though, are out in full force, with Bernie Sanders in Michigan; he's also set to campaign in Iowa and Wisconsin this week
Chelsea Clinton is in Minnesota Thursday to encourage early voting; Democratic vice-presidential nominee Tim Kaine stumps in Pennsylvania and Nevada

Clinton's next planned campaign visit will be in Detroit on Monday, ahead of Michigan's Oct. 11 voter registration deadline
Trump on Saturday will join House Speaker Paul Ryan, Sen. Ron Johnson, Wis. Gov. Scott Walker and other Republicans for a "1st Congressional District Republican Party of Wisconsin Fall Fest," a local Fox affiliated reported

Other than the Wis. event and tonight's town hall in N.H., Trump's official schedule shows him off the trail until after Sunday's debate; he's set to appear in Pennsylvania on Monday

POLLS
Clinton has 44% support in poll of likely voters in Arizona, while Trump draws 42%, according to Emerson College polling

Trump 45%, Clinton 44% in Florida
Trump, Clinton tied at 43% in Nevada
NOTE: All 3 races within Emerson polls' margin of error

POLL ANXIETY
Trump's plunging support across key swing states has Republicans nervous about keeping their control of Congress, New York Times reported
Markets could be in for a Brexit-like shock risk on Election Day as it's possible that polling and the current overall environment isn't capturing marginalized voters, Bloomberg's Sangwon Yoon wrote

Tina Fordham, Citigroup's London-based chief global political analyst, said the U.S. presidential race feels more like an election in a developing nation where public distrust in government is high and conspiracy theories are rife
Markets seem unaware how much that low trust raises the risk of an anti-establishment vote, agreed Vincent Chaigneau, global head of rates and FX strategy at Societe Generale SA
Read story here

Meanwhile, CNN reported Wednesday night about the possibility of an army of "closeted" Trump backers who could surprise "elites" on Nov. 8

Trump campaign manager Kellyanne Conway re-tweeted the story Thursday morning

OHIO
Bloomberg's Mark Niquette and Tim Jones look at Ohio and whether Clinton's ground game can topple Trump's lead in the Buckeye State
While Trump has had a mostly steady lead in Ohio since mid-Sept., Clinton is counting on chipping away at Trump's advantage with a campaign organization that dwarfs his
Clinton campaign said musician John Legend will travel to his home state of Ohio to hold a concert for the Democratic nominee and urge young people to register to vote and back Clinton

ADVERTISING
On heels of Tuesday's vice-presidential debate, Clinton's camp is out with video, dubbed "Avalanche of Insults," highlighting Trump's "insult-driven campaign"

Clinton also released ad focusing on how the U.S. "measures its greatness"

Trump's campaign unveiled TV ad highlighting the GOP nominee's proposals on child care, taxes and jobs, according to campaign statement
National Rifle Association this week began a $6.5 million TV ad campaign in support of Trump, marking its biggest television advertising buy to date, CBS News reported yesterday

The ad is set to run in Ohio, Nevada, N.C., Pa. and Va.

ETC

CONGRESSIONAL ELECTIONS


SENATE RACES (Republicans hold 54-46 majority)
CA: Democratic state Atty. Gen. Kamala Harris endorsed by Democratic Sens. Barbara Boxer and Dianne Feinstein, "cementing Harris as the chosen candidate" of party establishment and "dealing another stinging blow to the campaign of rival Rep. Loretta Sanchez," Los Angeles Times reported

Harris and Sanchez debated yesterday at CSU Los Angeles; watch full debate here
IL: Democratic Rep. Tammy Duckworth began Oct. with $4.3m cash-on-hand after raising $4.1m in Q3, according to campaign release

Duckworth favored to unseat Republican Sen. Mark Kirk
IN: Democratic ex-Sen. Evan Bayh has 42% vs. 41% for Republican Rep. Todd Young in WTHR/Howey Politics Indiana Poll conducted Oct. 3-5 of 600 likely voters (+/- 4 ppts)

Bayh and Young vying to succeed retiring Republican Sen. Dan Coats
NH: Republican Sen. Kelly Ayotte in TV ad emphasized her political independence and said "both Donald Trump and Hillary Clinton are far from perfect, and I'm not perfect, either"

Ad meant to limit political fallout from Oct. 3 debate in which Ayotte said Trump "absolutely" could be a role model for N.H. children; Ayotte said in statement after debate that she "misspoke"
Democratic Gov. Maggie Hassan's campaign in statement said Ayotte ad is sign of campaign in "panic mode"
Senate Majority PAC, a Democratic super-PAC, released TV ad praising Hassan on small-business issues and linking Ayotte to billionaire businessmen Charles and David Koch


HOUSE RACES (Republicans hold 246-186 majority)
ME-02: VoteVets released TV ad of retired Army major general who tied Republican Rep. Bruce Poliquin to "Wall Street" and said he voted to deny the Veterans Affairs department "the $1 billion it needed"

Ad cites Poliquin's April 2015 vote for annual appropriations bill funding the VA and military construction projects; House passed it 255-163, with 19 Democrats joining most Republicans including Poliquin
Democrat Emily Cain, a former state legislator, in rematch with Poliquin in competitive district that includes most of Maine's land area
NY-01: Republican Rep. Lee Zeldin in TV ad emphasized accomplishments on counter-terrorism policy and his opposition to Iran nuclear deal, adding that "my highest priority is to keep you safe, secure, and free"

Zeldin opposed for second term by Democrat Anna Throne-Holst in district on eastern end of Long Island
PA-08: Republican Brian Fitzpatrick raised $740k in Q3, PoliticsPA reported

Fitzpatrick, a former FBI special agent, and Democratic state Rep. Steve Santarsiero running in suburban Philadelphia district held by Fitzpatrick's brother, retiring Republican Rep. Mike Fitzpatrick
VA-10: Republican Rep. Barbara Comstock and Democratic businessman LuAnn Bennett, in their first debate in the northern Virginia district, "offered sharply different views" on issues including the Affordable Care Act, energy, unions, and immigration, Loudoun Times-Mirror reported

Comstock seeking second term in upper-income district that includes Loudoun County, parts of Fairfax and Prince William Counties, and five other counties or cities