pursuits
Singapore Is Crushing Hong Kong in the Race to Cut Home Prices
By and
Home sales in Singapore slump as Hong Kong sees rebound

Hong Kong home rally poses headache for chief amid wealth gap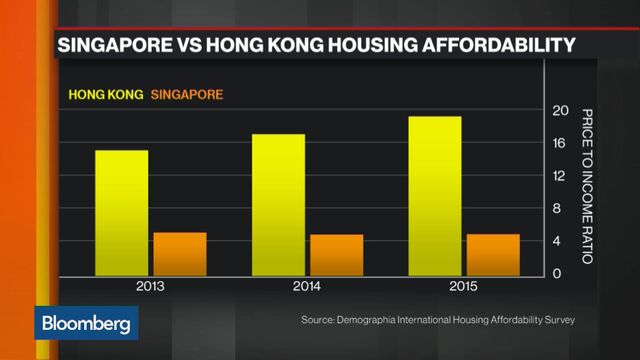 On the surface, the property markets in Singapore and Hong Kong have much in common. The two Asian financial hubs have both moved to rein in runaway home prices in recent years as they sought to make housing more affordable.
Yet, consider how home values in the cities have diverged. Singapore has been successful in damping buyer demand with curbs (prices slumped by the most in seven years last month), while restrictions have had little impact on Hong Kong's gravity-defying market, which is rebounding after a short-lived dip.

Hong Kong's resurgent property market poses a headache for Chief Executive Leung Chun-ying, who's been touting his success cooling property prices ahead of a March vote to determine the city's leadership for the next five years. Leung has introduced a raft of measures to cool the housing market since 2012 and his record may weigh on China's decision to keep backing him.
Leung, who hasn't said whether he'll seek a second term, has struggled with low popularity through his tenure, including mass democracy protests in 2014 fueled in part by the city's yawning wealth gap. He received an approval rating of less than 39 percent last month, compared with a high of almost 57 percent before taking office, according to the University of Hong Kong Public Opinion Programme.
Demographia last year found Hong Kong housing to be the least affordable it's measured in 11 years of surveying large urban markets. Singapore, while by no means a cheap city to own property, ranked 27th on the list with its overall affordability score holding steady in recent years. It takes an estimated 19 years of median household income to buy a home in Hong Kong, compared with five in Singapore.

Singapore's public housing model offers one explanation for how the island-city has been able to keep a tight leash on prices. Homes owned under a program run by the Housing and Development Board accounted for 80 percent of all dwellings as of last year. Hong Kong's public housing accounts for only about 21 percent of total home ownership, and there is an average waiting list of more than 3 years to get a government flat in the city.
"The fundamental difference between the two property markets is that in Singapore there is a big public sector," said Raymond Yeung, chief economist at Australia & New Zealand Banking Group Ltd. "Singaporeans don't need to buy a property unless they want to upgrade and buy in private sector."

Hong Kong also has severe land-use restrictions and a higher population density, Demographia noted, resulting in a shortage of land supply. Less than 25 percent of Hong Kong's land has been developed, according to government figures.
Even with a 6.3 percent drop since last September's peak, home prices in Kong Kong remain up 35 percent since curbs were rolled out in 2012. Home sales, which dipped to a 25-year-low in February, rebounded last month to levels not seen since at least the beginning of 2015.

Another possible explanation for the Hong Kong's market resilience this year is a resurgence of interest from mainland Chinese buyers. Seeking alternatives amid surging home prices in cities such as Shanghai and Shenzhen, they accounted for 9 percent of total Hong Kong transactions in the three months ended June 30, compared with 5.8 percent in the same period last year. By contrast, the share of Chinese buyers in Singapore has been on the wane, with mainland investors representing 6.9 percent in the second quarter, down from 7.1 percent last year.
— With assistance by David Tweed
Before it's here, it's on the Bloomberg Terminal.
LEARN MORE