Seven & I Adds Property Arm, Divests Stores in Overhaul
By and
7-Eleven owner explores redeveloping struggling stores

Retailer targets 27% jump in operating profit by February 2020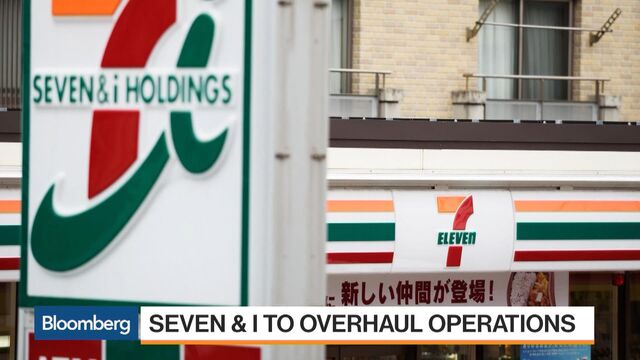 Seven & i Holdings Co., the Japanese retailer called out by activist investor Dan Loeb, unveiled a restructuring plan to divest struggling departments stores and set up a real estate division, in a bid to focus on boosting profit at its core 7-Eleven business.
The new unit, to be created this fiscal year, will explore redeveloping property occupied by under-performing general merchandise stores into housing for seniors or other residential and commercial facilities, President Ryuichi Isaka told a press conference in Tokyo on Thursday. Seven & i also announced a capital alliance with a local retailer and will transfer three Sogo & Seibu department stores to the partner.
Isaka, 59, faces increasing pressure to restructure the group after taking over the top job in May. The stock is down about 13 percent this year as Seven & i contends with increased competition from local chains FamilyMart UNY Holdings Co. and Lawson Inc. and stagnant wages lead budget-conscious consumers to rein in spending.
"Up until now, they have been simply closing stores or talking about increasing profitability by changing the product mix, but this time their stance is fundamentally different," said Keiji Ebara, an analyst at Marusan Securities in Tokyo. "I think we can be more hopeful."

The company's capital alliance is with H2O Retailing Corp., which will take over three Sogo & Seibu department stores in Japan's Kansai area. The companies will discuss a cross-holding of about 5.7 billion yen ($55 million) in shares, according to a statement.
Seven & i's department store businesses "have been facing severe business conditions, and it continues to be difficult for them to earn revenue which exceeds capital costs," the company said. "The aging of store buildings has been accelerating the decline of their revenues."
On Friday, Seven & i traded 1.6 percent lower at 4,747 yen as of 9:13 a.m. in Tokyo. The company has a market value of $40.5 billion.
Seven & i pledged to increase annual operating profit by 27 percent to 450 billion yen and earn a 10 percent return on equity by February 2020. Second-quarter operating income beat analysts' estimates, rising to 100 billion yen in the three months ended in August.
The company plans to close 40 Ito-Yokado general merchandising stores in Japan within the next five years and may shutter the unit's business in Beijing. Seven & i also said it will consider acquisitions for the North American 7-Eleven convenience store business.
Seven & i last week slashed its full-year profit forecast by more than half and wrote down the value of the Ito-Yokado and Sogo & Seibu chains.
Loeb, the founder of Third Point LLC, backed Isaka to replace his former boss in a boardroom struggle earlier this year. The activist investor has also been pushing the retailer to restructure Ito-Yokado and divest Sogo & Seibu and Barney's Japan.
Seven & I said in August it plans to acquire and delist its debt-laden Nissen Holdings Co. mail-order catalog unit, which has lost money since 2013.
Large-scale retail chains that operate department stores and supermarkets are being challenged by changing shopping habits, with penny-pinching Japan consumers increasingly making purchases online and eating at fast-food restaurants and convenience stores.

Even Seven & I's top-performing convenience stores division is coming under rising pressure. Rivals FamilyMart and Lawson are adding more outlets in Japan even as the country's population declines.
"Over the longer term, saturation threatens to spark margin-crunching price wars as chains take steps to protect their market share," said Thomas Jastrzab, a Bloomberg Intelligence analyst.
Last Friday, hundreds gathered in front of the Sogo & Seibu department store in Kashiwa city, an hour outside of Tokyo, to witness the store close its doors for the last time after 43 years. One long-time shopper summed up Sogo & Seibu's problems.
"I remember the store opening when it was like a white castle surrounded by a city of green, like in a fairy tale," said Masako Nakai, a 53-year-old office worker. "Nowadays, Takashimaya is selling more trendy items and it's closer to the rail station," she said, referring to another retailing competitor.
— With assistance by Daryl Loo
Before it's here, it's on the Bloomberg Terminal.
LEARN MORE