Ruble at 1-Year High May Gain More, Credit Suisse, BlackRock Say
by
Russian currency preferred over lira, rand amid oil's recovery

Correlation with crude has risen from one-year low in August
The ruble extended the biggest gains among its emerging-market peers in the past month as Credit Suisse Group AG and BlackRock Inc. said oil's recovery signals the rally has further to run.
The currency of the world's biggest energy exporter rose for a second day, strengthening 0.3 percent against the dollar to 62.2725 by 6:23 p.m. in Moscow as Brent crude traded near a four-month high. The ruble's 3.7 percent advance in the last month is almost double that of Indonesia's rupiah, the second-best performer during the period, according to data compiled by Bloomberg.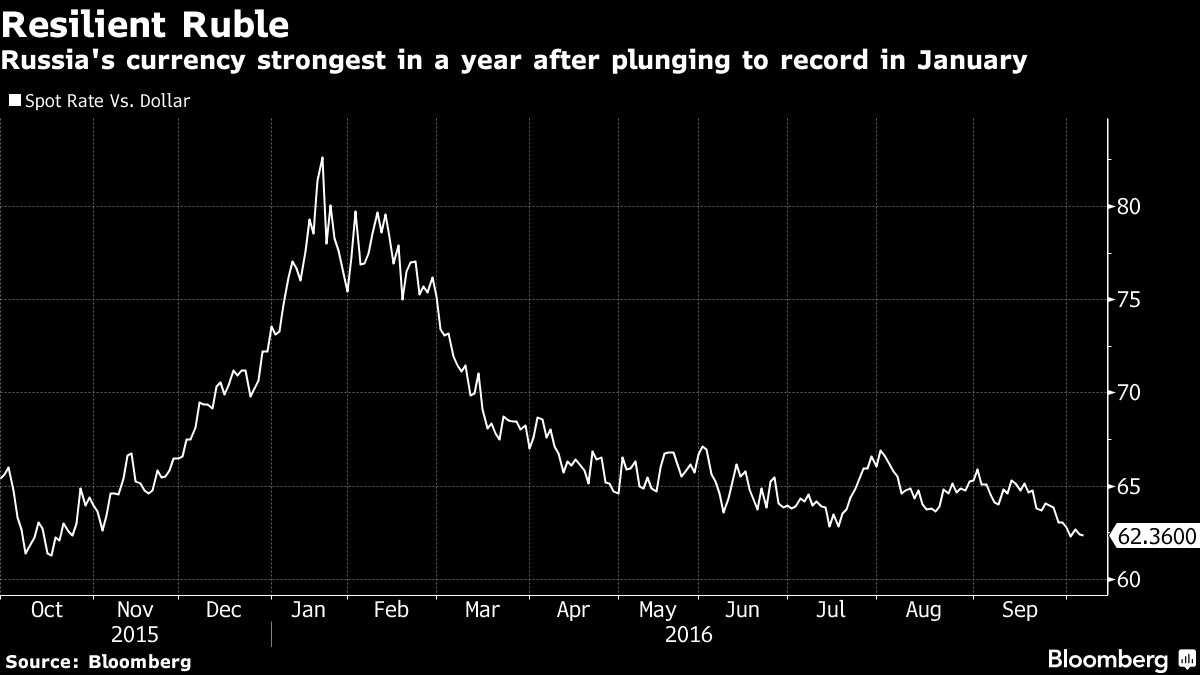 The currency's close correlation to the price of oil, Russia's biggest export, and the highest real rates in the region makes it a top pick for both BlackRock and Credit Suisse Group AG. Russian policy makers have avoided following major central banks around the world in delivering unprecedented stimulus to jolt its economy out of recession, preferring a slower path to easing that will preserve its inflation targets as well as currency gains.
"The current upward momentum in global oil prices strengthens the case for preferring the ruble to the lira and rand," said Kasper Bartholdy, head of global emerging markets fixed-income strategy in London. The ruble "is on a strengthening trend" and beats the Turkish lira and rand on a variety of "measures of attractiveness," he said in a research note.
Oil's 7.7 percent gain in the wake of a Sept. 28 agreement by OPEC nations to limit output pushed the 30-day correlation between Brent and the ruble to 0.70 on Thursday, up from a one-year low of 0.45 in August. A reading of 1 indicates the two assets move in lockstep. Brent gained 0.8 percent on Thursday to $52.3 a barrel in London.
The ruble, which headed on Thursday for the strongest close in almost a year, is "the place to be" if one believes oil will rise further, Sergio Trigo Paz, head of emerging-market debt at BlackRock Inc, said at conference on Thursday in London. "We believe it is going to hold to the high $50s and challenge $60" a barrel.
Credit Suisse is currently forecasting the ruble to weaken to 62.99 by the end of 2016. A year ago Credit Suisse expected the ruble to weaken to 75 per dollar by the end of the third quarter, according to data compiled by Bloomberg.
Trigo Paz in March said he has been overweight Russian OFZ bonds since February 2015. Since the beginning of February 2015 Russian government debt has returned investors 68 percent in dollar terms, the best result across emerging markets tracked by Bloomberg.
Domestic bonds due February 2027 fell, lifting the yield three basis points to 8.2 percent. The Micex Index of major stocks rose 0.2 percent.
Before it's here, it's on the Bloomberg Terminal.
LEARN MORE