Renzi Must Go If He Loses Italy Referendum, Five Star Rival Says
by
Di Maio, a leader of Five Star Movement, opposes Renzi reforms

Five-Star aims to hold referendum on Italy's euro membership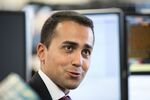 Italian Prime Minister Matteo Renzi cannot wriggle out of his pledge to quit if he loses the country's referendum on constitutional reform, his main rival said.
Italy's Referendum on Constitutional Reform
Luigi Di Maio, a leader of the anti-establishment Five-Star Movement and deputy-speaker of the lower house, said Italy will have to hold elections "as soon as possible" if Renzi's plans for reform are rejected by voters on Dec. 4.

"I am sure that Italians will ask him to maintain that promise despite the fact he has changed his mind," Di Maio said in an interview at Bloomberg's Rome office on Wednesday. "If Italians vote "No," Renzi must keep the promise."
The premier has repeatedly pledged to step down if he loses the referendum which he says is central to his plans to make Italy work again after years of stagnation. Still, he has backtracked somewhat in recent interviews as surveys show the "No" camp edging ahead and investors concerns mounting.
The 30-year-old from near Naples is already described as "prime minister-in-waiting" by newspapers like Corriere della Sera with Five-Star neck-and-neck with Renzi's Democratic Party in opinion polls. If he manages to supplant Renzi he plans to hold his own referendum -- on Italian membership of the euro area.
"I'd also like to see a European referendum on the euro, to see other countries starting to talk about it," Di Maio said. "I know this is very difficult but I don't think the Europe we know today will be the one we will face when we're in government in a couple of years' time."
Senate Powers
Before that though, Di Maio, who started his career as a webmaster, is focused on trying to block Renzi's reforms.
The proposed constitutional changes would rein in the Senate in Rome, strip it of the power to bring down governments with a no confidence vote, and replace existing senators with regional councilors and mayors. Renzi argues this would make central governments more stable and streamline legislation.
Di Maio said the whole campaign shows Renzi is out of touch with voters. What's more, he argues the reform could paralyze the country with conflicts between the lower and upper chambers and would also give too much power to the prime minister -- a concern also aired by former premier Silvio Berlusconi.
"This country doesn't see the reform of the constitution or of the electoral law as a priority," the Five Star leader said. It would cause "chaos," he added.
Di Maio wants "a consultative referendum" on Italy's membership of the euro because he currency union has constrained the country's tools for managing the economy. Unable to devalue the currency, Italy instead was forced to "devalue wages" during the crisis, sapping the country's wealth, he said. He didn't have a preferred alternative, but mentioned a return to the lira, and Nobel laureate Joseph Stiglitz's proposal for splitting up the euro area into different currency areas, as options.
The challenger echoes Renzi's criticism of European Union budget rules and wants more leeway for public investment. He also wants to set up a public bank for investments modeled on Germany's KfW.
Roman Rollercoaster
Still, Five-Star's first brush with power has proved turbulent, with Rome mayor Virginia Raggi's first months in power peppered with controversies and opponents arguing the party is not a credible force for government.
"We may have made many mistakes, but Rome is now a city which is governed even if people try to give the impression it's chaos," Di Maio said. "Rome has to be tackled in the medium to long term, you can't take citizens for a ride and say you'll solve things in 100 days."
If the constitutional measure is rejected and Renzi quits, President Sergio Mattarella could name a new premier -- possibly even reappointing Renzi -- to head a caretaker government and carry out electoral reform instead of calling an early election. If he does choose that option, Di Maio said Five-Star won't be taking part.
"We've had so many governments constructed in a test tube," Di Maio said, a reference to prime ministers like Renzi who've come to power through backroom deals rather than by winning elections. "After four years and three governments created that way the economic results speak for themselves."
Before it's here, it's on the Bloomberg Terminal.
LEARN MORE