Qualcomm Said to Make Progress in Talks With NXP Toward Deal
By and
Companies said to be less than 10 percent apart on value

Qualcomm considering 75% stock, 25% cash deal structure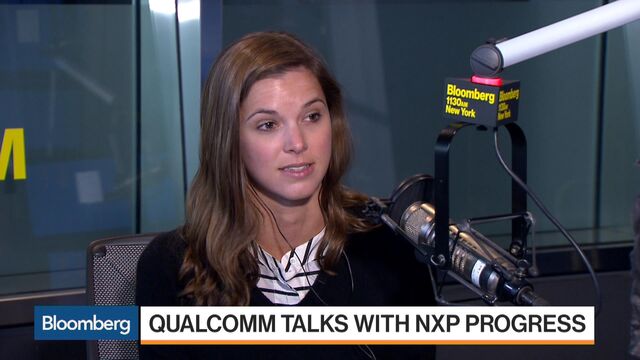 Qualcomm Inc. is the only company in talks to acquire NXP Semiconductors NV and is making progress toward an agreement with the Dutch chipmaker on a fair price, people with knowledge of the matter said.
There is currently a valuation gap of less than 10 percent between Qualcomm and NXP as they discuss a possible transaction, said two of the people, who asked not to be identified because the information is private. Qualcomm is considering a deal structure of 75 percent cash and 25 percent stock, one of the people said. NXP would prefer all cash, another person said.
Qualcomm, based in San Diego, is still considering its options and talks with NXP are in early stages, they said. NXP, based in Eindhoven, Netherlands, is pushing for a price of about $120 per share, while Qualcomm is targeting a price closer to $110 per share, the people said. The sides are closing that gap, signaling both parties are interested in reaching an agreement, the people said.
NXP closed at $102.50 a share on Wednesday in New York, giving it a market value of about $35 billion. The company is working with Qatalyst Partners to find a buyer, people familiar with the matter told Bloomberg last week.
Short List
The list of chip companies that could afford to even think about buying NXP is short. Only seven members of the Philadelphia Stock Exchange Semiconductor Index are larger by market value. Of those, two are in completely different areas of the chip industry and another two, Intel Corp. and Broadcom Ltd., are in the middle of digesting record purchases. Of the remainder, Qualcomm has by far has the most cash, with $31 billion.
Companies including Intel Corp. and Texas Instruments Inc. looked and decided against pursuing NXP, the people said.
Representatives for Qualcomm, NXP, Intel and Texas Instruments declined to comment.
Qualcomm, with a market capitalization of about $98 billion, is weighing a bid for NXP against about four other acquisition options, two of the people said. The company has been studying potential targets for at least six months, the people said, as it seeks to strengthen its position in a consolidating market and as shareholders want the largest maker of chips for mobile phones to put its cash to work.
If Qualcomm and NXP are able to reach a deal, it would be the largest technology acquisition of the year.
Before it's here, it's on the Bloomberg Terminal.
LEARN MORE