Philippine Foreign Secretary Says 'America Has Failed Us'
by and
Top diplomat says Duterte seeking to break 'invisible chains'

Philippines will now seek an independent foreign policy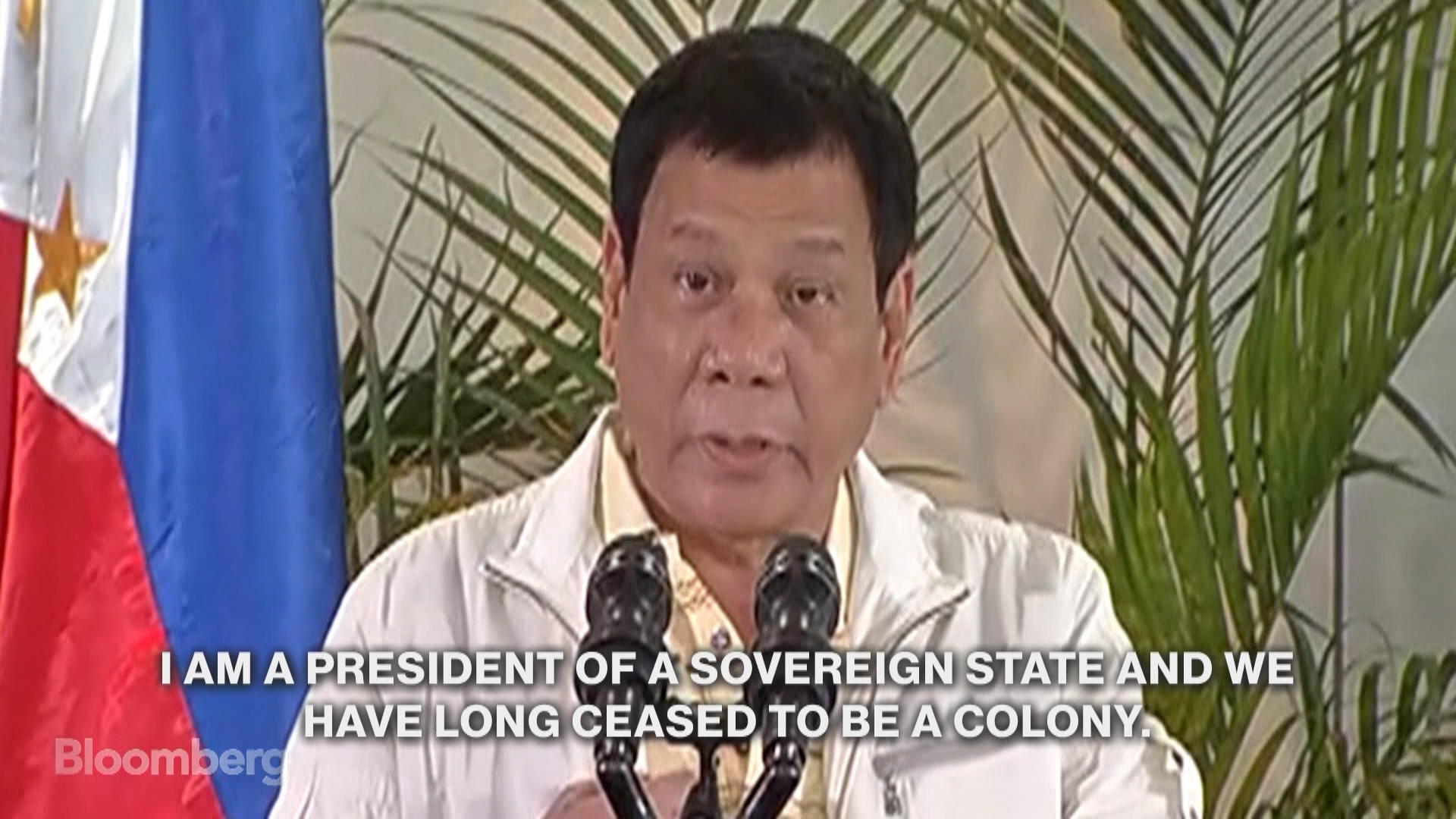 The Philippines's top diplomat said President Rodrigo Duterte is seeking an independent foreign policy for the country because "America has failed us" in the decades since it gained independence from its former colonial master.
"The United States held on to invisible chains that reined us in towards dependency and submission as little brown brothers not capable of true independence and freedom," Foreign Secretary Perfecto Yasay said in a statement distributed Thursday by the Department of Foreign Affairs. "Breaking away from the shackling dependency of the Philippines to effectively address both internal and external security threats has become imperative in putting an end to our nation's subservience to United States' interests."
The U.S. has remained the Philippines closest ally since it gained independence in 1946 and the two countries have several defense treaties. However in his three months since taking office, Duterte has frequently called into question the future of the alliance, including a recent comment that joint maritime drills that kicked off this week will be the last. He has indicated he is open to closer relations with China and willing to hold direct talks with Beijing about territorial disputes in the South China Sea.
For a wrap on how Duterte's tilt towards China upsets U.S. Strategy in Asia, click here

Yasay said the Philippines would learn from its past mistakes in dealing with the U.S. as it fosters broader relationships with countries like China.
"We will never allow China or any other nation to bully us or deal with Philippine interests under another carrot and stick policy," he said.
Duterte said Tuesday that the Philippines doesn't benefit from the joint drills with the U.S. and reiterated threats to sever ties. In the same speech, the Philippine leader said: "Obama you can go to hell."
Duterte has frequently bristled at American criticism of his war on drugs in which more than 3,000 people have been killed. In a speech last month Duterte said the Philippines would pursue an independent foreign policy and insist "on the time-honored principles of sovereignty, sovereign equality, non-interference and the commitment to a peaceful settlement of disputes."
Duterte's comments often seem to catch members of his own administration off guard. Philippine Defense Secretary Delfin Lorenzana said Wednesday that Duterte may not have sufficient information on the nation's military agreements with the U.S., a situation that the Department of Defense will try to remedy.
'Misinformed'
"I said our beloved President is misinformed because it would seem that the information that he receives are incomplete," Lorenzana said in a mobile-phone message forwarded by his department's public affairs group. The Philippines, which is conducting drills with U.S. troops until Oct. 12, benefits from the training, tactical exercises and civic projects, Lorenzana said.
Duterte's spokesman Ernesto Abella said Wednesday that people should use their "creative imagination and not be too literal" in interpreting the president's statements.
Before it's here, it's on the Bloomberg Terminal.
LEARN MORE