Trump Running Mate Pence Basks in Positive Debate Reviews
The Indiana governor returns to the campaign trail amid chatter about a potential 2020 bid.
By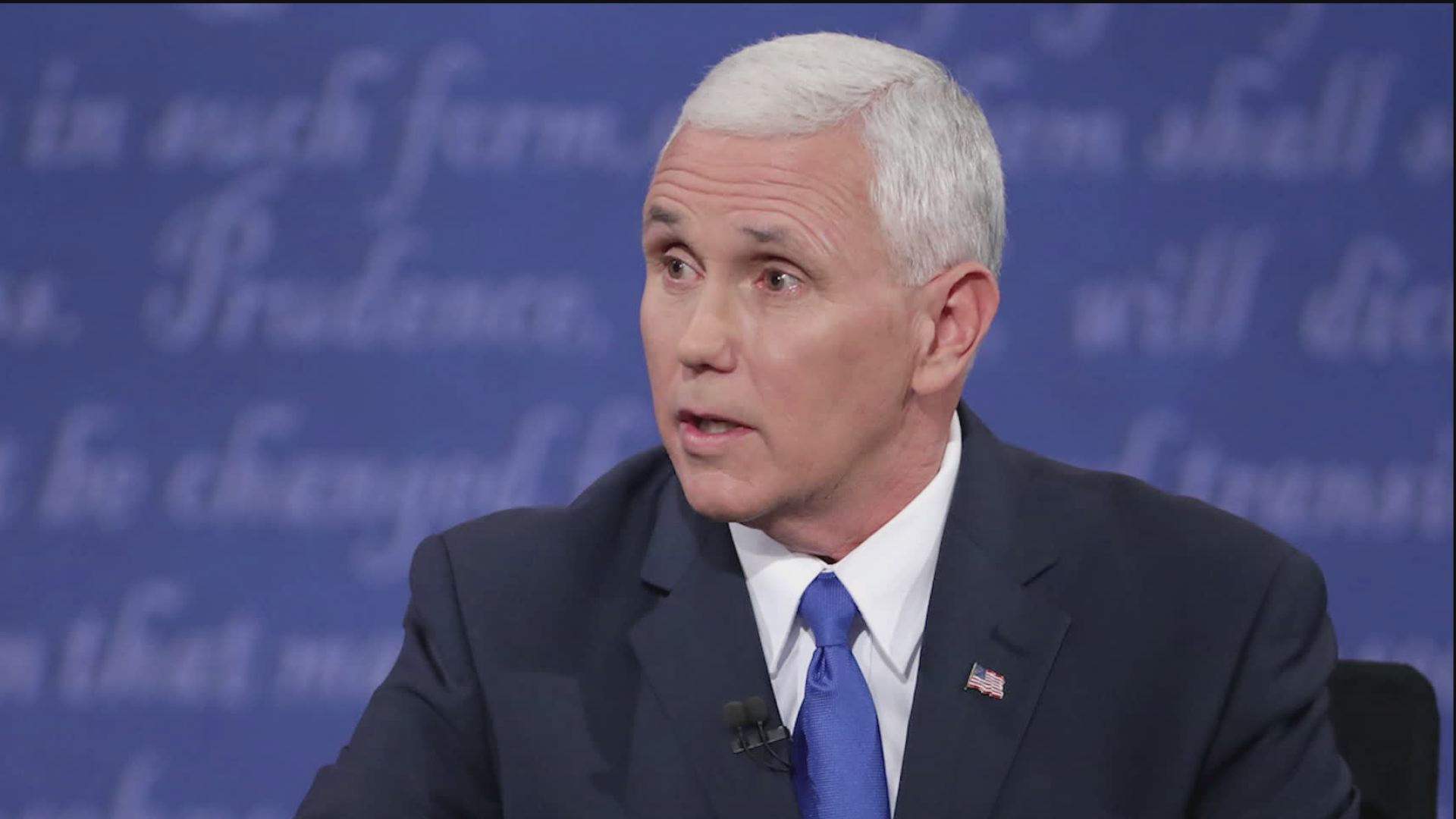 Mike Pence's event in rural Virginia on Wednesday morning had all the trappings of a presidential campaign rally in the final weeks leading up to Election Day.
Traveling to a key swing state and trailed by a national press corps, he was introduced by high-profile Republican stars—in this case Ed Gillespie and Jeb Hensarling—on a stage decked out with pumpkins and hay bales. 
In a business where optics is everything, the only visual clue that Pence wasn't running for president was that his name was placed second on campaign posters.
"I know I'm not the main event," Pence told a crowd of about 300 voters who had gathered to hear him speak. "I'm the 'other' picture on the bus."
Pence's throwaway campaign-trail line suddenly had new meaning—particularly as Hillary Clinton's surrogates have suggested that Pence's vice-presidential debate showing was so strong that he upstaged his running mate, Donald Trump.
"He was auditioning for 2020," Clinton communications director Jennifer Palmieri told Bloomberg Politics' John Heilemann inside the spin room Tuesday night.
Pence's aides worked to capitalize off his victory while deflecting the 2020 spin. "I think that's what they want you to think," Pence's top adviser, Nick Ayers, told reporters, responding to questions about 2020.
In Harrisonburg, Virginia, Pence declared victory for Trump—not himself. "Some people think I won. But I'll leave that to others. But what I can tell you is from where I sat, Donald Trump won the debate—Donald Trump's vision to make America great again won the debate."
If Trump was put off by Pence's strong showing, he didn't let on in public. 
"I would argue that Mike had the most decisive victory in the history of vice presidential debates," Trump told a crowd in Henderson, Nevada, on Wednesday. "His opponent talked only of small and petty distractions." 
At a Washington fundraiser on Wednesday, Clinton praised running mate Tim Kaine's performance. 
"Every time he tried to push Mike Pence to defend what Donald Trump has said and done, Pence just bobbed and weaved, tried to get out of the way because after all trying to defend Donald Trump is an impossible task," Clinton told the approximately 1,100 attendees. "Mike Pence was asked several times to justify how his running mate's dangerous views could be understood. For example, Donald Trump wants more nations to have more nuclear weapons. No real answer to that."
Hensarling, in a brief interview after Tuesday's debate, praised Trump while noting the stylistic differences between Pence and Kaine.
"It's such a tribute to Donald Trump that he would have the wisdom to pick somebody like Mike Pence as opposed to a clone of himself," said Hensarling, a Texas congressman. "I think he is one of the great principled conservative leaders in America today. He's the most inspirational voice of the party since Ronald Reagan." 
For some who turned out at the Virginia rally, Pence's addition to the Trump ticket made all the difference. "I shouldn't say this, but Trump being from New York—it's just different. So I like that Pence is a Christian conservative. I like that a lot," said Margie Mayes, 76, from Grottoes, Virginia.
John Hartless, a 68-year-old retiree from Staunton, said Trump wasn't his first choice and that he had originally wanted Texas Senator Ted Cruz. But Hartless said Cruz has "embarrassed himself" for the way he's handled his lackluster endorsement of Trump.
Hartless said the most important issue for him this election is electing Trump so that he will appoint conservative justices to the Supreme Court.
But should Trump lose, should Pence run in 2020? Hartless paused and glanced at the Trump campaign bus, where Pence was making his way past photographers.
"Yes," Hartless said. "Absolutely, he should. But I still don't think that's his motivation right now."
—With assistance from Jennifer Epstein and Terrence Dopp.