Pakistan Seeks $1.7 Billion Bids for Southern Highway Plan
by
Turkish, Malaysians, Koreans expected to bid on road network

Pakistan eyeing $5 billion road investment in next 5 years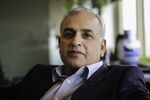 Pakistan is seeking foreign investment of $1.7 billion to build a new highway in the southern province of Sindh to supplement a Chinese-funded infrastructure network being laid across the country.
The National Highway Authority will ask for bids next week for the 296-kilometers (184 miles) highway between the cities of Hyderabad and Sukkar, the agency's Chairman Shahid Ashraf Tarar said in an interview in the capital, Islamabad.
"Other than the Chinese, this time we expect that Turkish, Malaysians and South Koreans will come and bid," Tarar said.
Pakistan's economic growth has accelerated to almost 5 percent in the past three years after averting a balance-of-payments crisis in 2013 by submitting to an International Monetary Fund loan program worth $6.6 billion, which ended last month. Along with an easing of inflation and as domestic security threats have abated, China announced last year it would invest in projects worth about $46 billion in Pakistan as part of a so-called economic corridor.
To read about China's ambitions in Pakistan, click here.
Infrastructure Landscape
Prime Minister Nawaz Sharif is pegging his 2018 re-election campaign on bridging chronic energy and infrastructure gaps as his administration targets a 7 percent economic growth rate within two years. The construction of a six-lane highway on the eastern route of the China-Pakistan Economic Corridor is expected to start in the first quarter of next year.
"There is big gap between the potential and the actual road network," said Mohammed Sohail, chief executive officer of Topline Securities Pakistan Ltd. in Karachi. "Investors will look into this opportunity" as the economy continues to expand, he said.
The highway authority has so far started over $9.5 billion worth of projects in the past three years and is hoping to attract another $5 billion investment in the next five, more than half of which will be pegged to upgrade the China corridor routes, Tarar said. The length of the main highway will be tripled to 1,800 kilometers by linking all road arteries with industrial zones on the route, he said.
The 3,000-kilometer-long corridor stretches from Xinjiang in western China to Pakistan's Gwadar on the Arabian Sea. Of China's planned investment, $11 billion is allocated for infrastructure projects and big chunk of it will be spent in Balochistan province, home to the deep-sea port in Gwadar.
"The landscape of infrastructure is going to be transformed in the next three years," said Tarar. "Imagine you travel from Karachi to Peshawar on the motorway, the time and energy it'll save with security ensured. Unless you have good infrastructure the economy will drag."
Before it's here, it's on the Bloomberg Terminal.
LEARN MORE