Mixed Messages From Philippines as U.S. Becomes Punching Bag
by and
Top diplomat says Duterte seeking to break 'invisible chains'

Philippines will now seek an independent foreign policy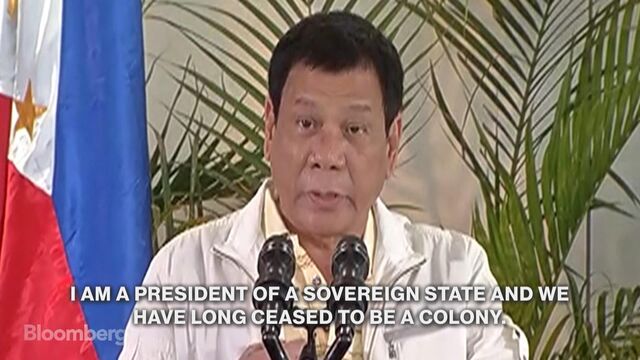 The message came first in a personal Facebook post and was later broadcast to the world on the official website of the Philippine Department of Foreign Affairs: "America has failed us."
Foreign Secretary Perfecto Yasay's emotive essay accused the U.S. of holding onto "invisible chains that reined us in towards dependency and submission as little brown brothers not capable of true independence and freedom." It was a scathing attack on the nation's former colonial master and closest ally -- and one that came within hours of the Philippine Department of National Defense releasing a statement from his colleague praising the U.S.
The mixed messages, the methods in which they are delivered, and the seriousness of the issues addressed are all signs of just how chaotic things are within President Rodrigo Duterte's universe. That makes it difficult to predict what his administration might do next, a sentiment that has put his nation's stocks and currency among the region's worst performers since he took office.
"Major changes in long-standing Philippine policy settings are being announced by the president often at press scrums or at speeches for unrelated events," said Malcolm Cook,  a senior fellow at the ISEAS-Yusof Ishak Institute in Singapore. "There appears to have been no prior policy preparation, deliberation and inter-agency coordination or even warning. This leads to the constant need for other members of the administration to clarify, deny, reinterpret these statements."
'White Big Brother'

While the targets of the outbursts from Duterte and his ministers have included the United Nations, the European Union and even the pope, the broadsides are most frequently aimed at the U.S.
Duterte has repeatedly called into question the future of the U.S. alliance and their defense treaties, including a recent comment that joint maritime drills that kicked off this week will be the last. He has also indicated that he is open to closer relations with China and Russia and is willing to hold direct talks with Beijing over territorial disputes in the South China Sea.
For a wrap on how Duterte's tilt towards China upsets U.S. Strategy in Asia, click here
Yasay attempted to explain the reasons the president would "realign our foreign policy towards an independent track" in his 500-word statement released Thursday.
"Breaking away from the shackling dependency of the Philippines to effectively address both internal and external security threats has become imperative in putting an end to our nation's subservience to United States' interests," he wrote.
Yasay said the Philippines would learn from its past mistakes in dealing with the U.S. as it fosters broader relationships with countries like China. "We will never allow China or any other nation to bully us or deal with Philippine interests under another carrot and stick policy," he said. "Our past mistakes in fostering and strengthening our friendship with our white big brother will be instructive for this purpose."
Off Guard
Duterte, 71, has frequently bristled at American criticism of his war on drugs in which more than 3,000 people have been killed, including using foul language in reference to President Barack Obama. On Tuesday, Duterte said the Philippines doesn't benefit from military drills with the U.S. and reiterated threats to sever ties. In the same speech, the Philippine leader said: "Obama you can go to hell."
Duterte's comments often seem to catch members of his own administration off guard. Philippine Defense Secretary Delfin Lorenzana said Wednesday that Duterte may not have sufficient information on the nation's military agreements with the U.S., a situation that his department will try to remedy.
"I said our beloved President is misinformed because it would seem that the information that he receives are incomplete," Lorenzana said in a mobile-phone message forwarded by his department's public affairs group. The Philippines, which is conducting drills with U.S. troops until Oct. 12, benefits from the training, tactical exercises and civic projects, Lorenzana said.
Speaking in Manila on Friday, Lorenzana told journalists at the Foreign Correspondents Association of the Philippines that the country could live without the $50m-$100m in yearly military assistance from the U.S., which he said failed to beef up Philippine defense capabilities. He added that procuring arms from China and Russia may be difficult due to compatibility with current systems.
'Open Relationship'
Duterte accused the U.S. last week of attempting to undermine the country by manipulating the Philippine peso after it fell to a seven-year low against the dollar. The next day, Budget Secretary Benjamin Diokino said the U.S. was doing no such thing.
Yasay himself appeared to soften his statement within hours Thursday, telling lawmakers at a budget hearing in Manila that the Philippines respects its defense agreements with the U.S. and has no plans to forge a military alliance with China.
"When we would like to foster a closer relationship with China, we will not certainly engage in any alliance with China from a military viewpoint because that has never been the intention of the president," Yasay said. "In fact, the President, in my occasions, has said categorically, that he will only have one military alliance, and our only ally in our respect is the US."
Duterte's spokesman Ernesto Abella said Wednesday that people should use their "creative imagination and not be too literal" in interpreting the president's statements. On Thursday, he too said the Philippines was not cutting its relationship with the U.S. but broadening its ties.
"This isn't a temporary break-up but an open relationship," he said.
'Mere Acoustics'
For the time being, the U.S. is probably aware that the threats to sever relations are merely words since they have yet to be backed up with actions, said Segundo Romero, a professorial lecturer at the Ateneo de Manila University who used to help formulate defense policies for the government.
"What we've been hearing from Duterte and Yasay is mere acoustics, the shock and awe," he said. "The Americans now realize that it's what the Defense Department says that matters unless Duterte is able to come up with something black and white. In the absence of a black and white policy, we're still following our treaty commitments."
Before it's here, it's on the Bloomberg Terminal.
LEARN MORE