Merkel Casts Doubt on Special U.K. Access to EU Single Market
by
German chancellor refers to reciprocal access to U.K. market

Cites risk that 'everyone does and is allowed what they want'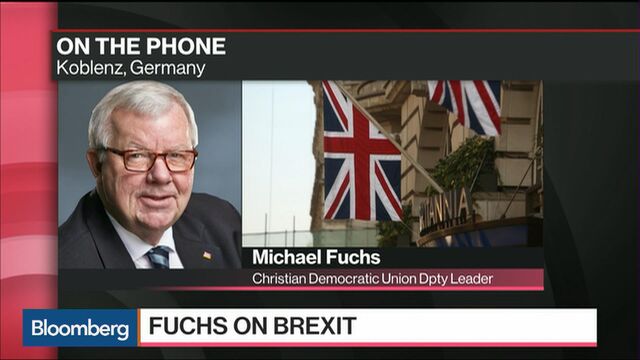 German Chancellor Angela Merkel signaled a growing reluctance to grant any special trade relations to the U.K. once it leaves the European Union, saying that allowing exemptions to EU rules on migration would lead to a free-for-all across the bloc.
Follow @Brexit for the latest news, and sign up to our Brexit Bulletin for a daily roundup.
Merkel's comments to Germany's BDI industry lobby in Berlin on Thursday are a further indication that the U.K. risks a so-called hard Brexit, whereby it gives priority to controlling migration over seeking as much access as possible to the EU single market of some 500 million people.

The chancellor referred in her speech to Prime Minister Theresa May's timeline of triggering Article 50 of the Lisbon Treaty by the end of March, and reiterated that there will be no talks before then. Even after that point, "there will be no easy negotiations," she said.
The central question then will be "how much access to the single market does Great Britain get, and in a reciprocal way, how much access to the British market do we get?" Merkel told an audience of business leaders. "And how ready are we to link this access politically so that the four freedoms are defended."
Like her fellow EU leaders, Merkel has shown little willingness to bend on adherence to the core EU principles of free movement of goods, services, capital and people. That last category is the focus of May's government, which has pledged to curb immigration from EU countries following June's shock referendum result to quit the EU that upended British politics and brought her to power.
Merkel, who holds authority both as the head of Europe's biggest economy and the EU's longest serving leader, said on Wednesday that granting exemptions to the rules for the U.K. would create an "extremely difficult" precedent.
On Thursday, she spelled out why. "If we don't insist that full access to the single market is tied to complete acceptance of the four basic freedoms, then a process will spread across Europe whereby everyone does and is allowed what they want," she said.
Before it's here, it's on the Bloomberg Terminal.
LEARN MORE