Italy Watchers' New Tool to Duck Brexit-Style Shock Flashing Red
A real-time barometer of online chatter that showed 'leave' leading
By and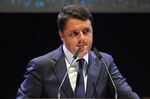 Too close to call. That's what opinion polls say about the Italian referendum, recalling another vote that confounded pollsters and markets alike: Brexit. 

This time, though, investors shouldn't be caught by surprise. A barometer of online chatter that correctly anticipated most Britons would opt to quit the European Union is now suggesting that Italians are so fed up with Prime Minister Matteo Renzi they are willing to vote on Dec. 4 against a slimmed-down legislature just to see him sent home. 

This measure of discontent was developed by Predata, a New York-based predictive analytics firm founded in early 2015. It scours around 1,000 sources to quantify how much the online activity of the "Yes" and "No" camps is correlated to the ebb and flow of overall interest in the referendum.

Since Sept. 29, when Renzi officially kicked off the referendum campaigning, Predata's measure shows "No" gaining ground and "Yes" plummeting.

These signals include content posted to sites such as Twitter and Wikipedia by the likes of Basta un Sì (the official "Yes" campaign) and Beppe Grillo ("No" campaigner and founder of the anti-establishment Five Star Movement), explained Aaron Timms, Predata's director of content. "There's a sign that 'No' at this stage is just a more competent and efficient digital outfit than 'Yes' is," Timms said. 
A look at Predata's Brexit signals  — where a less-organized "Leave" camp consistently dominated the online debate amid tight polls — suggests a strong starting position for Italy's "No" campaign.
"What we do know from the experience with Brexit," Timms said, "is that when you have a digital-rich, content-rich political campaign, the shifting momentum between different sides can really be a good indicator of where public opinion is heading in a way that polls can't necessarily catch up with."

While not enough to move the Predata dial, Renzi has intensified his Twitter campaign to woo younger voters, whom polls say are the most likely to reject the referendum. The #BastaUnSi ("It takes just one yes") hashtag, helped by Renzi's 2.65 million Twitter followers, had largely prevailed the "No" camp's #IoVotoNo hashtag ("I vote no") up until this week when it was overtaken in terms of impressions — likes and retweets, for example — according to data from analytics site Keynote.
Roberto Baldassari, president of pollster Istituto Piepoli, disagrees that social media is truly representative.
 "The 'No' vote is ahead but the electorate behind that camp, in particular the Five Star movement, is very fluid," he said. "I think, looking at the trend, that 'Yes' is more likely to win." 

Almost 40 percent of those surveyed in Piepoli's latest poll, which had "No" ahead 54 percent to 46 percent, said they might switch sides. 

"No" led in five of the last six polls, but within the margin of error. "The recent trend is for the 'Yes' vote on the rise, up four to five points from a month ago," said Antonio Noto, Director of IPR Marketing, whose Sept. 30 poll found 40 percent still undecided. This is several times larger, as a share of respondents, than in the final days before Brexit.
Investors, meanwhile, seem to trust what Predata's seeing and that polls won't ultimately switch in Renzi's favor. Italian government bond yields recently climbed to a three-month high and the spread with equivalent Spanish securities increased to a two-year high.

Before it's here, it's on the Bloomberg Terminal.
LEARN MORE