It's Time to Buy Cheap European Bank Stocks, Citigroup Says
by
BBVA, Standard Chartered and BNP are worth buying: Citigroup

Banks back to 2008-2009, 2011-2012 levels by several measures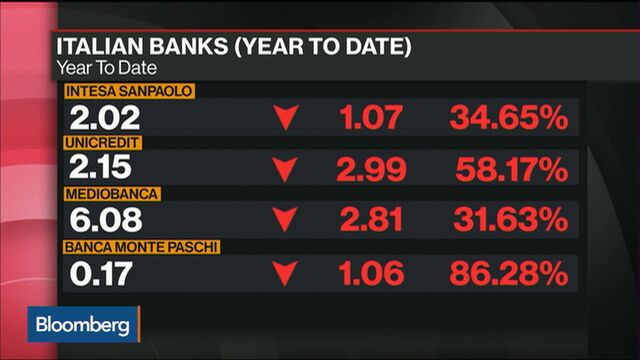 Banco Bilbao Vizcaya Argentaria SA, Standard Chartered Plc and BNP Paribas SA are among bank stocks worth snapping up, given that European lenders have never traded so cheap relative to their U.S. peers, according to Citigroup Inc.
Bank risks in Europe appear to be more specific to companies than systemic, Citigroup analysts including Jonathan Stubbs said in a report dated Oct. 5, moving their recommendation to overweight from neutral. The sector is also showing signs of improvement, including loan growth and better returns.
"European banks are back to 2008-09 and 2011-12 levels on several valuation metrics," the analysts said in the note. "The sector is better priced for disappointments and not priced for reducing risks."
European banks are still struggling with tougher regulatory requirements and sputtering economic growth, while negative interest rates are squeezing lending margins and crimping investment returns.
In Italy, where banks are burdened with about 360 billion euros ($402 billion) of soured loans, UniCredit SpA is working on a plan to boost capital that may include asset sales and a stock offering, according to people familiar with the matter. In Germany, Commerzbank AG disclosed plans last week to cut 9,600 jobs.
Banks in the region have "de-risked over the last few years and have more capital and less leverage than previously," Citigroup said.
Before it's here, it's on the Bloomberg Terminal.
LEARN MORE