Top Shipper Sees Sub-$50 Iron Ore as China Property Flashes Red
By
Residential property market 'oversupplied,' department says

Low-cost iron ore exports seen rising from Australia, Brazil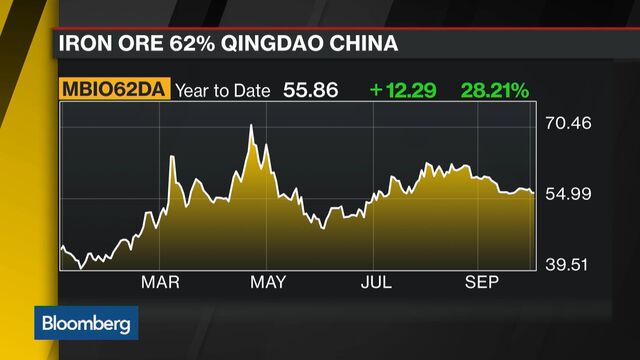 Iron ore will slump below $50 a metric ton next year as the biggest producers increase low-cost supply, according to Australia's government, which highlighted growing risks to demand as China's property market faces oversupply and a slowdown.
"The uptick in China's construction activity is unlikely to persist, and the use of commodities in the sector is forecast to decline," the Department of Industry, Innovation and Science said in a report on Friday. As global iron ore supply rises and building activity in China wanes, prices will drop to average $44.80 a ton in 2017, according to the forecaster.

The projections from Australia cast doubt on expectations from miners including Brazil's Vale SA that the $50 level will hold, and add to warnings about China's property market. Goldman Sachs Group Inc. said this week it sees growing vulnerabilities in China's housing industry after a steep run-up in sales and prices following government stimulus. Asia's biggest economy is the largest importer of iron ore.
Oversupply Concern
"Despite a modest drawdown in inventories in the first half of 2016, the residential property market remains oversupplied" in China, the department said in the report. "The housing market has now matured and there is oversupply in the less desirable, smaller and inland cities."
Home prices in China rose the most in six years in August, prompting more cities to impose curbs, and spurring statements of concern from analysts. Deutsche Bank AG warned last month the housing market was in a bubble. Goldman said this week policy-driven booms tend to be followed by slumps.
Iron ore of 62 percent content delivered to Qingdao was at $55.86 a dry ton on Friday, averaging about $54 this year, according to Metal Bulletin Ltd. The projections by the department refer to spot ore free-on-board from Australia. Its outlook for 2017 was unchanged from the figure given in July. It sees FOB prices this year at $48.50, up from its prior outlook of $44.20.
Iron ore has risen in 2016, snapping three years of declines, after China added stimulus to counter a slowdown, helping to sustain steel production as the property sector recovered. The construction industry accounts for more than 70 percent of domestic steel use, according to the Australian department.
Rising Exports
Iron ore exports from Australia will rise to 877 million tons in 2017 from 813 million tons this year, while Brazilian shipments expand to 411 million tons from 389 million, the department said. Vale is set to start a four-year ramp-up of its S11D project, which will add a net 75 million tons a year, while in Australia, Gina Rinehart's Roy Hill project aims for an annual run rate of 55 million tons.
There was a sign on Friday of rising output in Australia. Shipments in September from Port Hedland, the world's biggest bulk-export terminal, were 41.8 million tons, according to the Pilbara Ports Authority. That's a record for the month, and near the all-time high seen in August. The facility ships cargoes for BHP Billiton Ltd., Fortescue Metals Group Ltd. and Roy Hill.
Iron ore will probably trade at $50 to $60 a ton next year, Peter Poppinga, head of ferrous minerals at Vale, told Bloomberg News last month. That's more optimistic than the outlook from banks including UBS Group AG and Citigroup Inc., which have forecast a slump next year as low-cost supply surges.
The period from November to December may mark a "death knell" for the commodity, UBS said this week, citing falling margins at mills after coal prices jumped, and prospects for increased mine output. Citigroup has forecast iron ore will drop to $45 next year and $38 in 2018 on burgeoning supply.
"The iron ore price going forward will likely better reflect market fundamentals of slow consumption growth, and further growth in production volumes at low costs," the Australian department said. Prices are "forecast to decline later in 2016 and average 6 percent lower in 2017," it said.
Before it's here, it's on the Bloomberg Terminal.
LEARN MORE