Innogy Closes at Offer Price After Biggest IPO Since 2011
by and
Companies will raise as much as 5 billion euros from sales

RWE keeps 75 percent majority of renewables, grid unit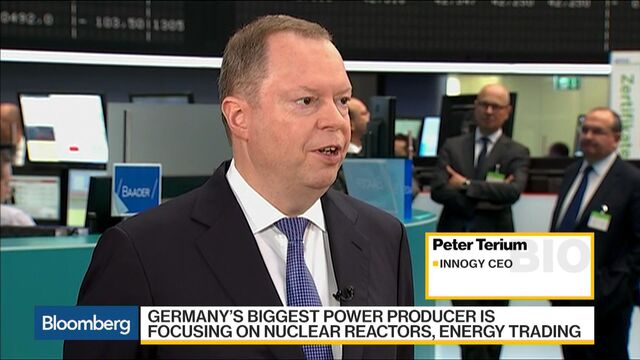 RWE AG's green energy business Innogy SE ended its first day of trading in Frankfurt unchanged from the issue price of its initial public offering, Europe's biggest since Glencore Plc in 2011.
Innogy, which contains the grid, renewables and retail arms of its parent, closed at 36 euros share on the Frankfurt Stock Exchange, after opening up 3.6 percent on Friday. RWE was the biggest loser on Germany's benchmark DAX index, sliding 7.4 percent in its biggest intraday decline since June 24.
RWE, Germany's biggest power producer, will instead focus on nuclear reactors, fossil-fuel generation and energy trading as the country's shift toward wind and solar resources have pushed down wholesale energy prices and erodes profits. RWE's peer EON SE last month distributed most of the shares in its conventional power-generation business Uniper SE to existing shareholders.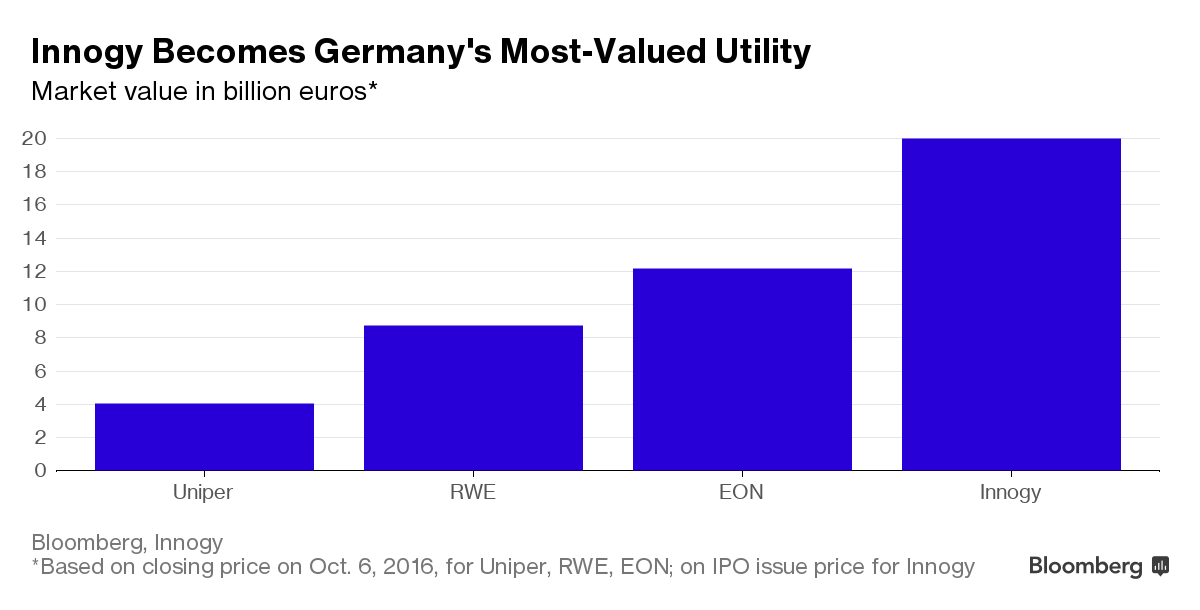 The issue price was "very favorable" for RWE compared with Innogy's peers, said Thomas Deser, a fund manager at Union Investment, which bought shares for some of its funds. Innogy's focus may make it "a good fit" in a portfolio if you have previously avoided big energy companies like EON and RWE because of their size and reach in their former structure, he said by phone from Frankfurt.
Innogy's IPO issue price was set at the top end of its range Thursday, valuing the company at 20 billion euros ($22.2 billion). RWE sold newly issued shares corresponding to a 10 percent stake in Innogy for 36 euros each ahead of trading, the companies said Thursday in a statement. The original offer range was 32 to 36 euros. Another 15 percent was sold through private placements, assuming banks will completely exercise a so-called greenshoe option.
The start of trading is "a good confirmation" of the unit's pricing, Innogy Chief Executive Officer Peter Terium said Friday in an interview with Bloomberg Television. "It's a very, very good sign because we haven't outpriced the market" and haven't disappointed any of our first investors, he said. "Specifically the long money in the U.K. and in America is looking for long-term investment."
Terium, who handed over his role as CEO of RWE to his deputy Rolf Martin Schmitz on Friday, expects his former company to sell more Innogy shares, "while not immediately and not short-term" after the six-month lock-up period ends, he said. The unit will provide "most superb financial flexibility" for years, if not decades to come.
Raising Billions
RWE and Innogy will raise as much as 5 billion euros from the listing. It's also Germany's biggest IPO since Deutsche Post AG's in 2000.
Banks organizing the IPO and placements have the opportunity to buy as much as a 2.3 percent stake in Innogy from RWE borrowed for the greenshoe option.
Innogy may enter Germany's MDAX mid-cap stocks index as soon as of Dec. 19, while RWE will stay on the country's benchmark DAX index, Uwe Streich, an analyst at Landesbank Baden-Wuerttemberg, said Thursday.
Innogy is seeking a stand-alone credit rating for what Terium calls "a very stable investment-grade company," he said.
Watch Next: Innogy CEO Weighs First Day of Trading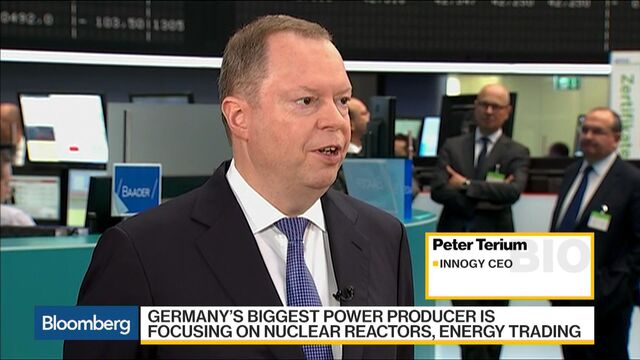 Before it's here, it's on the Bloomberg Terminal.
LEARN MORE