How to Run a Billion-Dollar Fund While Fighting a $5 Billion Lawsuit
Former Autonomy CEO Mike Lynch is running a hands-on fund while he battles HP in court.
By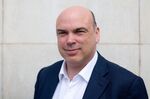 When a hot tech company gets acquired by a Silicon Valley giant, it's standard practice for employees to use their experience and windfall to go build startups elsewhere. When that acquisition becomes a spectacular embarrassment and ignites a years-long court battle, things get more complicated. Just ask Mike Lynch.
Lynch co-founded Autonomy, a software company that specialized in the sorting and analysis of big data sets for businesses. As chief executive officer, he sold the company to Hewlett-Packard in 2011 for $10.3 billion. A year later, HP wrote down $8.8 billion of that, alleging that Autonomy inflated years' worth of its finances. Lynch became a symbol of dealmaking gone awry. Yet even as he continues a ferocious legal fight with what's now called Hewlett Packard Enterprise, he's become an important part of London's venture capital scene.
His $1 billion Europe-focused firm, Invoke Capital, looks like a cross between the Carlyle Group and Y Combinator. Invoke doesn't just invest in tech startups; it helps set up and manage them, particularly by matching scientist founders with corporate types, many of them Lynch's former Autonomy colleagues. The idea is to use Lynch's connections, and fluency with data analysis and artificial intelligence, to get in early on promising projects from the academic community—especially British universities such as Cambridge, where he got a Ph.D. in digital signal processing in 1990.
When screening technologies, Invoke looks for startups that are far ahead of any rivals. "We want an unfair advantage. The internal saying is, always take a gun to a knife fight," Lynch says. As for Invoke's pitch to startups: "There's a little bit of an element of the Spice Girls. We can bring people together."
The firm has about 60 employees, a lot for VC. So far, though, its portfolio comprises just four companies. Lynch says that's because he wades deep into each startup's operations. About half his staffers do in-house research and development, helping existing portfolio companies improve their offerings and assessing potential additions.
Advances in AI and large-scale data processing are within the reach of existing hardware, says Laurence Garrett, partner at tech investment firm Highland Europe. "But you've got to be able to package that hardware in a very sophisticated, slick manner, and turn it into a business that can win clients," he says. "Mike's been thinking about and doing this for some time."
Lynch is asking academics to make the same leap from the ivory tower he did. His Ph.D. thesis focused on pattern recognition, drawing on the work of Thomas Bayes, an 18th century English clergyman and leader in the study of probability. Shortly after getting his doctorate, Lynch founded Cambridge Neurodynamics, which developed fingerprint recognition software, before starting Autonomy.
His most recent—and ironic—investment is Luminance, which makes software designed to process legal documents and check for dicey numbers in acquisitions. (Announcing the deal, he dryly said an overhaul of due diligence procedures was "perhaps long overdue.") Last summer, Lynch heard about Cambridge mathematicians working on algorithms that could better understand written language. After putting its own staff to work with the mathematicians to test the concept, Invoke set up Luminance as a company, provided R&D and legal experts, and hired an experienced executive as CEO.
Invoke is the only investor in Luminance, which is working with law firm Slaughter & May to refine its software in advance of a commercial launch. Lynch's firm is also the sole investor in Neurence, a Cambridge company making cloud-based AI software designed to help wearable gadgets recognize specific objects.
Invoke's biggest investment, cybersecurity company Darktrace, offers a more developed example of its approach. Invoke committed $10 million after helping a group of Cambridge AI specialists turn an embryonic technology—can an electronic immune system repel attacks better than humans?—into a viable business. Darktrace shares office space with Invoke, and its CEO, chief financial officer, chief technology officer, and head of marketing are all Autonomy alumni.
That so many Autonomy veterans are available to be hired, of course, is a function of the disastrous outcome of its acquisition. Initially, HP's then-CEO, Léo Apotheker, championed the deal as the linchpin of his strategy to reorient HP around high-margin software. It was at the time the biggest-ever sale of a U.K. tech company, and it made Lynch about $800 million, turning him into one of the country's richest entrepreneurs.
But HP ousted Apotheker soon after, putting Meg Whitman in charge. She pushed out Lynch and took the writedown, then diced Autonomy's products among various HP units, which were themselves divvied up when the company split into HP Inc. and software-focused HP Enterprise last year. HPE is preparing to sell off its Autonomy portfolio.
HP's claims against Lynch are nowhere near finished. While the U.K.'s Serious Fraud Office has said there was insufficient evidence for a prosecution, a U.S. Department of Justice probe is still under way, and HP last year sued Lynch and Autonomy ex-CFO Sushovan Hussain—also now at Invoke—for $5.1 billion. Hussain declined to comment.
Lynch has countersued for at least $160 million, claiming he's "suffered significant reputational damage and been unable to pursue business opportunities." In particular, his claim alleges, he "had advanced discussions with various financial backers, including private equity firms," for investments in Invoke that fell through because of HP's suit.
Lynch says he's "desperate" to drag Whitman into court and has no interest in a settlement. In a statement, HPE said it continues to believe Lynch and Hussain "conducted a systematic and sustained scheme to mislead investors and potential buyers" about Autonomy's performance.
Making a success of Invoke could help Lynch in court, says Tim Brown, a litigation expert at London law firm Reynolds Porter Chamberlain. "If he can show that it's relatively successful with limited backing, he can argue he would have made even more money" absent the HP fallout, Brown says.
Invoke is starting to attract big-name allies. In July, Darktrace raised $65 million from investors including KKR and SoftBank, valuing it at more than $400 million.
Although the Autonomy fracas has been bad for U.K. tech, Lynch says, the country has huge untapped potential—a broad scientific base but few world-beating companies. "It's like turning up in a country and finding out it has vast oil reserves," he says. "What we haven't been doing is drilling."
The bottom line: While fighting a $5 billion lawsuit from HP, Mike Lynch has set up a $1 billion venture firm that runs a lot like an incubator.
Before it's here, it's on the Bloomberg Terminal.
LEARN MORE