Headwinds Mount Over Polish Debt as Record Issuance Begins
by and
Poland sells new 10-year benchmark at highest yield since May

Languishing demand, Fed rate outlook challenge debt target
When foreign investors reduced their net holdings of Polish government bonds by 9 percent in the first four months of this year, local banks took up the slack.
Fast forward half a year and that domestic appetite has stalled, leaving Poland vulnerable just as the end of ultra-lax monetary policy in the euro-zone and the U.S. threatens to reduce investment to riskier assets. Poland kicked off its fourth-quarter debt issuance, the most ambitious ever, by selling new 10-year benchmark notes with a 3.098 percent yield, the highest at an auction since May. The rate was 10 basis points above similar securities on the secondary market.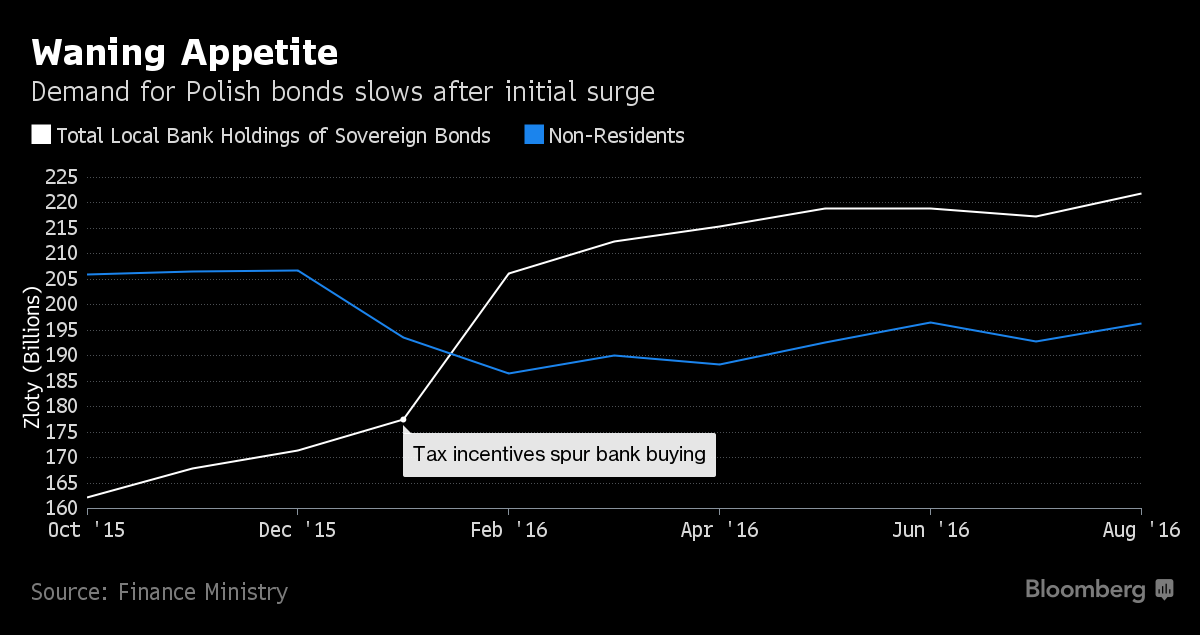 Poland created tax incentives for banks to hold more of its debt, fueling a surge in demand that lifted holdings by almost a third in the first half of the year. But that appetite has waned, and with a projected pickup in inflation, possible tapering of stimulus in Europe and the Federal Reserve edging closer to raising interest rates, the outlook for Polish bonds is deteriorating, according to HSBC Holdings Plc and Bank Millennium SA.
"Growing borrowing needs in Poland as well as the risk that global central banks will be limiting quantitative easing may push Polish yields higher," said Witold Wozniak, a fixed-income trader at Bank Millennium SA in Warsaw. "The Finance Ministry should be careful to ensure supply doesn't overshoot demand in future months."
Wozniak said the government should take these risks into account, even as experience shows that investors remain attracted to Polish yields amid near-zero global rates.
Auction Proceeds
The Finance Ministry raised 6 billion zloty ($1.5 billion) at an auction today, including the new 10-year note maturing July 2027, matching its plan after investors bid for 9.47 billion zloty at the sale. It's the first of as many as four auctions through the end of the year and part of a target to sell as much as 28 billion zloty of notes in the period.
Those proceeds will be used to finance this year's budget needs as well as helping to cover a 22 percent jump in spending next year to fulfill campaign pledges by the Law & Justice-led government elected last October.
Jaroslaw Kaczynski, Law & Justice party chairman, said that while he prefers that Poland not borrow abroad, he sees limits of financing state budget locally as it may crowd out lending for investments, according to an interview in Tygodnik Solidarnosc weekly magazine.
Demand Ebbs
The government may struggle to meet its maximum sales goal as the rush to build holdings of sovereign zloty bonds by local banks trails off after soaring 28 percent in the first five months of this year to 219 billion zloty, according to Finance Ministry figures through the end of August. The surge in January and February pushed lenders' holdings above foreign investors, whose ownership has dropped by about 10 billion zloty this year to 196 billion zloty.
"The exponential pace of bond buying by local banks may not be sustainable," said Radoslaw Bodys, head of rates strategy for central and eastern Europe, the Middle East and Africa at HSBC in London. "This suggests a deterioration in the supply-demand balance, especially that foreign investors have not been eager to increase their holdings."
Bonds fell on Wednesday, sending yields up the most since Britain said it voted to leave the European Union in June, after Bloomberg reported the European Central Bank was said to build a consensus to taper quantitative easing.
Any ECB tapering will have "significant consequences" for Poland, central bank Governor Adam Glapinski said on Wednesday in Warsaw after policy makers left rates unchanged at 1.5 percent for the 18th straight month. He reiterated that he expects the council's next move to be an increase at the start of 2018 as the economy improves.
Before it's here, it's on the Bloomberg Terminal.
LEARN MORE