He Pushed Dutch to Block Ukraine, Now Jan Roos Is After Rutte
By
Voor Nederland Aims to Get as Many as 10 Seats in Elections

Roos Blames Rutte for Increase in Crime, Loss of Sovereignty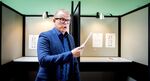 The Dutch rabble rouser who last year led a popular movement in the Netherlands to limit European ties with Ukraine has a new target in his sights: Prime Minister Mark Rutte.
As the new leader of political party Voor Nederland, Jan Roos aims to win as many as 10 of the country's 150 parliamentary seats in March 15 elections -- the first in which the party will participate, he said in an interview last month. Roos resigned in August from a satirical website to lead the faction, propelled by his success in organizing the referendum on an EU pact with Ukraine that was widely regarded as a test of national appetite on the bloc.
The Netherlands is the first of three nations representing about 40 percent of the EU's economy to hold national elections next year amid a wave of populism sweeping the region as voters reel from financial crises and the inflow of refugees. Rutte has been under fire from anti-Islam politician Geert Wilders who advocates leaving the union, eroding support for his Liberal party and other mainstream politicians. Roos wants to step into that void.
"There is no true liberal-right party in the Netherlands," said Roos, 39, a former journalist and ad man who had never worked in politics before taking the leadership role. With Voor Nederland "the disgruntled Liberal voter now has a place to go."
Among the positions Voor Nederland is trying to lure them with -- a 25 percent flat tax, a billion euros for increased national security and a tighter immigration policy to allow in only people who "add value" to society. Voor Nederland says that those from non-western backgrounds threaten the values of the country and stretch the welfare system.
'Multicultural Disaster'
Roos blames Rutte, who has been premier since 2010, for what he calls a "multicultural disaster," an increase in crime and a loss of political sovereignty for the Netherlands. But he also stops short of Wilders' policy on the EU. Rather than advocating a Dutch withdrawal from the EU, Roos is calling for a return to the EU's original roots as an economic partnership.
He also draws a divide on Wilders' rhetoric: calling his anti-Islamic remarks and solutions "unconstitutional." Wilders has been charged with inciting hate following comments after calling for fewer Moroccans in the country.

Carving out specific positions for a political party is important in the Netherlands, where 11 parties won seats in the last election. Based on current polling, at least four would need to figure out a way to work together to form a coalition representing a majority of Parliament's seats.
Wilders Lite?
As the economy has improved and the stream of refugees has abated, Rutte's Liberal party has stopped addressing voter concerns about the EU, taking a lull in anti-EU sentiment "for granted. That is the topic that Voor Nederland can exploit," said Adriaan Schout, senior researcher at the Netherlands' Institute for International Relations Clingendael. Roos could also stand to win votes by appealing to people who can't take the full Wilders, according to Schout. "For many people, Wilders is not an option."
Still, Roos has his work cut out for him in moving beyond his single-issue campaign on Ukraine to building a full political movement, Schout said. There has been no resolution of the vote as the Dutch government is still studying the result on of the April referendum on the so-called EU Ukraine association agreement. While the rejection result was non-binding, Rutte's government said it would work on revising the agreement. No changes have yet been proposed.
Roos has moved on and is unfazed by the challenge. Transitioning beyond journalism was a natural evolution, he said, as he considers himself a lifelong "opinion maker." With his success on Ukraine, he says he realized that he could have an impact and that "words are no longer enough."
For Related News and Information:
First Word scrolling panel: FIRST
First Word newswire: NH BFW
— With assistance by Martijn Van Der Starre, and Corina Ruhe
Before it's here, it's on the Bloomberg Terminal.
LEARN MORE