Hammond Says Britain Still Open for Business Amid Brexit Nerves
by and
Chancellor says government not seeking 'hard Brexit' in talks

Hammond says U.K. welcomes high-skills, praises banking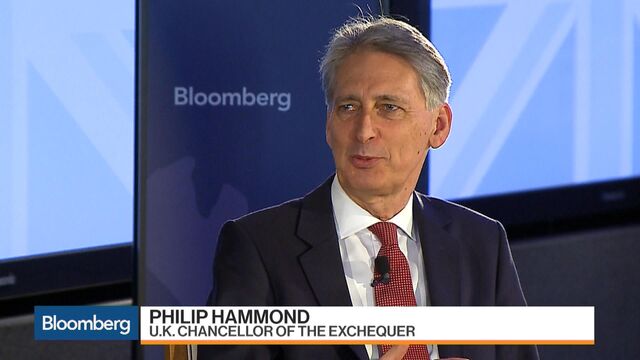 Follow @Brexit for the latest news, and sign up to our Brexit Bulletin for a daily roundup.
Chancellor of the Exchequer Philip Hammond dismissed mounting speculation that the British government is turning anti-business as it prepares to leave the European Union.
In a Bloomberg Television interview on Thursday during his first trip to New York's Wall Street as finance minister, Hammond said Prime Minister Theresa May's administration isn't pursuing a so-called hard Brexit, recognizes the value of the country's finance industry and will continue to welcome high-skilled foreigners.
"The government is a pro-business government, strongly supportive of open markets, free markets, open economies, free trade," Hammond said. "But we have a problem -- and it's not just a British problem, it's a developed world problem -- in keeping our populations engaged and supportive of our market capitalism, our economic model."
The chancellor was seeking to calm nerves among businesses and bankers after May used her Conservative Party's annual conference this week to attack "international elites" and pledged to make capitalism fairer for workers. Officials in her government also questioned the importance of banking and championed tougher immigration curbs, raising concerns that it would prioritize migration controls over access to the single market in Brexit negotiations.
For more on the debate at the Conservative conference, click here
"There are people who feel the economy isn't working for them, that they're the losers out of globalization," Hammond said. "What Theresa May was setting out is a recognition that we have to re-engage those people who feel that they don't have a stake in the economy any more."

Investors haven't welcomed May's approach fearing it means the U.K. is ranking control of immigration over promoting trade and banking. The pound and gilts as well as U.K. equities and corporate bonds all fell on Thursday.
"We don't recognize the distinction between hard and soft Brexit," said Hammond. "We want to get the right Brexit for Britain."
European Attitudes
He held out hope that European governments will prove more malleable in private than in public where they are currently arguing the British cannot enjoy both lower labor flows and continued access to the single market.
"There will be a discussion and a solution, as the prime minister said, will involve give and take on both sides," Hammond said.
Just before he spoke, German Chancellor Angela Merkel told a business audience in Berlin that "there will be no easy negotiations" as she argued allowing exemptions to EU rules on migration for Britain would lead to a free-for-all across the continent.
Financial Services
On a day when he's meeting executives from banks including Morgan Stanley and Goldman Sachs Group Inc., Hammond said he recognized the role finance plays in Britain's economy, where it accounts for about 12 percent of output. Bloomberg News this week cited three officials in May's government as saying it won't try to protect the sector in the Brexit talks.
"The financial-services sector is a very important part of the U.K. economy," Hammond said. "We place a very high priority on getting the right solution for the U.K. financial sector."
Making the point that European companies use London's financial sector, he said "it will be one of the U.K. government's objectives to ensure that parts of the financial-services sectors that are Europe-facing are able to continue doing business in Europe."
Passporting Rights
Bankers are worried that by focusing on immigration, the government will cost them their passporting rights that allow them to operate in the EU and also limit their ability to hire talented foreigners. Home Secretary Amber Rudd this week unveiled a series of measures aimed at making it harder to employ people from overseas.
"The problem is not highly skilled workers, highly paid bankers," Hammond said. "The issue we have to deal with are entry-level jobs and that's the challenge."
The chancellor also said London's derivatives clearing business may not be up for grabs once the U.K. has left the EU despite overtures from Paris and Frankfurt. The European Central Bank previously failed in a legal bid to have interest-rate swaps trading and clearing in the euro located within its region.
"It's by no means clear to me that the rules of the single market, even after Britain has left, would permit the ECB to require euro-denominated instruments to be cleared inside the euro zone," Hammond said.
Carney Term
While arguing Brexit offers long-term opportunities for the U.K. economy, he acknowledged the June vote to leave the EU had generated uncertainty among companies and that the economy is likely to slow. He reiterated he will next month detail plans to invest in targeted projects to absorb the "shock."
Hammond also said quitting Europe's Customs Union, as some colleagues in government have recommended, could spell a "frictional cost" for exporters by imposing greater border regulations on them. Staying in the union means the U.K. cannot strike trade deals with other countries.
The chancellor gave his backing to Bank of England Governor Mark Carney, saying he would welcome a decision by the Canadian to serve a full eight-year term through 2021 rather than leave in 2018 as originally planned.
"The governor's doing a good job," Hammond said.
Watch Next: Hammond on Brexit, Productivity, U.K. Economy (Full Interview)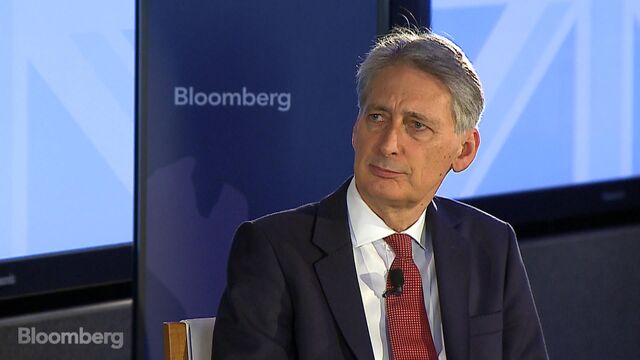 Before it's here, it's on the Bloomberg Terminal.
LEARN MORE