Hammond Backs Carney Amid Countdown to Decision on BOE Job
by and
Governor has said he will clarify tenure before end of year

Chancellor says Carney helped U.K. economy after Brexit vote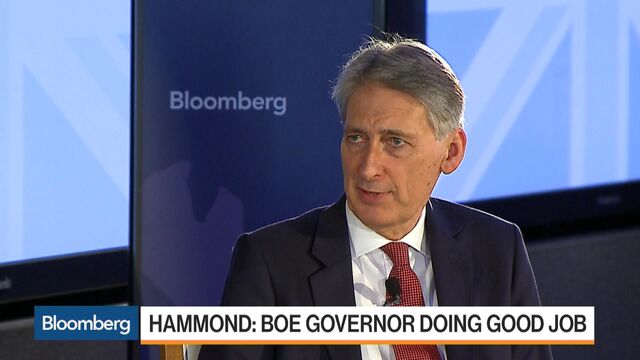 U.K. Chancellor of the Exchequer Philip Hammond gave his backing to Mark Carney and said he'd welcome a decision by the Canadian to remain in his role as Bank of England governor.
The governor has less than 90 days before a self-imposed year-end deadline to say whether he wants to serve a full eight-year term through 2021, or leave in 2018 as originally planned. While Carney has drawn criticism from some lawmakers for his handling of the U.K.'s decision to leave the European Union, Hammond said that the BOE's actions helped smooth the economy's progress after the vote in June.
"The governor's doing a good job," Hammond said in a Bloomberg Television interview in New York. "He will make his decision in due course and that's his decision, he made that very clear, but I certainly would welcome his decision to stay if that is the decision he makes."
Hammond's comments come as the political view of central bank policies that drive interest rates lower has sounded increasingly critical. Prime Minister Theresa May said Wednesday that ultra-loose monetary policy had some "bad side effects" and increased inequality.
Carney, who was appointed by Hammond's predecessor George Osborne, oversaw the BOE's first interest-rate cut in seven years in August alongside a package of asset purchases, aimed at tackling any economic fallout from the vote. While the economy has so far shown some resilience to the Brexit vote, some policy makers say the effect could be drawn out over time.
"He is in a very tough position in terms of how he is trying to deal with this situation," Scott Thiel, deputy chief investment officer of global fundamental fixed income at BlackRock, said at a press briefing in London. "I don't envy him. The question for Mr. Carney, which is a very difficult one, is does he react to what he sees or does he react to something more forward."
Even so, Hammond had only praise for policy makers in the interview with Bloomberg editor-in-chief John Micklethwait.
"The Bank of England is executing its remit as an independent central bank and the Monetary Policy Committee is the arbiter on monetary policy decisions, in my view very effectively," he said. "They helped us recover from the financial crisis and they have helped us to smooth the response to this shock that occurred on June 23."
Watch Next: Hammond on Brexit, Productivity, U.K. Economy (Full Interview)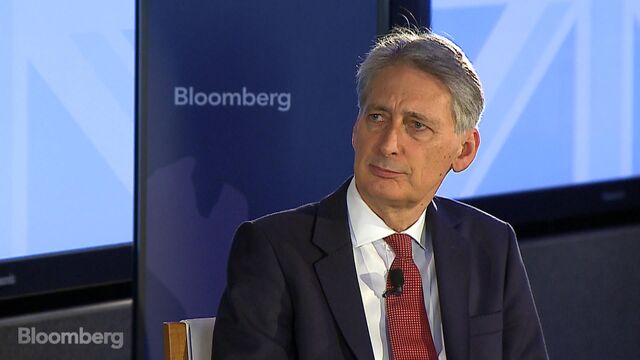 Before it's here, it's on the Bloomberg Terminal.
LEARN MORE