Global Bonds Retreat as Stimulus Outlook Upended a Second Time
by
Fed hike bets climb amid talk of tapering in Europe and Japan

Developed-market sovereign debt slides to lowest since July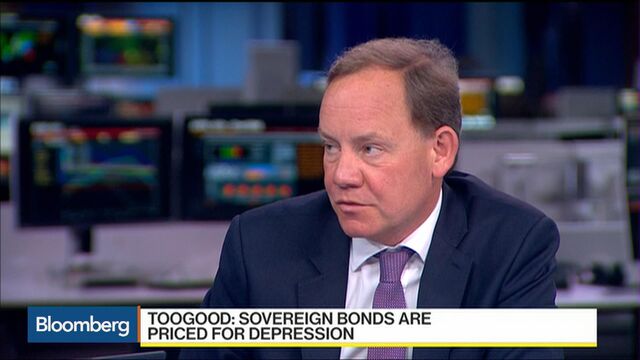 Bond investors already compelled to scrap expectations for a great divergence in global monetary policies this year are now rethinking the direction in which major central banks will converge.
Traders are fast adding to bets that the Federal Reserve will raise interest rates before year-end amid strengthening economic data. At the same time, speculation is mounting for the European Central Bank and the Bank of Japan to taper their asset-purchase programs. Last month, the consensus in markets was these authorities would maintain easier policies for longer. An index of developed-market sovereign debt has swung to the lowest since July from an almost three-week high on Sept. 26, before the ECB releases minutes of its September meeting.

"We feel reasonably confident in saying that the cyclical lows are behind us in bond yields," said Andrew Sneddon, a Sydney-based money manager at Russell Investments, which oversees more than $247 billion. He said a "strengthening inflation pulse" will lead investors to look at the absolute levels of yields provided by 10-year Treasuries and ask "does that actually make sense net of inflation?"
The 10-year Treasury note yielded 1.71 percent as of 7:23 a.m. in London Thursday, from as low as 1.53 percent at the end of last week and a record-low 1.318 percent in July. The two-year Treasury yield was at 0.84 percent after touching 0.85 percent Wednesday for the first time since June 3.
A Treasury-market gauge of inflation expectations a decade from now known as the break-even rate rose as high as 1.649 percent on Wednesday, a level unseen since May 19. The Fed targets 2 percent inflation.
Fed Bets
The market-implied probability of higher U.S. rates by year-end has jumped to 62 percent, the highest since Aug. 26, after a report Wednesday showed U.S. services companies expanded in September at the fastest pace in almost a year. The odds for action in November have climbed to 24 percent from 17 percent at the start of this week.
The Bloomberg U.S. ECO surprise index -- which measures whether economic data have exceeded or fallen short of analysts' estimates -- has surged this month and is now positive for the first time since August. A closely watched payrolls report is due Friday.
Upward Pressure
Yields are also facing upward pressure from rising doubts about the sustainability of monetary stimulus via bond purchases in Europe and Japan.
BOJ Governor Haruhiko Kuroda's denial that a shift in focus toward yield-curve targeting from expanding the money supply amounts to tapering has failed to convince some analysts and investors. Calculations by Bloomberg indicate the central bank is set to purchase the least amount of longer-term Japanese government debt this month since it expanded quantitative easing in October 2014.
Bloomberg News reported this week that the ECB will probably gradually wind down bond purchases before the conclusion of QE, citing euro-area central-bank officials.
Yields on Italy's 10-year bonds surged to the highest since June on Wednesday, and those on Spain's jumped above 1 percent for the first time in two weeks. Germany's benchmark bund yield reached the cusp of zero percent for the first time since Sept. 21.
The ECB on Thursday releases minutes of its Sept. 8 gathering, when policy makers sent global yields higher by leaving their key interest rates unchanged and refraining from expanding asset purchases. President Mario Draghi said officials would study options to ensure the central bank doesn't run out of bonds to buy.
"Any nod to the taper potential will surely be bearish" for global bonds and risk assets, Ian Lyngen, a New York-based independent analyst who was voted among the top strategists for 2016 in an Institutional Investor poll in July, wrote in a report. For Treasuries, "the bearish price action that has been in place since last Friday remains well entrenched, and we see little reason to suggest the move has fully run its course."
Before it's here, it's on the Bloomberg Terminal.
LEARN MORE