First National Sees Hit to Net Income on Canada Housing Rules
by
CEO Smith trims profit growth forecast to range of 3% to 9%

Will shift to ABCP for about a quarter of mortgage business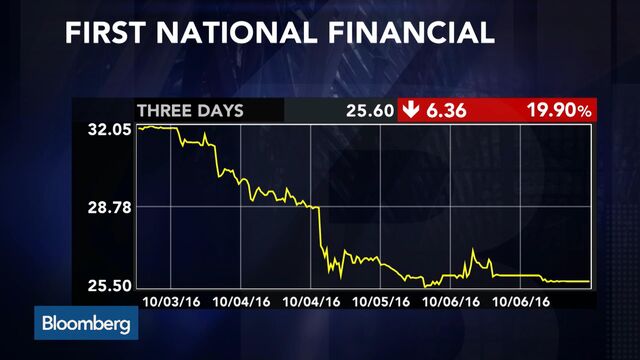 First National Financial Corp., Canada's largest alternative mortgage provider, says new housing rules imposed by the federal government will trim profit growth as mortgages become more expensive and harder to insure.
Net income will probably grow in the range of 3 percent to 9 percent a year, from a previous forecast of 5 percent to 10 percent, said Chief Executive Officer Stephen Smith. About a quarter of First National's annual residential mortgage originations, or C$3 billion ($2.3 billion), will no longer qualify for insurance under the regulations, he said.
"We might not get the same growth of income, but I don't see it declining," Smith, 65, who founded the company with partner Moray Tawse in 1988, said by phone from Toronto Wednesday. "Longer term, it'll affect our margins but it's not like all of a sudden our income's going to drop off."
First National has slumped almost 20 percent since Finance Minister Bill Morneau unveiled measures to tame Canada's housing markets on Monday, erasing six months of gains that had pushed the stock to a record high in July. The shares fell 0.10 percent to C$25.89 at 12:52 p.m. in Toronto, for a market value of C$1.55 billion.
Won't Qualify
The rules include a more stringent stress test for home buyers, stricter eligibility criteria for loans that lenders insure and closes a tax loophole that allowed non-residents to sell their principal homes tax-free. Morneau also said the government is exploring ways for banks to share a greater risk of mortgage defaults.
First National, which arranges all of its mortgages through brokers, originates about C$22 billion a year in mortgages, of which C$13 billion is residential, C$4 billion is commercial, and C$5 billion are renewals. Of that C$13 billion in home loans, 23 percent are refinancings, when mortgage borrowers ask for a new deal, Smith said.
Smith figures that under the new rules, about a quarter of the company's residential mortgages won't qualify for so-called portfolio insurance, or the bulk pooled insurance the lender buys. The rules stipulate that as of Nov. 30, low-ratio mortgages with a 20 percent down payment will have to meet requirements previously reserved for high-ratio mortgages.
That means he won't be able to fund them in the National Housing Act mortgage-backed securities market, prompting him to seek more financing in the asset-backed commercial paper market.
ABCP Market
"I can't put mortgage insurance on that anymore," Smith said. "Of those mortgages, I'll put some into ABCP and sell to institutions." 
The expected higher cost of financing prompted First National to raise fees on some products after the announcement Monday. Still, Smith said that he doesn't see the extra charge "really materially affecting the bottom line in the next year."
Geoffrey Kwan, an industry analyst at Royal Bank of Canada's capital markets unit, lowered his 12-month forecast on the stock to C$27 from C$31, and maintained his recommendation to sell the stock as he sees limited growth in the housing market. Kwan reduced earnings-per-share estimates for next year by 1 percent to C$2.90, and 3 percent lower to C$3.11 a share in 2018, citing the potential hit of a long period of lower originations.
'Stock Oversold'
First National reported net income of C$41.3 million in the second quarter, 3 percent below the prior year, according to financial documents. Mortgages under administration increased 7.2 percent to C$97 billion in the quarter ended June 30 from the prior year. The Toronto-based lender is releasing its third-quarter results Oct. 25 after the market closes.
Smith said the stock decline is an opportunity, not an omen.
"The stock is oversold -- these are very subtle changes," Smith said. "There's uncertainty and investors, quite prudently, are saying 'until I understand the issue I'm not good for the stock anymore.' And that means there are potentially buying opportunities."
Before it's here, it's on the Bloomberg Terminal.
LEARN MORE