Fed Hike Shouldn't Shake Faith in Gold, Says Mining Chief
by and
Gold's trading near lowest level in more than three months

Low interest-rate world to support bullion: Evolution's Klein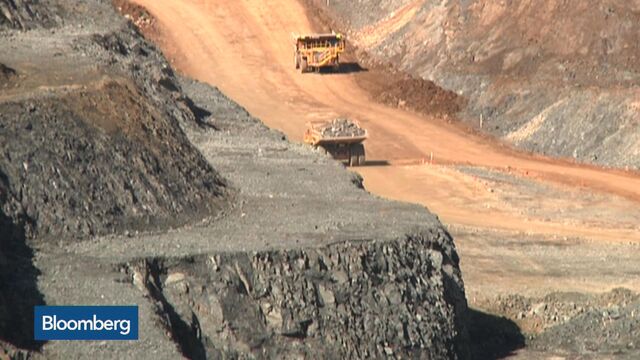 A Federal Reserve interest-rate increase this year shouldn't shake investors' faith in gold, according to Australia's second-largest producer.
Bullion is trading near the lowest level in more than three months after slumping 3.3 percent on Tuesday, the biggest loss in over a year. Prices have tumbled on worries that central banks are poised to curb stimulus and that the Fed may be set to raise interest rates in December for the first time in 12 months as the economy improves.

The probability of a Fed hike in December has risen to 62 percent, from 54 percent a week ago, futures data compiled by Bloomberg show. Still, any increase in U.S. borrowing costs needs to take into account that central banks have cut rates about 600 times since 2008, Evolution Mining Ltd.'s Executive Chairman Jake Klein said Thursday in an interview with Bloomberg Television's "Daybreak Asia".
To watch the video, click here
"In context, conditions are still favorable for gold," Klein said. "I'm optimistic on the gold price, because we are in an environment where we have unprecedented low interest rates. It's difficult to see rates rising a lot."
Bullion's rebound in 2016 from three annual declines and the scaling of a two-year high in July, have sparked new interest from investors in producers, according to Klein, who said in August miners were being feted like rock stars and that he'd never had so many invitations to corporate or sporting events.
Sydney-based Evolution fell 4.3 percent to A$2.23 in local trading on Thursday, trimming its advance this year to 63 percent. Spot bullion slipped 0.1 percent to $1,265.27 an ounce, according to Bloomberg generic pricing. "The price is still up almost 20 percent this year, so from a gold miners' perspective, we've still got to be happy" even with the decline this week, Klein said.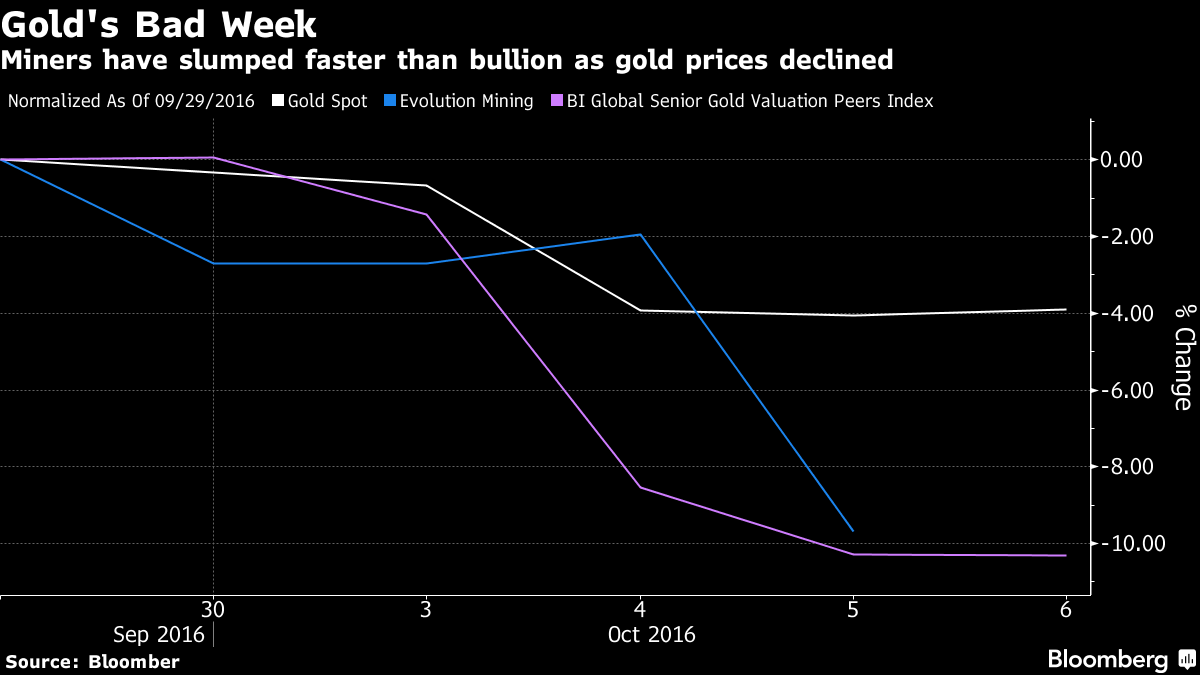 Forecasters are split on the future for the metal. Gold remains 20 percent to 25 percent overvalued, leaving it poised for further losses, according to Deutsche Bank AG Chief Global Strategist Binky Chadha. Yet, risks tied to November's U.S. presidential election and Britain's talks to leave the European Union could boost gold's role as a haven asset, says Barnabas Gan, an economist at Oversea-Chinese Banking Corp. in Singapore.
Gan was the most accurate forecaster for the metal in the third quarter, according to data compiled by Bloomberg.
Deal Hunger
Evolution in August announced a A$880 million ($669 million) deal to acquire both a stake in and future output from Glencore Plc's Ernest Henry operation in Queensland, and is continuing to review opportunities to improve the quality of its portfolio and lower costs, according to Klein.
The producer earlier in August agreed to sell its higher-cost Pajingo gold mine, and expects to find willing buyers if it considers further sales of operations, Klein told reporters in Melbourne following a speech. "There is a group of Australian gold companies today who will be active and engaged if assets -- and we are not selling at this stage -- are put up for sale," he said.
Deal-making in the industry in the quarter to Sept. 30 was the busiest since 2010 by transaction volume, according to data compiled by Bloomberg.
Evolution is budgeting as though the gold price was about A$1,500 an ounce, Klein said in his interview. Gold in Australian dollars traded at A$1,664.15 on Thursday. "We are running the business for conditions that could get more challenging, but we are certainly confident and hopeful that we'll continue to generate significant returns," Klein said.
Before it's here, it's on the Bloomberg Terminal.
LEARN MORE