Goldman Veteran on Fast Track in New Jersey Governor's Race
By
Senate president bows out of contest and clears way for Murphy

Murphy's ascent echoes arrival of Corzine as a rich outsider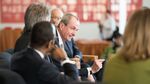 More than a year before New Jerseyans choose a replacement for Republican Governor Chris Christie, former Goldman Sachs Group Inc. executive Philip D. Murphy has lost a major competitor for the Democratic candidacy.
Murphy, 59, who most recently was U.S. ambassador to Germany, secured the endorsement of Senate President Steve Sweeney, a Democrat who announced Thursday that he won't run for the state's highest office. On Sept. 28, Jersey City Mayor Steven Fulop, a 39-year-old former investment banker, said that he, too, won't run, and threw his support behind Murphy.
"The party is coalescing around Phil," Sweeney said in a Thursday interview. "As a Democrat, I'm going to support Phil Murphy."
Murphy's rise parallels that of Jon S. Corzine, 69, the Democrat and onetime Goldman co-chairman whom Murphy has called a friend. Corzine, a multimillionaire who grew up on a farm in Illinois, was elected governor in 2005, declaring in his inaugural address, "Hold me accountable."
He was defeated for a second term by Christie, 54, who ran on a promise to restore stability as New Jersey plunged into economic recession. Term limits prevent Christie from running for a third term in 2017. He abandoned his presidential campaign in February, became a surrogate and adviser to nominee Donald J. Trump and reached a new low in recent polls as voters disapproved of his handling of state finances.
Blue State
Democrats outnumber Republicans by 836,800 registered voters, according to state elections data from September. Most, though, 2.4 million, are unaffiliated, a demographic that proved crucial to Christie, the first Republican elected New Jersey governor in 12 years.
Sweeney was key to Christie's first-term bipartisan agenda, including requiring public workers to contribute more toward pensions and benefits and to delay retirement. As New Jersey's unfunded pension liability grew to more than $83 billion, Sweeney, an ironworker, declined to go along with Christie's call for another round of cuts. He risked a primary fight with declining support among unions, though, having failed to post legislation to require mandatory minimum pension payments from the state.
So far, two Republicans have declared their candidacy: Assemblyman Jack Ciattarelli, 54, from Hillsborough, and Joseph Rullo, an Ocean County businessman whose personal interests on Facebook include "United States Constitution, liberty, freedom and GOD."
Murphy, the former head of Goldman's Frankfurt office, hasn't held elective office. On Wednesday, he was endorsed by former Governor Richard Codey, 69, and Thursday in Hackensack picked up support from more party leaders, including heads of county committees, Assembly Speaker Vincent Prieto, 56, from Secaucus, and Senate Majority Leader Loretta Weinberg, 81, from Teaneck.
Still Kicking
Absent was Senator Raymond Lesniak, 70, a Democrat from Elizabeth who said he will file candidacy papers for the governor's office Friday, and kick off his race after the presidential election.
"Phil Murphy is just plying everyone with tons of money," Lesniak said by telephone. "That will prevent him from enacting any reforms even if he wanted to. He's now beholden to all the party leaders."
Another Democrat, Assemblyman John Wisniewski, 54, from Sayreville, announced Thursday that he had formed an exploratory committee for the office. Wisniewski, who chairs the transportation committee and co-chaired the panel that investigated the George Washington Bridge traffic scandal, said he would focus on roads and rail, education, the environment and a better economy. His advisers are veterans from Bernie Sanders's failed campaign for president, he said via e-mail.
A Massachusetts native with a working-class background, Murphy pledged $10 million of his own to his campaign and spent $1.7 million as of July 15, according to New Jersey Election Law Enforcement Commission filings. At campaign events around the state he says that New Jersey's job growth relies on attracting technology firms.
During an interview in May, Murphy said he needed to distinguish himself from Corzine in order to win over voters. "Just because we wore the same uniform for some amount of time doesn't mean we're the same person or cut out from the same leadership style," he said.
In 2014 and 2015, Murphy and his wife donated more than $700,000 to Democratic campaigns in New Jersey, including tens of thousands of dollars to county political-action committees, according to state election filings.
"Murphy has dusted off the Corzine playbook of transactional politics that trades campaign contributions for political allegiance to clear out the field of potential primary contenders," Rick Rosenberg Jr., spokesman for the New Jersey Republican State Committee, said in an e-mail. "Murphy might be able to buy the support of money-hungry politicians and party bosses, but no amount of money will convince families and seniors to elect another out-of-touch Wall Street executive."
Derek Roseman, a spokesman for Murphy, said that at town-hall meetings and other campaign events, no one brings up Murphy's similarity to Corzine.
"The only people who even mention that comparison are people in the media and Republicans," Roseman said. "People are talking about issues. They want to talk about ideas."
Before it's here, it's on the Bloomberg Terminal.
LEARN MORE