European Stocks Beat Junk Bonds for Barclays in Taper Talks
By
Speculation for a winding down of stimulus to hurt high yield

Commerzbank recommends caution on bonds in tapering scenario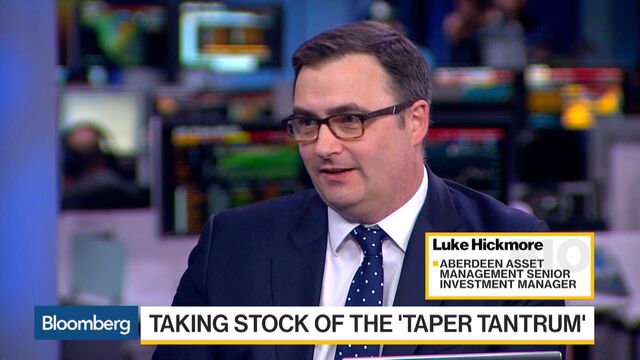 European equities are looking increasingly attractive relative to the corporate-bond market.
So says William Hobbs, the head of investment strategy at Barclays Plc's wealth-management unit. The record streak of outflows from European stock funds has been overdone, and the surge in high-yield debt has made the bonds too expensive, he says. While the Euro Stoxx 50 Index has fallen in 2016, junk bonds have returned more than 7 percent, with the two asset classes heading for their first year of opposite returns since 2010.

Hobbs points to an improvement in Europe's economy as a reason to bet on a recovery in equities. On the other hand, growing speculation that the European Central Bank may taper its asset-buying program will hurt the corporate-debt market that has so far benefited from it.
"We may be approaching a turning point as the central bank gets less aggressive," Hobbs said from London. He's overweight both high-yield corporate bonds and developed-market shares, though he said he favors equities. "Stocks, once the dust has settled, offer the greater return potential, alongside higher liquidity."
The prospect of an end to the ECB's bond buying crept into investors' minds last month, after President Mario Draghi downplayed the need for additional stimulus measures. The speculation increased this week, after people familiar with the matter said the ECB has held discussions on the best way to taper quantitative easing. While Draghi has pledged to extend the program beyond its March deadline if needed, he has also ordered a review of its rules.
Skepticism about the efficacy of QE in boosting growth has hit stocks this year, with Europe's equity funds seeing $91 billion of net outflows in a record 34 weeks of withdrawals, according to a Bank of America Corp. report citing EPFR Global data. The 7.9 percent slide in the Euro Stoxx 50 has taken its valuation to 13.3 times estimated profit, down from last year's high of 16 and back in line with its three-year average, figures compiled by Bloomberg show.
That contrasts with the bond market, where a Bloomberg Barclays index tracking high-yield debt is heading for its best annual returns since 2013 and is near a record high. Yields have fallen to about 4 percent from 6.25 percent in February, reaching their lowest levels since April 2015 last month. While junk-bond funds also had outflows this year, investors pulled a mere $8.3 billion, Bank of America data show.
For a QuickTake explainer on the ECB's QE program, click here.
The Euro Stoxx 50 has rebounded 12 percent from its low in the aftermath of the U.K. vote to leave the European Union. Even though it remains below its pre-Brexit level, strategists have tempered their pessimism in recent weeks. They're expecting an annual drop in the gauge of just 5.7 percent, compared with 10 percent in August.
Economic data have played their part in easing anxiety, with manufacturing in France, Italy and Spain beating forecasts this week, and German factory orders jumping. At the same time, the International Monetary Fund raised its projection for the region's growth this year to 1.7 percent from 1.6 percent. Banks, hurt by worries about their profitability in a low-rate environment and mounting legal costs, have rebounded more than 20 percent from a trough in July.
"If there's a form of ECB tapering, supporting less that part of the market, I'd probably prefer to be in stocks than in high yield," said Peter Dixon, an economist at Commerzbank AG in London. "Bond investors must be more cautious in an environment of tapering, and they may wish to take some protection."
— With assistance by Selcuk Gokoluk
Before it's here, it's on the Bloomberg Terminal.
LEARN MORE