EU's Moscovici Confident That Italy Will 'Muddle Through'
by and
Country faces make-or-break reform referendum on Dec. 4

Italian banks seeking ways to reduce non-performing loans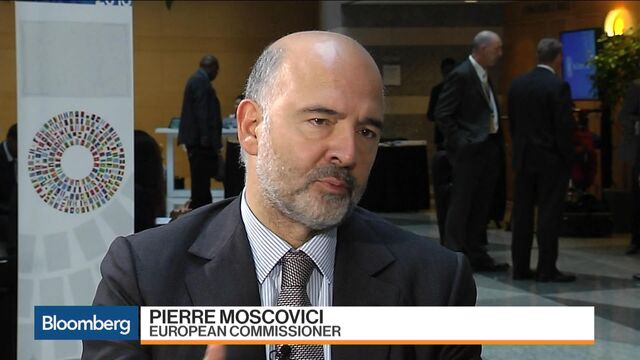 European Union Economic and Monetary Commissioner Pierre Moscovici said he is confident that Italy will "muddle through" the budget and banking challenges it faces.
"We are addressing the issues, we are discussing on banks," Moscovici said in an interview with Bloomberg Television from Washington on Thursday. "We're discussing also the fiscal situation."
Italy's gross domestic product will expand 0.8 percent this year and 0.9 percent next, the Washington-based International Monetary Fund estimated on Tuesday in its World Economic Outlook. In July, the fund had already reduced its projection for the euro-region's third-biggest economy, saying it expected a growth of 0.9 percent in 2016 and 1 percent in 2017.
Investors remain concerned both about the country's economic recovery and how the nation will revive its lenders, loaded with 360 billion euros ($402 billion) of troubled loans. Prime Minister Matteo Renzi has scheduled a major political reform referendum for Dec. 4.
"I'm quite confident that Italy, as always, will muddle through and solve its own problems with our help," Moscovici said. "There is a populist threat" he added. "That's why we support Mr. Renzi's attempts to be a strong partner inside the EU."
For Related News and Information:
Top Stories:TOP
Watch Next: EU's Moscovici on Brexit, Populism, Policy Integration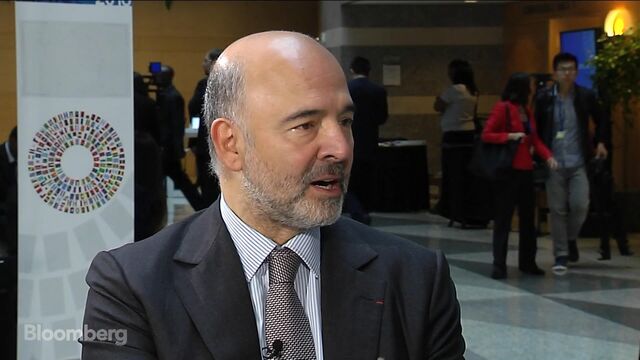 Before it's here, it's on the Bloomberg Terminal.
LEARN MORE