markets
EU Launches Border and Coast Guard Agency to Deal With Migrants
By
Agency will coordinate border deployment of ships, helicopters

EU's Avramopoulos speaks at Bulgarian-Turkish border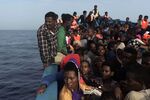 The European Union launched a common Border and Coast Guard Agency to strengthen its borders in member states dealing with increased arrivals of refugees fleeing conflicts and poverty in the Middle East, Africa and Asia.
"Today is a milestone in the history of European border management," EU Migration Commissioner Dimitris Avramopoulos said on Thursday in Kapitan Andreevo, Bulgaria, on the border with Turkey. "From now onward, the external EU border of one member state is the external border of all member states – both legally and operationally."
Expanding the tasks of Frontex, the 28-nation bloc's existing border management force, the agency will coordinate the deployment of ships, helicopters and boats with border police in EU countries facing pressure from migrants, the European Commission said in a statement. It will keep 1,500 border service personnel in reserve who can be quickly sent to emergency situations upon government request. It will also be involved in the repatriation in refugees, according to the statement.
The force underscores EU countries' efforts to step up cooperation on protecting their borders in the wake of the trading area's worst refugee crisis since World War II and the U.K.'s vote to leave. The EU accepted 305,700 applications from asylum-seekers in the second quarter, increasing their total number to about 1.5 million in the past year.
"We are now better equipped than before," Avramopoulos said.
Before it's here, it's on the Bloomberg Terminal.
LEARN MORE