EasyJet Profit Falls as Brexit Compounds Terror-Spree Impact
by
Pretax profit down about 28 percent as pound's fall hits costs

CE0 sticks with growth plan, saying rivals will suffer more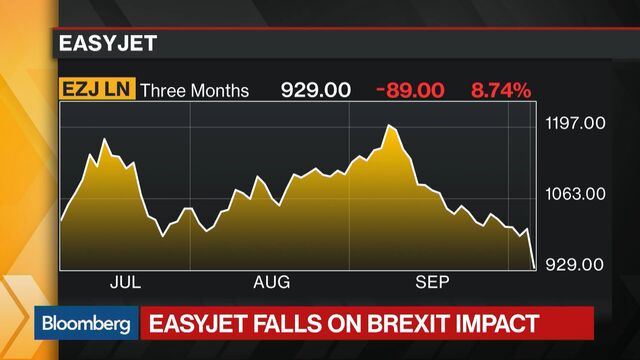 EasyJet Plc's annual profit declined for the first time since 2009 as a slump in the pound inflated costs and a spate of terror attacks across Europe depressed prices, revealing the challenge facing even the region's biggest carriers amid faltering economies and a glut in capacity.
Shares of Luton, England-based EasyJet fell as much as 8.9 percent Thursday after it said pretax profit for the year ended Sept. 30 was between 490 million pounds and 495 million pounds ($623 million-$630 million). That's about 28 percent below 2015's earnings and lower than the 516 million-pound figure anticipated by analysts.
European carriers have seen demand ebb and prices drop on short-haul routes as terrorists target tourist centers spanning Mediterranean resorts to cities including Paris and Brussels, with Nice, France, and Sharm el-Sheikh in Egypt among the EasyJet destinations directly affected. Sterling's slide following Britain's June 23 vote to leave the European Union has been a further burden for U.K. carriers, with much of the impact yet to be felt.

EasyJet has been "disproportionately affected by extraordinary events" but will press on with plans to boost capacity 8 percent in fiscal 2017 in the belief that smaller and less efficient competitors will suffer more, Chief Executive Officer Carolyn McCall said in a statement. "The current environment is tough for all airlines, but history shows that at times like this the strongest airlines become stronger," she said.
EasyJet shares slumped to 913.5 pence, the lowest level since January 2013, and closed down 6.9 percent at 933.50 pence in London. The stock has fallen 46 percent this year, having lost a third of its value in the two trading days after the Brexit vote, for a market value to 3.71 billion pounds.
While the impact of the EU referendum on demand remains tough to gauge, sterling's slide has bloated the fuel bill, paid in dollars, as well as EasyJet's euro-denominated costs. The carrier ceased providing full-year guidance following the poll, after initially saying earnings would match a consensus analyst estimate of 738 million pounds.
Exchange-rate movements cost the airline about 90 million pounds in the year, an increase of 35 million pounds since the poll. A similar foreign-exchange hit is expected in fiscal 2017.
Fares Slide
While terrorist violence impacted several EasyJet markets and caused it to end flights to Sharm el-Sheikh entirely last November after a Russian jet was brought down by a suspected bomb, summer timetables were also disrupted by air traffic control strikes in France, where the carrier ranks second behind Air France-KLM Group.
A capacity glut has weighed on fares, with revenue per seat at constant currencies falling 8.7 percent in the period versus a year earlier. Still, the lower ticket prices helped boost EasyJet's passenger tally for the final quarter to a record 22 million, with its planes flying 94 percent full, and the annual profit was its third-highest ever.
McCall is sticking with EasyJet's capacity plan as the same pricing pressures hit other operators, among them Air Berlin Plc, cutting 1,200 jobs, Monarch Airlines Ltd., which is seeking a bailout, and TUI AG, currently exploring merger plans for its German airline arm.
EasyJet is evaluating an order for Airbus Group SE A321 planes that would further boost capacity by up-scaling to the manufacturer's largest single-aisle model, Chief Financial Officer Andrew Findlay said on a conference call. It's also seeking a deal that would see planes sold to a leasing company, delivering a one-off gain, and rented back. That could involve 10 to 15 jets, Findlay said.
EasyJet will direct extra seating at markets including Italy, Spain and Portugal, which have been less affected by the terror spree. The CFO said the company is also working to improve the response to disruptive incidents, though anticipates fewer this fiscal year.
Europe's second-biggest discount airline is slated to report detailed earnings figures on Nov. 15.
Watch Next: The Threats Creating Turbulence for EasyJet's Profit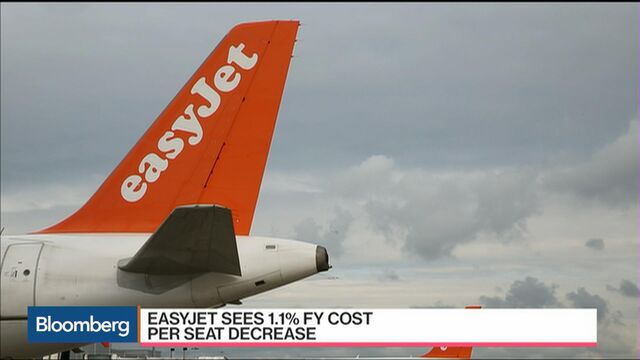 Before it's here, it's on the Bloomberg Terminal.
LEARN MORE