Don't Blame Brexit for Sterling's Plunge, ex-HSBC Chief Says
by
Sterling decline linked to competitiveness, Geoghegan says

Brexit supporter sees London staying as financial center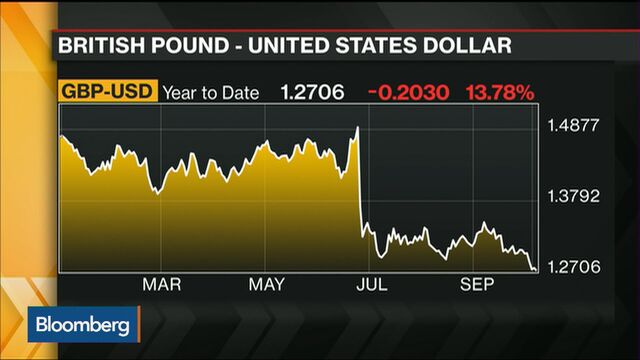 Former HSBC Holdings Plc chief and Brexit supporter Michael Geoghegan said sterling is being driven down by U.K.'s lack of competitiveness, rather than the nation's decision to exit the EU.
This week sterling dropped to a 31-year low against the dollar and to the weakest level since 2011 versus the euro, with analysts attributing the decline to Prime Minister Theresa May's speech on Oct. 2 setting out a path to a so-called hard-Brexit.
"The reality is that the pound has been falling against the dollar since October 2014," Geoghegan, chief executive officer of London-based HSBC from 2006 to until the end of 2010, said in an interview on Thursday. "It's all to do with financial fundamentals of the U.K. and the size of the debt. It's plainly obvious that Britain hasn't been able to export to cover its imports since 1997."
Geoghegan, 63, was one of the most vocal business supporters of Brexit before June's referendum, and told reporters in Dublin on Thursday that London will remain a premier financial center following the U.K.'s departure from the EU. Still, he said that that U.K. capital should give up its place as the center for euro trading.
"It should be in a euro-capital," Geoghegan said. "You have got to have euro trading where the euro is based."
Geoghegan was speaking after the launch of Dublin Landings, a real estate development in the city's docklands by the Ballymore Group and Oxley Docklands Quay Ltd.
Before it's here, it's on the Bloomberg Terminal.
LEARN MORE