Ditching the Needle for a Less Painful Injection
Portal Instruments will pitch its injector for treatment of chronic diseases like MS, rheumatoid arthritis, and hemophilia.
By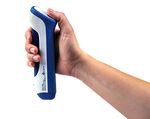 Innovator Patrick Anquetil
Age 42
Title Chief executive officer of Portal Instruments, a 30-employee company in Cambridge, Mass.

Form and function
Designed for patients to use on themselves, the needle-free injector delivers drugs through the skin using a small piston that the company says is less painful than a conventional hypodermic needle.

Use
The 7-inch, 10-oz. injector comes loaded with a disposable cartridge containing multiple doses (about 1 milliliter each) of a given drug. Patients press the tip of the injector against their thighs or abs and push the button.

Delivery
A piston driven by a computer-controlled electric motor delivers a 150-micron-thick jet of drugs through the patient's skin in about half a second. It reduces painful pressure after penetrating the skin. 
Origin
Anquetil co-founded Portal in 2012 with Ian Hunter, the head of MIT's BioInstrumentation Lab, who helped develop the first prototype.
Treatments
Portal says it plans to pitch its injector to drugmakers for self-treatment of chronic diseases such as multiple sclerosis, rheumatoid arthritis, and hemophilia.
Funding
Portal has received $36 million from investors including drugmaker Sanofi.
Rivals
Other needle-free delivery devices depend on compressed air, springs, or chemical explosions to inject drugs in a sustained blast.
Next Steps
Dan Luo, a professor of biological and environmental engineering at Cornell, says that besides appearing safer than a hypodermic needle, the piston injector, with its reduced pain, may make patients less likely to skip doses. Anquetil says clinical trials are under way and that the injector's design should be final, and smaller, next year. He's aiming for U.S. Food and Drug Administration approval in 2019 and hasn't settled on a price.
Before it's here, it's on the Bloomberg Terminal.
LEARN MORE