Deutsche Bank Said to Weigh Capital Options With Lenders
by , , and
Banks said to meet German lender to offer share sale backing

Decision on capital increase depends on size of the DOJ fine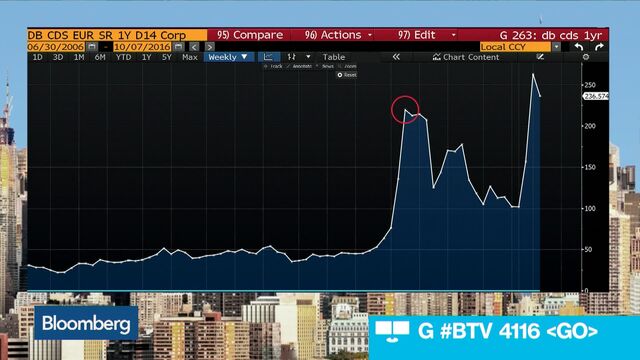 Deutsche Bank AG is holding informal talks with securities firms to explore options including raising capital should mounting legal bills require it, according to people with knowledge of the discussions.
Senior advisers at top Wall Street firms are speaking to representatives of the lender about ideas including a share sale and asset disposals, said the people, who asked not to be identified because the plans are private. Deutsche Bank could also revisit selling its Deutsche Postbank unit or parts or all of its asset-management division, the people said. A spokeswoman for Frankfurt-based Deutsche Bank declined to comment.
Deutsche Bank CEO John Cryan, 55, has been under pressure to stem a slide in shares that has eroded about half of the company's market value this year, compounded by concerns about mounting litigation costs. The CEO last week reassured investors that he doesn't plan to raise capital after the U.S. Department of Justice requested $14 billion to settle a probe into faulty securities, having earlier ruled out a sale of the asset-management business.
"While a capital increase would be a painful step, a potential asset-management sale would boost the capital ratios and that's Deutsche Bank's issue at the moment," said Andreas Plaesier, an analyst at Warburg Research with a hold rating on the stock. The reports show "that the lender has some plans up its sleeve," he added.
Deutsche Bank shares rose 0.5 percent to close at 12.09 euros in Frankfurt Friday, bringing gains this week to 4.5 percent. The shares have dropped 46 percent this year.

The banks are offering to help underwrite a stock sale to raise about 5 billion euros ($5.6 billion) should the bank need it, the people said. That is about the maximum amount in discounted shares Deutsche Bank can sell without needing shareholder approval, the people said. The firm could also go to shareholders to request approval for more funds.
Deutsche Bank is deliberating whether to sell the shares once it reaches a settlement with the Justice Department in the probe tied to residential mortgage-backed securities, said the people. No final decisions have been made and the bank could decide against a capital increase, they said.
The result will largely depend on the size of the fine, which Bloomberg Intelligence estimates may range from $4 billion to $8 billion based on settlements of similar investigations of other banks, the people said. The latest to settle were Morgan Stanley, which agreed to a $2.6 billion settlement, and Goldman Sachs Group Inc., which accepted a $5.1 billion deal.
Partial Selldown
Banks are also pitching a partial selldown of Deutsche Bank's asset management business, two of the people said. The potential offering may not happen before the first half of next year, the Financial Times reported on Friday, citing people briefed with the situation.
While Cryan in a memo to staff last month ruled out a sale of the asset-management division, calling it an "essential part" of the company, the business could be worth an estimated 9.5 billion euros, according to Autonomous Research LLP. A sale of the unit was considered the second least-likely by investors among six options to restore market confidence, with a rights issue the most likely outcome, Autonomous said, citing a Procensus survey.
JPMorgan Chase & Co., Goldman Sachs, Morgan Stanley and Bank of America Corp. are the top-ranked advisers on share sales globally this year, according to data compiled by Bloomberg.
Dimon, Lagarde
Some bank managers are also offering public words of encouragement, which could help secure mandates down the road. JPMorgan Chief Executive Officer Jamie Dimon, in an interview with CNBC on Oct. 4, said the German lender should be able to weather its problems. International Monetary Fund Managing Director Christine Lagarde told Bloomberg Television on Thursday that a settlement would "deliver some certainty as to what weight the bank will have to carry and whether it matches with its provisions or not."
Deutsche Bank, which also faces a money-laundering probe tied to its Russian operations, had set aside 5.5 billion euros for litigation at the end of June. Cryan has already said that the bank may fail to be profitable in 2016, as he eliminates thousands of jobs and cuts risky assets to boost capital and profitability.
Anchor Investors
The lender has informally spoken to potential anchor investors, including new and existing shareholders, to back a possible capital increase, the people said.
Qatar's royal family is considering increasing its stake in Deutsche Bank to as much as 25 percent from about 10 percent, people familiar with the matter said Friday.
Some of Germany's biggest publicly traded companies are prepared to buy shares in Deutsche Bank to prop up the lender in the event of a potentially crippling legal fine in the U.S., German newspaper Handelsblatt reported on Thursday. The bank's biggest shareholders include the Qatari royal family, BlackRock Inc. and Norges Bank, according to data compiled by Bloomberg.
Deutsche Bank, which houses Europe's largest investment bank, has long struggled to adapt to an era of tougher capital requirements and diminished trading revenue. The lender's common equity Tier 1 ratio, a measure of financial strength, was at 10.8 percent at the end of June. Cryan is targeting a ratio of at least 12.5 percent by the end of 2018.
Investors and bankers have also called on Deutsche Bank to provide clarity on its business strategy. The debate revolves around whether the firm should retain its status as a universal financier or if it should retreat to its roots of being a German and European corporate lender and retail bank, jettisoning the investment bank.
Deutsche Bank is scheduled to release third-quarter earnings on Oct. 27.
Before it's here, it's on the Bloomberg Terminal.
LEARN MORE