markets
Five Things You Need to Know to Start Your Day
Get caught up on what's moving markets.
By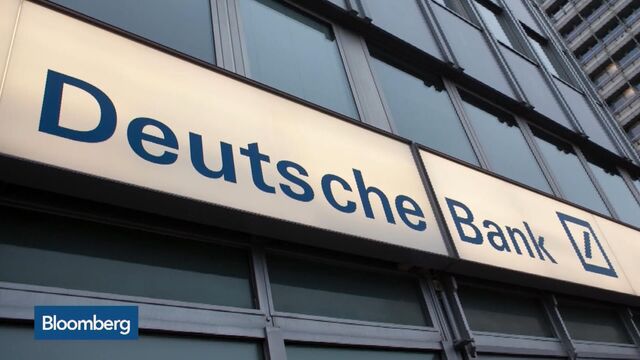 Want to receive this post in your inbox every morning? Sign up here.
Deutsche Bank's problems aren't over, the U.S. jobs market is getting tight, and the dollar will rally whoever wins the presidential election. Here are some of the things people in markets are talking about today.
Deutsche Bank 
A look at the share price of Deutsche Bank AG, which is up as much as 25 percent from Friday's low, might give the impression that woes at the German lender are over. However, the bank still faces legal problems outside the Department of Justice fine - including an indictment for colluding with Banca Monte dei Paschi di Siena SpA to conceal the Italian lender's losses. An audit commissioned by Germany's regulator, a copy of which was seen by Bloomberg, shows the bank arranged similar deals with a total value of 10.5 billion euros ($11.8 billion) for 30 clients. While Deutsche Bank is making strides in cutting its workforce, mounting legal costs remain a source of increasing investor concern.
Tight jobs market
With unemployment in the U.S. lingering near the lowest level since before the last recession, employers are having to offer more incentives to attract skilled workers to blue-collar truck driving and construction jobs. Meanwhile, investors are looking to tomorrow's jobs report to get an indication of the timing of the Fed's next interest rate rise. If the tight jobs market means average hourly earnings rose more than the projected 0.3 percent, the chances of a hike this year could easily increase beyond the current market-implied 61 percent. Ahead of tomorrow's report, we get weekly jobless claims data at 8:30 a.m. ET this morning.
Dollar to rise
If Hillary Clinton wins the election, the dollar will strengthen. If Donald Trump wins the election, the dollar will strengthen. That's according to Julius Baer Group Ltd., which topped Bloomberg's overall accuracy rankings for a second consecutive quarter. They argue that a Clinton victory would maintain the status quo, allowing the market's focus to return to Federal Reserve tightening, while a Trump win would lift the greenback against emerging-market currencies due to his protectionist policies. 
Markets mixed
Overnight, the MSCI Asia Pacific Index climbed 0.4 percent, while Japan's Topix index gained 0.5 percent to close at a four-month high as yen weakness continued. In Europe, the Stoxx 600 Index was 0.3 percent lower at 6:13 a.m. ET, despite a larger than expected jump in German factory orders. S&P 500 futures slipped 0.2 percent.
Twitter suitors back away
Shares in Twitter Inc. fell as much as 11 percent in extended trading after technology news site Recode reported that Google doesn't currently plan to make a bid for the company. Recode also said, without citing sources, that Walt Disney Co. and Apple Inc. are unlikely to bid. Twitter's CEO Jack Dorsey is also under pressure as he seems to be losing control of the company's direction.
What we've been reading 
This is what's caught our eye over the last 24 hours.
Before it's here, it's on the Bloomberg Terminal.
LEARN MORE