China Is Buying Up European Soccer - and Some Fans Aren't Happy
By
Fans, short sellers question LED-maker's foray into sports

Tech Pro says it has 'sufficient resources' to support club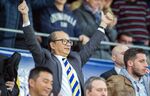 The Chinese company that bought French soccer club Sochaux-Montbeliard never looked like a great fit when carmaker Peugeot SA sold out in 2015 after 87 years of ownership. The buyer is a maker of LED lighting and managed a property for the People's Liberation Army in Shanghai -- not obvious qualifications for reviving a team trying to haul itself back into the top French league after being relegated two years ago. 
Now, Li Wing Sang, the chairman of Hong Kong-listed Tech Pro Technology Development Ltd, faces bankruptcy proceedings. The company's share price has fallen 92 percent since a short seller's attack in July, closing Friday at HK$0.17 (2 cents) a share, a loss of more than $1.7 billion of market value. In August, a Hong Kong court froze some of Li's assets, according to Tech Pro, which said the personal matter didn't affect the company.
"We don't understand Peugeot's decision to sell the club to this investor," said Fabrice Lefevre, president of one of the French team's supporters' clubs. "It took us just a few hours and a few clicks on the web to find enough bad things to make us strongly doubt this sale."
The saga in the industrial city of Montbeliard in eastern France highlights the risk that a wave of Chinese investment in European football -- including more than $2 billion in completed or planned deals since 2015 -- will bring buyers with questionable credentials.
Chinese investors have agreed to buy teams including AC Milan and Inter Milan in Italy, Aston Villa in England, and RCD Espanyol in Spain and taken minority stakes in Manchester City and Atletico Madrid. All those teams except Aston Villa play in their countries' top divisions.

Fans aren't the only ones with questions about Tech Pro and its 7 million euro ($7.8 million) purchase of the team. In September 2015, David Webb, a shareholder activist and former member of the board that operates the Hong Kong stock exchange, called Tech Pro a "bubble stock." This year, two short sellers went after the firm.
A money-losing LED business "really doesn't make sense buying a French football team that also loses money," Dan David, a co-founder of Pennsylvania-based research firm GeoInvesting LLC who invests in Hong Kong-traded stocks, told Bloomberg Television in August. Glaucus Research Group earlier said the company -- a "roll-up of unrelated businesses" -- had overstated profits and inflated the price of acquisitions. Tech Pro "vigorously" denied the allegations.
Alarming Headlines
In Montbeliard and nearby Sochaux, fans are alarmed by the headlines from Hong Kong. In the latest in September, a brokerage filed a bankruptcy claim against Li. The company didn't respond to questions about the status of the legal proceedings.
"When Li bought the team, he said he had big ambitions and was ready to build a big team, to get us back to the first division," Lefevre said by phone from Montbeliard, adding that the chairman had said he was ready to invest as much as 100 million euros in the club. A few million euros would allow the club to build a proper roster, Lefevre said. "Well, we've not seen it."
More Exits
During the summer period when players can transfer between clubs, more players exited Sochaux-Montbeliard than joined, according to data compiled by the French sports newspaper l'Equipe. The club didn't pay transfer fees for the players who arrived, because they were on loan or out of contract, the data show. This year's season began July 29 and ends in May.
The team now lacks players in two key positions, according to Lefevre.
Tech Pro sees itself as aligned with Chinese President Xi Jinping's campaign to turn his nation into a soccer super power. In a statement dated September 23, the company said the club has sufficient funding and that Tech Pro is ready to give additional support if needed.
"Tech Pro has sufficient resources to support its business operations as well as the football club," the company said, without specifying how much money it had put into the club since buying it.
Promoting Product
The firm's push into soccer, which it says is a vehicle for promoting its LEDUS lighting product brand, added to existing businesses of subletting a military-owned property in Shanghai for commercial and retail use and making lighting products at factories in southern China. The company has reported losses every year since 2010.
"We have no assurance that Tech Pro will ensure the sustainability of the club," said Mathieu Triclot, another fan. "The lack of investment in the primary team is glaring."
For a QuickTake explanation of Chinese investment in European football click here
Now, 10 games into the 38-game season, Sochaux has three wins, six draws and one loss, and sits in sixth place -- lower than the third place spot that qualifies for a promotion play-off. Its next match is against RC Lens, which is currently ranked fourth, on Oct. 17.
"We are not beginning this season as favorites for promotion," said Lefevre, "and I fear we don't have the depth in the team to achieve it."
— With assistance by Benjamin Robertson, Gregory Viscusi, and Jonathan Browning
Before it's here, it's on the Bloomberg Terminal.
LEARN MORE