Brexit Bulletin: Is May's Britain Turning Against Business?
Theresa May has made her pitch to Britain, and business is a little concerned.
by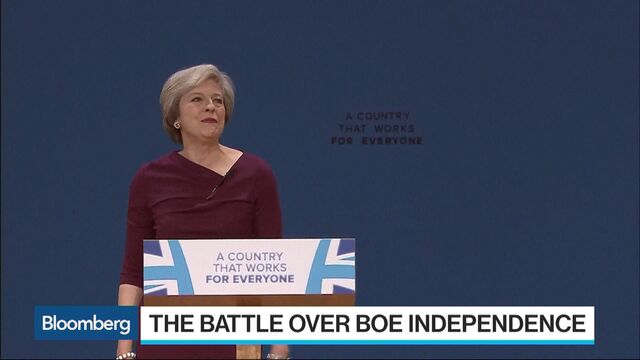 Sign up to receive the Brexit Bulletin in your inbox.
Are Theresa May's Conservatives no longer the party of business?
After their annual conference in Birmingham that's the question being asked of the governing party, according to Bloomberg's Alex Morales.
The conference was full of hints and suggestions that May is willing to give up membership of the single market and ignore the lobbying of banks during upcoming Brexit talks. In her keynote speech on Wednesday the prime minister herself announced a review of employment practices and listed a string of corporate practices she wants to end.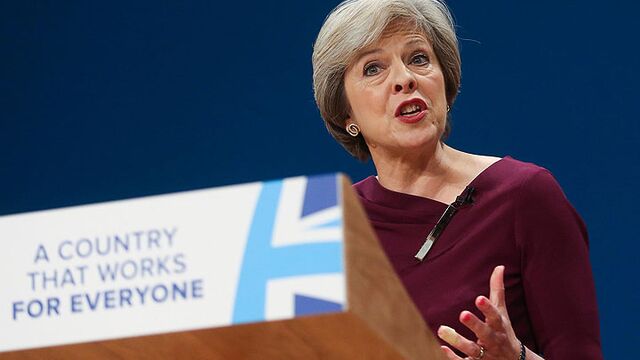 That came a day after her Home Secretary Amber Rudd drew criticism for demanding firms do more to curb immigration, and left business queasy about what it's hearing. Adam Marshall, acting director general at the British Chambers of Commerce, voiced concerns:
"The task ahead is to make the big decisions that matter to our future, whilst avoiding populist measures that may have adverse consequences for business investment or job creation. In a period of historic change, business communities all across the U.K. need to feel supported, not alienated."
The approach may still be electorally smart.
"She's taking her marching orders from the side that won the referendum rather than the side that lost, and business was largely on the side that lost," said John Curtice, professor of politics at Strathclyde University.
Still, Bloomberg Gadfly suggests the corporate elite is doing nicely from Brexit.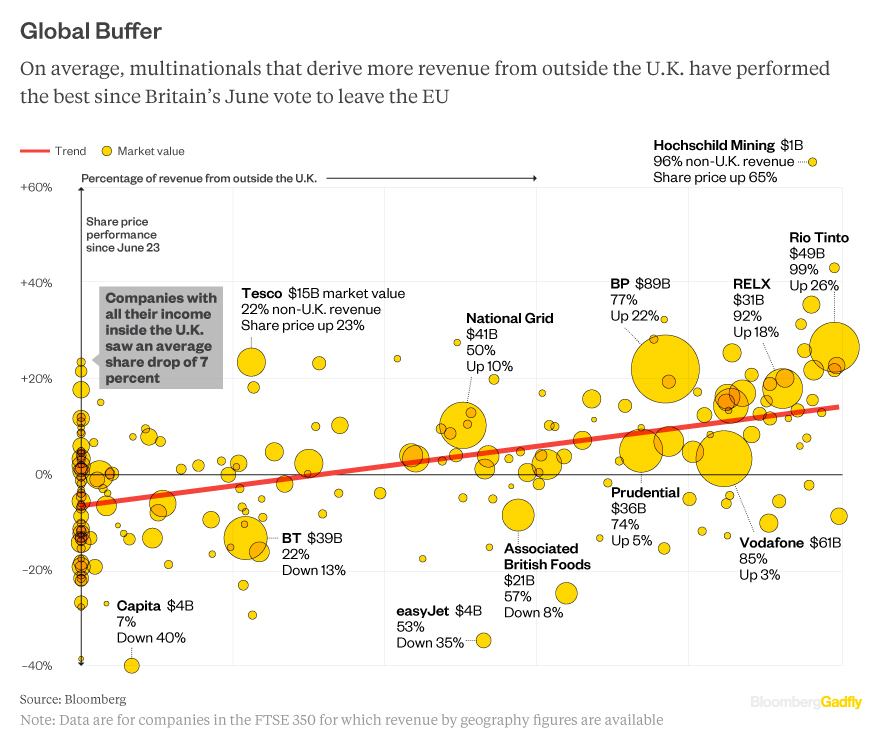 Hammond to Wall Street
Chancellor of the Exchequer Philip Hammond will seek to appease Wall Street executives today as their concern mounts that Brexit will force them to shift jobs and operations away from London.
In his first trip to the U.S. since taking the job, Hammond will meet bankers from the likes of Citigroup, Bank of New York Mellon, Morgan Stanley and Goldman Sachs, most of which expressed disquiet after the referendum. He'll also speak to Bloomberg in an interview that airs from 3 p.m London time (10 a.m. New York.)
Bankers grew more nervous this week after our exclusive report that government officials currently plan to grant finance no special favors in upcoming negotiations. Nevertheless, Hammond aims to tell his audience he still wants to secure good access to Europe's markets for them.
After New York, Hammond heads to the annual meetings of the International Monetary Fund, where Brexit will be among the main discussions.
Meanwhile, the Sun newspaper reports today that Hammond is at odds with Trade Secretary Liam Fox over whether the U.K. should leave Europe's customs union.
German Reluctance
In Germany, Chancellor Angela Merkel signaled a growing reluctance to grant any special trade relations to the U.K. once it leaves the EU, saying that allowing exemptions to regional rules on migration would lead to a free-for-all across the bloc.
"There will be no easy negotiations," she told Germany's BDI industry lobby in Berlin on Thursday, a further indication that the U.K. risks a hard Brexit.
By contrast, one potential successor to Italian Prime Minister Matteo Renzi said the EU should not "punish" the U.K., instead granting it access to the single market as well as controls on immigration.
Will Carney Stay or Go?
Bank of England Governor Mark Carney is nearing another key decision.
After announcing a series of measures to support the economy since the June referendum, he now has less than 90 days before a self-imposed deadline to decide whether to stay in his job through 2021 or leave in 2019 as originally planned.

Given that the governor likes a challenge, Brexit could be a reason to stay. That and the fact there is no obvious role in his native Canada or internationally for him to move to. At the same time, he has been frequently accused of bias by members of the pro-Brexit camp for his pre-vote warnings and post-vote actions.
"Brexit is ongoing and there is a need to see that through," said Charles Goodhart, a former BOE policy maker and a professor at the London School of Economics, who expects Carney to stay on. "The fewer uncertainties there are, the better. There is a need for stability."
On the Markets
The pound resumed its decline on concern the U.K. is headed towards a hard Brexit, having recovered on Wednesday. 

Meanwhile, EasyJet's annual profit declined for the first time since 2009 in part because of  the pound's decline inflating costs. Brexit is also weighing on the shares of Deutsche Lufthansa, which are at risk of dropping out of Germany's benchmark DAX Index.
And Finally...
Brexit could cost British teenagers a ticket to ride. The Guardian reported this week that the EU is considering giving its citizens a free continental rail pass on their 18th birthdays.
"We admire the boldness and the level of ambition, and we are ready to explore it further," said Violeta Bulc, the EU commissioner for transport.
For more on Brexit follow Bloomberg on Twitter, Facebook and Instagram, and see our full coverage at Bloomberg.com
Before it's here, it's on the Bloomberg Terminal.
LEARN MORE