BOE Bought 507 Million Pounds of Corporate Bonds in First Phase
By and
Analysts expected BOE to buy about 130 million pounds of bonds

First purchases included GlaxoSmithKline, Marks & Spencer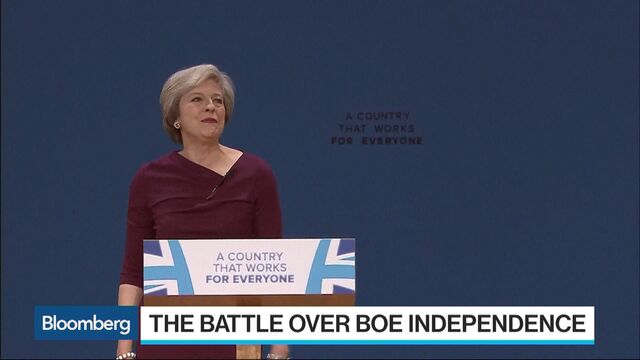 The Bank of England said it has bought 507 million pounds ($641 million) of corporate bonds since starting its program last week, beating analysts' forecasts. 
Citigroup Inc. credit strategist Joseph Faith predicted the BOE would buy about 135 million pounds of company bonds, based on an implied monthly total of 550 million pounds. Zoso Davies, a credit strategist at Barclays Plc in London, said that weekly purchases of between 120 million pounds and 130 million pounds of bonds would be in line with the central bank's announcement to buy up to 10 billion pounds over 18 months.
"We were expecting about 130 million pounds a week, so this is obviously well in excess of that," said Tomas Hirst, a London-based credit analyst at CreditSights. "There's been a lot of issuance in the market in the last few months and maybe they're just being opportunistic about it and buying where they can rather than spacing it out."
Purchases are reported in terms of the amount paid to the sellers, according to a statement on the central bank's website.
The central bank began buying investment-grade, non-financial company debt on Sept. 27 as part of a stimulus plan to protect the economy from the fallout of the U.K.'s decision in June to leave the European Union. While the measure has helped suppress corporate borrowing costs and spurred new debt sales, the pound remains near its lowest level in three decades on concern a so-called hard Brexit will restrict British companies' access to the EU single market.
First Purchases
"The bonds being bought are from companies that have absolutely no problem in raising money," said Anthony Peters, a strategist at Sol Capital Markets in London. "Borrowing might be slightly cheaper but that's not going to make or break investment decisions."
The BOE's first purchases included securities issued by GlaxoSmithKline Plc, the U.K.'s largest drugmaker, as well as defense contractor BAE Systems Plc, clothing retailer Marks & Spencer Group Plc and French water company Veolia Environnement SA, Bloomberg News reported last week, citing people familiar with the matter.
Expanded QE
BOE Governor Mark Carney announced the expansion of the BOE's quantitative easing plan to include corporate bonds and increased purchases of sovereign debt in August, when he also cut interest rates to a record-low 0.25 percent. Purchases focus on companies based in the U.K. or firms that have sizable operations, employ hundreds of people and generate annual sales of at least 20 million pounds in the nation. Bonds with a face value of about 110 billion pounds are eligible.
The average yield on sterling corporate notes fell to a record-low 2.06 percent after the announcement in August, according to Bloomberg Barclays Index data. Issuance surged to 8.8 billion pounds in September, the most for any month in Bloomberg data going back to 1999.
"Companies can borrow longer at lower rates and that's helpful," said Paola Binns, a portfolio manager at Royal London Asset Management in London, which oversees about $120 billion. "How that translates into the wider economy is hard to say."