As London Loses EU's Bank Regulator, Sweden Pitches Its Capital
By
Swedish government says EBA should be housed in Stockholm

Bid set to collide with others, as Vienna also puts in pitch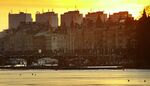 With Britain set to leave the European Union, London can no longer house the bloc's financial regulator. Now, Sweden is putting its capital forward as a new home for the watchdog.
There are plenty of reasons why the European Banking Authority should move to Stockholm from London, according to Per Bolund, Sweden's financial markets minister. The country is used to handling a large financial sector (its four biggest banks have assets that are four times the size of the economy). Its near cashlessness shows how advanced Swedes are in digital banking. Bolund even noted Sweden's expertise in promoting green finance as another plus supporting its bid.

Euro Zone
But importantly, the minister says the next city to host the EBA needs to be outside the euro zone. "If it was moved to a country in the euro zone, that would change the balance between non-euro countries and euro countries quite decisively," the 45-year-old said in an interview in Stockholm on Thursday.
"There's already a discussion today that the euro-area cooperation to a large extent shapes economic policy in the EU," Bolund said. "At the same time, there are many countries that don't have the euro and who are of the view that it should be an EU28 perspective that should guide the economic authorities and economic policy."
Not Alone
Bolund said Sweden's not alone in this view. "There's commitment also from other non-euro countries to make sure that the authority has its seat, for example, in a non-euro country, in order to maintain that balance."
That view might create some friction with euro nations already actively pitching to take over from London as the EBA's new home. Ewald Nowotny, a European Central Bank council member and the governor of Austria's central bank, has said Vienna would be an ideal host for Europe's financial regulator.
Speaking at a conference in the Austrian capital on Oct. 5 that was attended by EBA Chairman Andrea Enria, Nowotny said he wanted to take the opportunity to invite the regulator "to imagine Vienna as a location, a city in the heart of Europe," as its new home.
Nordea Merger?
Meanwhile, Sweden is getting push-back from its own banking industry as the government moves ahead with a proposed financial tax. The plan has shocked the country's financial industry, with the Swedish Bankers' Association saying that as many as 16,000 jobs could be lost. Bjoern Wahlroos, the chairman of Nordea Bank AB, has warned the intended overhaul of the tax code could force lenders to move operations outside Sweden. Bolund says the industry's concerns seem "exaggerated."
But just a few months ago, Nordea explored a possible merger with Dutch state-owned ABN Amro Group NV, according to a person with knowledge of the matter. In the event, the Netherlands rejected the proposal, the person said. Spokespeople for Nordea, ABN Amro and the Dutch finance ministry all declined to comment.
Wahlroos told the Swedish government last year that banks are free to decide whether parts of their business "can be located here, or they can be located in Copenhagen, or in London, or wherever," according to an interview in May 2015.
For more on the report of Nordea's attempted merger, click here.
British Alliance
For Sweden's part, Britain's departure from the EU presents several challenges as the balance between countries inside and outside the euro gets skewed.
"We are working on how to act in a changed EU, where we've had a lot of cooperation with the U.K., not least on financial issues," Bolund said. "We have had a common view and have been successful in affecting policy in the right direction. Of course, there's a big worry about how we'll handle this when we'll no longer have Britain as a partner."
Sweden's government has created its own task force to examine the various ways in which Brexit will affect Scandinavia's largest economy. The shift in power means countries like Sweden are seeking new alliances to position themselves in the EU.
"We are trying to see which other countries we can work more closely with," Bolund said.
— With assistance by Alexander Weber
Before it's here, it's on the Bloomberg Terminal.
LEARN MORE