Trump's Presidential Chances Are Pushing Traders Toward the Yen
By
Moves after presidential debate offer guide for election night

UniCredit says yen may surpass its forecast on Trump victory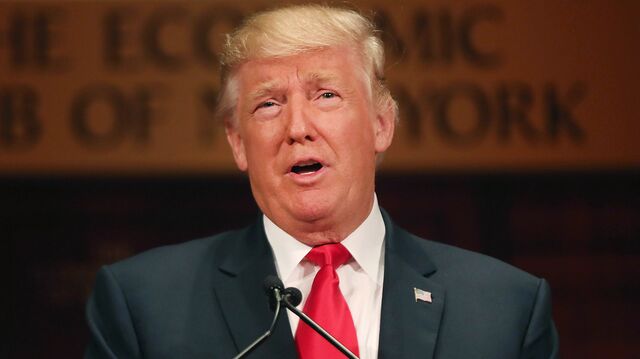 Even though polls show a receding chance of Donald Trump becoming U.S. president, money managers wary of public opinion being proved wrong are increasingly looking toward Japan for an ideal hedge.
Traders are unprepared for a victory by the Republican nominee that could send cash flooding into the yen, which acts as a haven in times of turmoil, according to investor and former International Monetary Fund Economist Stephen Jen. UniCredit Bank AG, among the most bullish forecasters on the Japanese currency, says it may strengthen past its year-end estimate if Trump wins.
Trump's ascendancy has fueled concern that the world's largest trade partner may embark on a return to protectionist and isolationist policies if he triumphs in the election. The first presidential debate on Sept. 26 offered a preview of how the yen is likely to trade as votes are counted: the currency slumped once investors concluded that Democrat Hillary Clinton had won the exchange.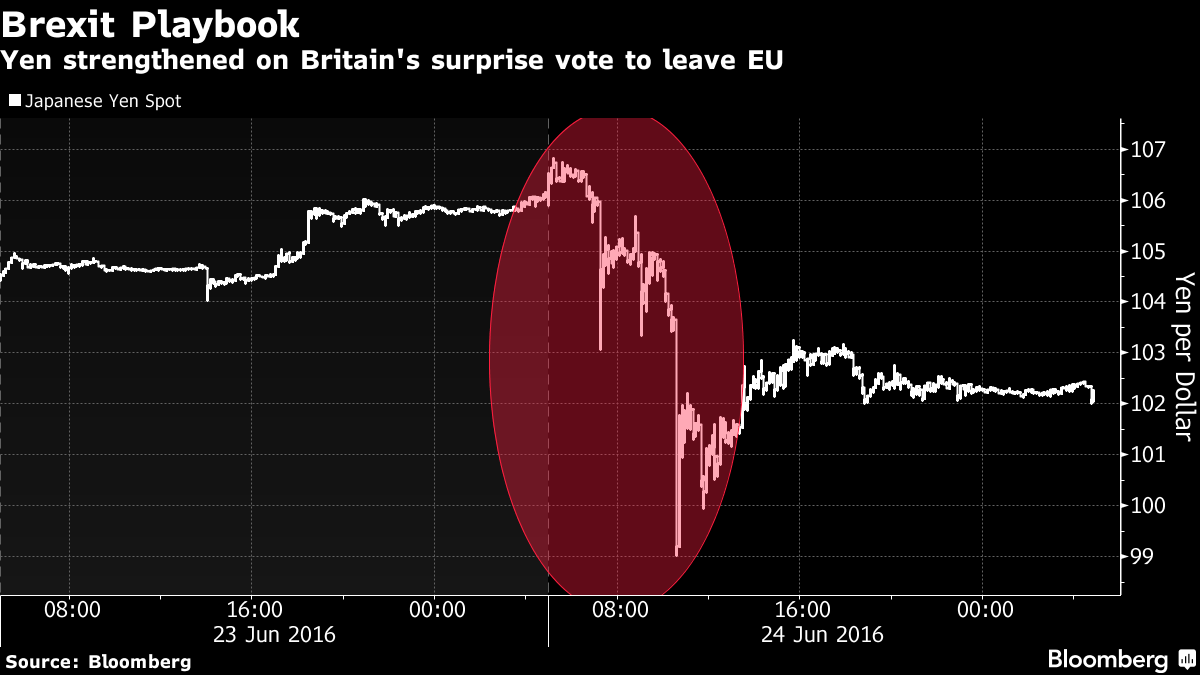 The June decision by U.K. voters to quit the European Union -- contradicting most polls -- shows currency traders may need to expect the unexpected when it comes to politics. Clinton holds a 3.4 percentage point advantage over Trump nationally, compared with a 2.4-point lead on Sept. 25 and a 6.4-point lead in mid-August, according to aggregated polls compiled by Real Clear Politics.
"The U.S. elections are much more consequential than the Brexit referendum," said Jen, the chief executive officer at Eurizon SLJ Capital Ltd. in London. "The market is not at all priced for a Trump victory."
Expecting the Unexpected
Adding to investor concern over the election, real-estate mogul Trump has tapped into the anger of U.S. society in the wake of the global financial crisis, calling for a wall to keep Mexicans out or trade tariffs for China for not playing fair. The election is on Nov. 8.
Lee Ka Shao, a former hedge-fund manager who runs his own family office in Singapore, started putting on positions last week to bet on the yen's advance in the spot and options markets. He expects the currency to strengthen to 90 per dollar next year. It weakened for a seventh day Wednesday after stronger U.S. economic data and as Federal Reserve officials boosted speculation the central bank will raise interest rates this year. The Japanese currency was at 103.43 per dollar as of about 10 a.m. in New York.
"We can't discount the odds changing to favor Trump as we draw closer to the actual election date, nor a win even," said Lee, who co-founded hedge fund Cavenagh Capital, backed by the biggest Dutch pension fund, and now trades his own money and that of his wealthy clients. "There's a very good chance that dollar-yen will be just as volatile as it was post the Brexit vote, simply because Asian markets are the first to open and react to the election results."
Further Strength
Japan's currency is the best performer among developed-market peers this year. It's gained support from the country's current-account surplus, which makes it an investor favorite in times of economic turmoil, and also from speculation the Bank of Japan was running out of policy options that would keep down the exchange rate.
It's the only major currency, other than the Swiss franc, that options traders see strengthening over the next three months. The premium for three-month contracts to buy the Japanese currency versus the greenback over those to sell was at 1.25 percentage points, risk-reversal prices compiled by Bloomberg show.
Bullish bets on the yen by hedge funds and other large speculators exceeded those benefiting from losses by 68,892 contracts in the week ended Sept. 27, close to the record high of 71,870 contracts reached in April.
Voting Booths
Jen agrees with Lee that the yen may strengthen more than 10 percent to 90 per dollar, estimating the move could come within the next six months.
"Based on the experience with the polling results of Brexit and the actual outcome, there is a good chance that some of the people being polled may not be telling the truth, as they may not want to be seen as supporters of Mr. Trump," Jen said. "But when they go to the voting booths, they will likely tell the truth then."
In the first debate, Clinton and Trump clashed over trade, economy, race and foreign policy in an event that put on display their starkly different personalities and visions of the future. They are scheduled to face each other again Oct. 9 and Oct. 19.
During Tuesday's vice-presidential debate, Democrat Tim Kaine repeatedly asked Republican Mike Pence to defend the actions of his running mate. Pence did defend Trump as the candidates tangled over the billionaire businessman's refusal to release his tax returns and a New York Times story that reported that his 1995 tax return showed a nearly $1 billion loss that could have allowed him to avoid paying federal taxes for nearly two decades.
Trump's political agenda would be negative for the growth outlook as the adverse impact of his policies on immigration and trade "far outweigh" the potential benefits from lower taxes and less regulation, UniCredit analysts including Harm Bandholz, chief U.S. economist in New York, wrote in a report dated Sept. 27. Its forecast for the dollar to fall to 95 yen at the end of December "would be subject to significant downside risk" if Trump wins, the analysts wrote.
That may serve to snap the $5.1 trillion-a-day currency market out of its torpor, with a JPMorgan Chase & Co. volatility measure posting its first back-to-back quarterly drop in more than two years as the impact of the Brexit referendum faded.
"A Trump victory might lead to near-term volatility because his policies are unclear on many issues and markets dislike uncertainty," said Erik Weisman, Boston-based chief economist for MFS Investment Management, which oversees $440 billion globally. "In the event of a Trump victory, the yen would likely act as a safe-haven destination, not unlike in the wake of Brexit."
Before it's here, it's on the Bloomberg Terminal.
LEARN MORE