Transportation
Would You Rent Your Car to a Total Stranger?
Airbnb like services for car owners are expanding in Europe.
By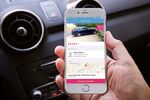 When carpooling service Amovens added a peer-to-peer car rental option in 2015, David Jurado didn't hesitate to try it. The Seville native who lives in Madrid had frequently used Amovens and BlaBlaCar to find passengers who could split the costs of fuel and tolls on longer trips. And since he owns two cars, any money he could make from renting out the one, a 2006 Skoda sedan, would help cover the costs of owning and maintaining it.
Today, Jurado, a workplace safety manager, uses three services to rent his Skoda several times a month. He charges a minimum of €27 ($30) per day and pockets about 70 percent after the site takes its cut for matchmaking and insurance. "It's a way to reduce the car's overhead and collaborate with society," he says.
Jurado is one of thousands of car owners across Europe who rely on peer-to-peer rental sites to make car ownership more affordable. The services, including Paris-based Drivy and Copenhagen-based GoMore, are growing in popularity. The business model is similar to Airbnb: Car owners post their vehicles on a website, and users, after their driver's licenses are verified, ask to rent them. The sites take a cut of each transaction. They work with such partners as Allianz to provide roadside assistance and insurance for damage, theft, and liability. Owners set rates, from about €15 to €100 a day, depending on the type of vehicle. Fares are discounted for longer-term rentals. Renters pay for fuel.

"I see a lot of potential for this model, particularly as we evolve into more automated, connected vehicle systems," says Susan Shaheen, co-director of the Transportation Sustainability Research Center at the University of California at Berkeley. "Private vehicles sit unused 95 percent of the time."
Drivy launched in France in late 2010 and now also operates in Austria, Belgium, Germany, and Spain. It lists about 38,000 cars for rent and has 1 million registered users, says founder and Chief Executive Officer Paulin Dementhon. GoMore is in Denmark, France, Norway, Sweden, and Spain—it bought Amovens last year—and lists about 11,000 cars, according to co-founder and CEO Matias Dalsgaard. The services say their rates average significantly less than what conventional car rental agencies charge.
Similar operations are gaining traction in North America. Five-year-old, San Francisco-based Getaround says it has 350,000 renters sharing 2,500 cars in five states and Washington, D.C. It has raised about $40 million from investors, including Cox Automotive and Menlo Ventures, and has received two Federal Highway Administration grants to conduct pilot programs. But the spread of on-demand transportation options, from Uber to car-sharing programs such as Car2Go and Zipcar, makes the practice a tougher sell in the U.S., says Lisa Jerram, a principal research analyst at Navigant Research.
Navigant estimates global car-sharing revenue will climb to $6.5 billion by 2024, up from $1.1 billion in 2015. Peer-to-peer operators' share will be small, says Jerram. Still, industry experts see room for startups serving different needs. "Everyone is driven by economics and convenience," says Robin Chase, co-founder and ex-CEO of Zipcar, which Avis Budget Group acquired in 2013, and co-founder and ex-CEO of French peer-to-peer startup Buzzcar, which Drivy bought last year. "I would never take a Car2Go or Uber to go out to the beach for the day," she says.
One way startups are trying to appeal to more customers is to make renting faster and smoother. Getaround requires users to equip their vehicles with hardware that lets renters unlock the cars with their smartphones. (Car owners pay a one-time $99 installation fee plus $20 a month for the device.) Drivy has installed a similar system in 600 cars and expects to add it to 400 more by yearend. It plans to expand its service to the U.K. in coming months and a few more countries next year, thanks to a €31 million investment from Cathay Innovation, Nokia Growth Partners, and others in April. "We're not talking about taking market share from an existing industry," says CEO Dementhon. "We're talking about creating something that didn't really exist before."
The bottom line: Global car-sharing revenue will reach $6.5 billion in 2024, according to Navigant Research, up from $1.1 billion in 2015.
Before it's here, it's on the Bloomberg Terminal.
LEARN MORE