business
What We've Learned About Britain's Political Landscape Under May
By
Prime minister criticized for both leaning right and left

Lack of opposition harms government, attorney general says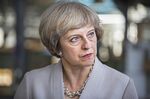 Britain's political conference season is nearly over -- just the Scottish National Party to go next week. What have we learned about the U.K.'s new landscape?
Follow @Brexit for the latest news, and sign up to our Brexit Bulletin for a daily roundup.
Theresa May Has Hated The Last Six Years
The prime minister offered words of praise to her predecessor in both her opening and closing speeches to the Conservative conference. 340 words of praise, in fact. But much of the rest of what she said felt very much like an attack on him. All those references to accidents of birth, wealth and privilege -- who could she mean? David Cameron's 2015 conference speech was a stockbroker's son saying that he wanted to reach down and help the marginalized. May's was a vicar's daughter arguing that she was one of them.
If She's Not Brown, Is She Miliband?
The journalistic urge to explain the present in terms of the past has led to questions as to whether Theresa May is the new Margaret Thatcher or the new Gordon Brown. But maybe she's actually the new Ed Miliband. David Cameron, like Tony Blair, believed that elections are won by moving your party to the center ground, where the voters cluster. Miliband, the former opposition Labour Party leader, argued in 2010 that the financial crash had moved voters toward him (it hadn't, it turned out). In her closing speech to the Tory conference, May argued the Brexit vote was a "revolution" that showed voters had in fact moved to her.
She's Certainly Co-opted Some Of His Ideas
Miliband offered a sardonic comment on May's hints of price controls on energy companies. "Marxist, anti-business interventionism," he said on Twitter. It wasn't just Miliband policies that made an appearance. Her promise "to stand up for the weak and stand up to the strong" aped one of his most famous lines. Tom Baldwin, Miliband's former communications chief, observed on Twitter: "Given the number of our lines Theresa May has now borrowed, used and abused, quite a lot of it was written by Ed Miliband."
But Perhaps She's Pulled It Off
May has been simultaneously attacked for being too right-wing on immigration, and for making what the Institute for Economic Affairs called "an alarming attack on free markets." To move both left and right at the same time is an impressive trick. Perhaps she is, as she says, "rooted in the center ground."
There's a Competence Gap in British Politics
The message from the Conservative conference was clear: the vote for Brexit was a sign that people have had enough of business as usual, and Theresa May wants to be their champion. The message from the Labour conference was also clear: the party's lawmakers don't think Jeremy Corbyn should be their leader, but they can't work out how to shift him. Only one of these messages offers an obvious path to winning an election.
No Opposition Hurts The Government
Attorney General Jeremy Wright told an audience of lawyers at the Tory conference on Monday evening that the disarray in the Labour Party is damaging to the government. Passing good laws relies on parliamentary scrutiny from an effective opposition, he said. This is a serious problem. With Brexit, Britain is embarking on one of the biggest political challenges in modern history, and the Labour Party is ill-equipped to scrutinize it: Corbyn is struggling even to get enough spokesmen to shadow every government department.
Who Will Speak For the 48 Percent?
May wants to speak for people who voted to leave the EU. Labour talked a lot about reconnecting with voters who backed Brexit. But who will speak for those who didn't back Brexit? To the right, the Tory language on immigration will upset many. To the left, few see Corbyn as a plausible prime minister. Who should those who want a soft Brexit vote for? The Liberal Democrats would like it to be them, but at the moment, they're struggling even to be part of the conversation.
The Threat to May Is The Unexpected
She seems all-commanding at the moment. But then last year, so did David Cameron.
— With assistance by Thomas Penny
Before it's here, it's on the Bloomberg Terminal.
LEARN MORE