U.S. ELECTION WRAP: Swing-State Ticket-Splitting Aids GOP Senate
How to win an election when your presidential candidate isn't.
By and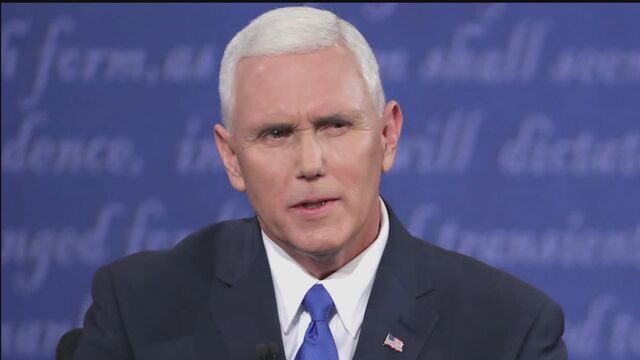 For months, the best Democratic strategy to win control of the U.S. Senate has been for Hillary Clinton to handily defeat Republican Donald Trump, then ride her coattails to a takeover of the chamber.
In several key states, however, polls out this week show Democratic Senate candidates running well behind where Clinton is in the same surveys, suggesting she isn't far enough ahead to carry them at a time when some of the more vulnerable GOP incumbents are adroitly distancing themselves from the bombastic billionaire.
In Pa., Quinnipiac poll showed Clinton with 4 ppt lead in 4-way race, while Franklin & Marshall survey showed 9 ppt lead and Monmouth poll pegged lead at 10 ppts

Senate race surveys much more scattered, though each show Democrat Katie McGinty lagging behind Clinton's numbers in her bid to oust Republican Sen. Pat Toomey
Quinnipiac has Toomey up 8 ppts; Franklin & Marshall has McGinty up 6 ppts; Monmouth shows race even

In Ohio, Monmouth survey showed Clinton up by 2 ppts, while Quinnipiac has her down 5 ppts

Republican Sen. Rob Portman holds a wide lead, up 15 ppts over Democrat Ted Strickland in Monmouth poll and 17 ppts in Quinnipiac

In Fla., Quinnipiac shows Clinton lead of 5 ppts, while Republican Sen. Marco Rubio leads Democratic Rep. Patrick Murphy in Senate race by 4 ppts
RealClearPolitics average of polling shows similar divergence in N.H., where Clinton leads by 6 ppts in average of recent surveys, while race between Republican Sen. Kelly Ayotte and Democrat Maggie Hassan remains split; Democrat Catherine Cortez Masto also running 3-4 ppts behind Clinton in similar surveys of Nev., where polls show her locked in a tight Senate race with Republican Rep. Joe Heck
Trend doesn't carry for all states -- N.C. Senate and presidential polling tracking closely, while Democrats in Wis. and Ind. running well ahead of Clinton
NOTE: Republicans presently hold 54-46 advantage in Senate
VICE-PRESIDENTIAL DEBATE
About 33 million people watched the vice presidential debate on the six major cable and broadcast channels, likely the lowest-rated in more than a decade, according to Nielsen
Mike Pence (and Donald Trump) claimed victory in the 90-minute exchange
CNN poll: 48% say Pence won, 42% say Kaine
Bloomberg's Sahil Kapur and Margaret Talev write Pence succeeded in the debate without really trying to defend Trump

"Pence, 57, held command of Tuesday's debate, coolly turning aside attacks with broad brush strokes while avoiding specific rebuttals to broadsides against the character of his running mate. While many Republicans would like Pence's demeanor to serve as a blueprint for when Trump debates Clinton for a second time on Sunday, the contrast between the two Republicans remains unavoidable"

The Libertarian VP candidate wasn't on the stage, and Bill Weld tells WABC's Rita Cosby he could've offered another perspective

"Americans are frustrated, they think they're watching a scary movie and they can't change the channel, as my wife says," he tells Cosby, adding that "they can change the channel, and it would be Gary Johnson and Bill Weld"
Says might've given debate to Pence "on points" for his smoother delivery, though adds Pence was unable to answer Kaine when the Democrat quoted Trump's "insult-driven campaign"

ON THE TRAIL
Ford Chairman Bill Ford Jr. said today he met earlier with Trump over the Republican nominee's "infuriating" attack on the automaker's production expansion in Mexico: USA Today
International Civil Rights Center and Museum in N.C. denied a request from Trump campaign for him to visit the museum: Raleigh News & Observer

Museum CEO John Swaine: "We made it known to Mr. Trump's campaign that we were not going to grant a request of suspending our operations so he could somehow try to legitimize his ideological positions"
Decision has prompted backlash from Trump supporters
NOTE: Museum is in former Woolworth building, site of famous sit-in protest in 1960

On Trump's taxes, WSJ says it's possible he could release current return on or after Oct. 17

Former Trump accountant Jack Mitnick says the Republican nominee had "virtually zero" involvement in creating 1995 tax returns leaked to the NYT

ADVERTISING
Ads attacking Donald Trump dwarfing money spent in favor of him, Bloomberg BNA's Madi Alexander reports.

FUNDRAISING
Super-PACs raised a record $1.1b as of the end of August, Washington Post reports, with 10 mega-donor individuals and couples accounted for nearly 20% of that haul

POLLS
Clinton chances of winning election range from 75% to 91% across six statistical modeling websites, according to data compiled by NYT

NYT has her at 81%, a figure that has risen almost daily since Sept. 28

THIRD PARTIES
Weld tells the Boston Globe he'll be primarily focused between now and Election Day on stopping Trump

Globe, citing Weld allies, reports he's concerned Libertarian ticket siphoning more possible Clinton voters than possible Trump voters; also concerned about Gary Johnson gaffes in TV interviews
Globe: "At one point, Weld strategists researched Libertarian Party rules to see if it were possible for him to take over the top of the ticket. The rules state the vice presidential nominee automatically assumes the presidential spot if there is a vacancy. But Johnson, peeved at the suggestion, flatly rejected the idea"

ETC

CONGRESSIONAL ELECTIONS
SENATE RACES (Republicans hold 54-46 majority)
CA: Democrats Kamala Harris and Loretta Sanchez will participate in their "only scheduled one-on-one debate" today in Los Angeles, Orange County Register reported

Debate at 7 p.m. local time/10 p.m. Eastern time will stream online here; event overlaps with playoff baseball game between San Francisco Giants and New York Mets
Harris, the state atty gen., won 40% vs. 19% for Sanchez, a 10-term congresswoman, in all-party June primary; winner will succeed retiring Democrat Barbara Boxer

LA: ESAFund, a conservative super-PAC aiding Republican state Treasurer John Kennedy, released TV ad referring to Republican Rep. Charles Boustany as a "Washington insider" who "voted to send billions of tax dollars to dangerous countries like Iran and Pakistan"

Ad cites Dec. 2007 House vote on annual spending bill funding the State Department and foreign operations; Boustany among 78 Republicans who sided with all but one Democrat
Kennedy and Boustany among 24 candidates of all political affiliations seeking to succeed retiring Republican Sen. David Vitter starting in single-ballot election Nov. 8; runoff on Dec. 10 between top two vote-getters is highly likely

NH: Granite State Solutions, a Republican super-PAC aiding Sen. Kelly Ayotte, aired TV ad attacking Democratic Gov. Maggie Hassan for supporting Iran nuclear deal that "released billions to a leading sponsor of terrorism"

Hassan said at debate Sept. 30 that Iran accord was an "imperfect deal" but a "critical first step in removing the threat of an imminent Iran nuclear weapon"
Granite State Solutions has spent $7.4m on the race, according to FEC filing; its biggest donors are Senate Leadership Fund, a GOP super-PAC run by allies to Majority Leader Mitch McConnell and billionaire casino executive Sheldon Adelson

NV: Democrat Catherine Cortez Masto raised $5.2m in Q3, according to campaign release

Democratic Senatorial Campaign Cmte TV ad features breast cancer survivor who attacks Republican Rep. Joe Heck for opposing federal funding for Planned Parenthood and abortion rights
Cortez Masto, the former state atty gen., and Heck are vying for seat of Democratic Leader Harry Reid, who's retiring

PA, WI: J Street, a left-leaning Jewish advocacy group, released TV ads critical of Republican Sens. Pat Toomey and Ron Johnson for aligning with Trump in opposing Iran deal, Politico reported

The Pa. ad, which ad-tracker Kantar Media/CMAG first captured on Philadelphia's ABC affiliate this morning, briefly praises Democrat Katie McGinty before closing with statement that both Toomey and Trump are "wrong"
Johnson opposed by ex-Sen. Russ Feingold in rematch of 2010 race
HOUSE RACES (Republicans hold 246-186 majority)
CA-49: Democrat Doug Applegate and the Democratic Congressional Campaign Cmte released TV ad featuring 9/11 first responder who lumped Republican Rep. Darrell Issa in with "Tea Party Republicans" who "voted to deny health care to 9/11 first responders"

Ad cites Issa's 2010 vote against so-called James Zadroga 9/11 Health and Compensation Act, which Democratic-led House passed in near-party-line vote
Issa campaign in statement noted his vote to extend 9/11 health benefits as part of 2015 omnibus spending law, while saying Applegate "shamelessly politicizes 9/11 for his own gain"

CA-52: U.S. Chamber of Commerce endorsed Democratic Rep. Scott Peters over Republican challenger Denise Gitsham in competitive San Diego-area district, The Hill reported

Peters had 65% score from business federation in 2015, when he voted for trade promotion authority and to repeal Obamacare's medical-device tax

FL-07: Republican Rep. John Mica and National Republican Congressional Cmte released TV ad of woman who says she's "forever thankful" for Mica's work on facilitating health benefits for military veterans like her husband, who served in World War II

DCCC released TV ad saying Mica and Trump's "harmful views on women" include opposition to abortion rights and federal funding for Planned Parenthood, adding that Democratic nominee Stephanie Murphy "will stand up to bullies" like them
After changes made in redistricting, FL-07 would have voted evenly between Obama and Republican Mitt Romney in 2012 election

FL-27: Democrat Scott Fuhrman released TV ad praising Obama's Cuba re-engagement policy and saying Republican Rep. Ileana Ros-Lehtinen "clutches to the past" and is "turning her back on the Cuban people"

Ad shows footage of Obama speaking in Havana in March
Ros-Lehtinen's campaign said Fuhrman using "old campaign playbook: trying to label Ileana as a one-issue congresswoman," Miami Herald reported
District includes Coral Gables and parts of Miami and Hialeah; after changes made in redistricting, Obama would have carried FL-27 by 53%-46% in 2012 election

IN-09: Republican businessman Trey Hollingsworth's campaign released TV ad linking Democrat Shelli Yoder to "Clinton's bad agenda" while saying Hollingsworth supports smaller government, term limits, and strong military

Hollingsworth and Yoder are seeking Republican-leaning southern district of Rep. Todd Young, who's the Republican nominee for Senate this year

MN-08: Sen. Bernie Sanders made campaign visit to University of Minnesota Duluth last night to aid Clinton and the re-election of Democratic Rep. Rick Nolan, KARE-TV reported

Nolan in rematch with Republican Stewart Mills in mildly Democratic-leaning district that includes Iron Range

MT-Statewide: Republican Rep. Ryan Zinke's campaign in TV ad ties Democrat Denise Juneau to "Hillary and Obama's agenda, including Obamacare," which Zinke describes as "one of the largest failures in the history of our country"

Montana voted 55%-42% Republican in 2012 presidential election; Zinke elected in 2014 by 55%-40%
Juneau, the state superintendent of public instruction, and Zinke have their third debate tonight at Great Falls College, Associated Press reported

NY-22: Democrat Kim Myers's campaign released TV ad saying her family-owned business "employs thousands across New York" in contrast with Republican Claudia Tenney's "wrong priorities" on jobs bills as state assemblywoman

Myers, whose father founded Dick's Sporting Goods, and Tenney seeking to succeed retiring Republican Richard Hanna in competitive district that includes Utica and Binghamton; independent Martin Babinec also running
Before it's here, it's on the Bloomberg Terminal.
LEARN MORE