Trump a 'Horror Film' for Mexican Cinema King Going Global
By
Cinepolis CEO concerned protectionism will increase costs

Company sourcing from U.S. amid expansion from Brazil to India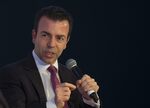 A Donald Trump presidency could make investing in markets from Mexico to Chile more expensive because of the candidate's promise to pursue a more protectionist U.S. trade policy, said the head of Cinepolis de Mexico SA, the world's fourth-largest movie theater chain.
The Nafta trade deal that Trump has pledged to end or renegotiate has been key to the economic development of Mexico, Cinepolis's home and biggest market, and the U.S., said Chief Executive Officer Alejandro Ramirez.
The company has relied on duty-free access to import sound and projection equipment into Mexico, and Hollywood studios provide the vast majority of the movies it shows at theaters in 13 countries. In addition, Morelia, Mexico-based Cinepolis spends millions of dollars a year on U.S. goods, from the corn that it pops at concession stands to the cheese for nachos, he said.
On the northern side of the border, Cinepolis has invested more than $130 million since opening its first U.S. theater in California in 2011 and provides 1,400 American jobs. The closely held company plans to open new premium theaters -- where waiters serve foods like lobster rolls and flatbread pizzas to moviegoers in reclining leather seats (imported from Mexico) -- in Texas, Ohio and Virginia, according to the 45-year-old executive.
"Many Americans don't realize that in the 22 years since Nafta was enacted the North American region has become highly integrated, and that's why we can compete with Asia and Europe," Ramirez, whose grandfather started the cinema chain more than four decades ago, said in a phone interview from Washington on Tuesday. "If Nafta ended, the ability to source from the U.S. would be compromised."
In response, Trump policy adviser and University of California professor Peter Navarro said that Nafta has been giving Mexico an unfair edge.
"Donald Trump wants the trade relationship with Mexico to be a true partnership in which both countries share equally in the gains from trade," Navarro said. "He will renegotiate Nafta in a way which remedies the current unfair trade relationship."
Entrepreneur Summit
Ramirez is part of a growing number of Mexican business elite who are speaking out about the risks they see should Trump win the election. He was in the U.S. capital to take part in a conference of the Association of Mexican Entrepreneurs, a group focused on helping Mexican businessmen achieve success in the U.S. and aiding Americans in doing business in Mexico.
Scheduled participants included Cemex SAB CEO Fernando Gonzalez, Mexichem SAB Chairman Juan Pablo del Valle and AES Corp. CEO Andres Gluski. The conference was aimed at highlighting the benefits of trade and integration in North America and the importance of Latino participation in the U.S. election.
Globally, Cinepolis will probably surpass 300 million ticket sales this year, up 15 percent from 2015, Ramirez said. He's most optimistic on growth in India, driven by middle-class expansion, and Brazil, where he said the chain will do well as an "anti-recession" alternative to more expensive forms of entertainment. Mexico remains by far his most important market, with theaters in 97 cities and market share of about 66 percent.
Trump has proposed ending or renegotiating the North American Free Trade Agreement, which has been key to Mexico moving from a largely closed economy to a global export and manufacturing powerhouse. He has also made immigration control a centerpiece of his campaign, promising to build a wall on the U.S.-Mexico border to stop illegal crossings that he says include "rapists" and "killers" and to use economic leverage to force Mexico to pay $10 billion for the wall.
"It's unfortunate that Mr. Trump says so many inaccurate things, and that he seems to be getting away with it in some respects," Ramirez said. "I do think that he would be a horror film for North America in particular."
Navarro said the U.S.'s trade deficit and job losses to Mexico is a "horror film" for U.S. workers.
After featuring in the first debate between Trump and Hillary Clinton on Sept. 26, Mexico came up again in the vice presidential debate between Mike Pence and Tim Kaine on Tuesday night. Kaine called on Pence to defend Trump's comments about Mexican immigrants and Pence showed a flash of irritation, saying "Senator, you whipped out that Mexican thing again." Pence said that while Trump had highlighted crimes committed by some immigrants, he also said that some of them are "good people."
Open Letter
Mexichem's del Valle published an open letter in August telling Trump that the U.S. deserves better than the fear and divisiveness the Republican presidential candidate has been peddling to voters. Del Valle wrote that he does not bring crime or drugs to the U.S. -- rather, he's invested more than $2 billion in the country over the past five years.
Ramirez said Mexican companies have invested more than $40 billion in the U.S. over the past two decades.
"A Trump presidency would introduce a lot of uncertainty in the world as a whole, not only North America, because of his inflammatory rhetoric and the things that he says with very little evidence regarding trade and immigration -- what we perceive in Mexico as hate speech," Ramirez said. "In general we've been a very good neighbor."
Navarro said Ramirez's reference to "hate speech" is "unfortunate rhetoric from a top CEO who must acknowledge the large social and economic costs that Hillary Clinton's open border is creating for the U.S."
The Mexican peso, which in recent months has repeatedly declined when Trump's election outlook improves and rallied when his odds of winning slump, gained 0.5 percent to 19.2276 per dollar on Wednesday.