Trump-Clinton Risks to Steer Aussie as RBA Keeps Powder Dry
by
Political risk to be main driver of sentiment: HSBC's Edwards

'Risk off' in wake of a Trump win could drag Aussie down: NAB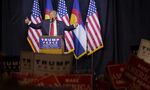 Monetary policy is set to take a backseat for investors looking at the Australian dollar as risks from the U.S. presidential election and the European Union's divisions come into sharper focus.
While Australia's currency has tended to move largely in sync with the yield premium it offers over other markets as well as resource prices, National Australia Bank Ltd. says the American election on Nov. 8 will be the Aussie's major driver in the coming weeks. Markets show the Australian central bank is unlikely to alter policy this year, meaning uncertainty over the U.S. vote, Italy's upcoming referendum and Britain's EU exit could be key.
The pivotal role of U.S. politics in driving risk appetite -- and in turn the Australian dollar -- was underscored at the first head-to-head debate between Donald Trump and Hillary Clinton on Sept. 26. The South Pacific currency, on course for its first annual gain in four years, climbed to a three-week high in the days following as opinion polls indicated that Clinton had gotten the better of the encounter and opened up a lead over Trump. It was at 76.11 U.S. cents as of 12 p.m. on Thursday in Sydney, up 4.5 percent this year.
For a story on currency risks and the U.S. election, click here.
"Political risk -- such as the U.S. elections, Brexit and the Italian referendum in December -- will be the main driver of risk sentiment in the coming months," said Paul Edwards, head of foreign-exchange corporate sales at HSBC Holdings Plc in Sydney. "Monetary policy doesn't seem to be drawing the markets' attention as it has till recently."
Swaps traders are pricing in less than even odds of a rate reduction by the Reserve Bank of Australia through the end of 2017, according to data compiled by Bloomberg. The probability of a rate increase from the Washington-based Federal Reserve by the end of this year was 62 percent, futures pricing indicated.
Traders have tempered their bets on further easing from the Australian central bank, which has already delivered two quarter point reductions this year to take its benchmark cash rate to a record low 1.5 percent. That's helped widen the yield premium that the nation's bonds offer over equivalent U.S. notes, with the spread on 10-year securities widening to 44 basis points from as little as 22 in August.
That comes as prices of raw materials, which underpin Australian exports, have climbed. "The higher commodity prices have supported a rise in Australia's terms of trade," the RBA said Tuesday as it left its cash rate unchanged. Coking coal prices have surged more than 150 percent this year as output from China, the world's biggest miner, tumbles under government pressure to cut overcapacity. Iron ore, Australia's biggest export, has rebounded 28 percent, though analysts are skeptical about the rally's durability.

Still, the Australian dollar has dropped 1.9 percent from its August high of 77.56 U.S. cents and the median forecast in a Bloomberg survey of analysts is for it to fall to 74 cents by the end of this year. Bullish bets on the currency by hedge funds and other large speculators held near the lowest level since July.
Ray Attrill, global co-head of foreign-exchange strategy at National Australia Bank in Sydney, said he expects the currency to be closer to 70 U.S. cents if a "big risk-off" move occurs in the event of a Trump victory, while it's likely to be around 75 cents if Clinton wins.
The two candidates are scheduled to face each other again in debates on Oct. 9 and Oct. 19. The first one saw them clashing over trade, the economy, race and foreign policy in an event that put on display their starkly different personalities and outlooks.
"The reality is that the U.S. election is set to be by far the biggest influence on the Aussie in the next four-to-five weeks," said Attrill. "With the RBA looking on hold this year -- barring a significant downside surprise in third quarter inflation later this month -- and the Fed out of play before December, I think risk sentiment is going to be the dominant influence."
Before it's here, it's on the Bloomberg Terminal.
LEARN MORE