Spend
The Best New Luxury Hotel Swag Costs Only $35
Who says a fancy souvenir has to break the bank?
By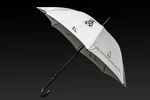 If only hotel amenities had been around in the Renaissance era, imagine the rich trinkets we could find in museums and bid on at auction. There might be lavish water bowls for pet monkeys and original Mona Lisa postcards via da Vinci.
Sadly, the history of hotel amenities started centuries after that, by some accounts, at Hampton Inns in the 1980s and ran more along the lines of little shampoo bottles. Things have changed: You can now get a real World Series trophy delivered to your Fenway Park Suite at Boston's Hotel Commonwealth, so you can take selfies with baseball's highest prize; or arrive at your rooms at the Ritz Hotel, Madrid to find immensely heavy, yet fluffy bathrobes already monogrammed for you. At the Shangri-La Maldives, guests are given mobile phones to facilitate moving around the property; also the number of their private butler is preprogrammed.

I have discovered a more elemental hotel amenity that's my new favorite thing: an umbrella, from the newly reopened Watergate Hotel in Washington, D.C. The sprawling property that was infamous in the '70s (and even earlier) for its associations with President Richard Nixon and wiretapping reopened earlier this year, after a nine-year shutdown and a $200 million renovation. The place has a powerfully groovy vibe; almost every place you look could be straight out of the sexiest old Bond films (Goldfinger all the way). There's the Next Whisky Bar with its curling wall of a few thousand backlit whisky bottles—full ones—and bold red chairs; the Gucci marble-lined ballroom with a twinkling-light ceiling that evokes a starry night sky; and the presidential suite, replete with panoramic views of the Potomac and voluptuous golden sofas (the Watergate is not afraid of gold anything). 

And then there's that umbrella. Tucked into the closet in every hotel room, it features seven sketches of the Watergate's high-styled staff: red-and-gray windowpane dresses that the female Whisky Bar servers wear; fitted suits with the Watergate's signature rectangular check worn by the men at the front desk; and, my favorite, handsome double-breasted black topcoats and homburg hats worn by the bellmen. It's all designed by Emmy-winning costume designer Janie Bryant, the genius behind Mad Men. 
If you weren't lucky enough to nab any souvenirs from the original incarnation of the Watergate—after the 1972 scandal, guests allegedly walked away with all the logoed items they could find, like towels and bathrobes—this new memento only costs $35, and you don't even have to break in or steal it.
Before it's here, it's on the Bloomberg Terminal.
LEARN MORE