Short Sellers Target Anhui Conch Amid China Bubble Warnings
by
Short interest is highest among Hong Kong-listed stocks

Anhui Conch has climbed this year on rising cement demand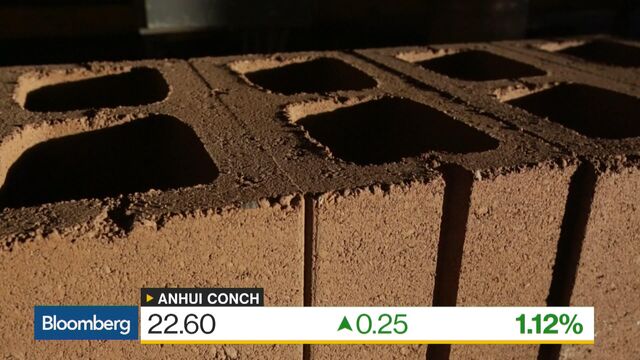 China's largest cement maker has become the most shorted stock in Hong Kong as debate intensifies over whether the country's property boom is sustainable.
Short interest in Anhui Conch Cement Co. climbed to 14.5 percent of its outstanding shares on Monday, the highest since February 2015 and five times the level seen seven months ago, according to the latest data compiled by IHS Markit Ltd. and Bloomberg.
Investors have increased bearish bets against the company as Goldman Sachs Group Inc. to Deutsche Bank AG warned that China's housing boom may not last and its share-price gains in Hong Kong outstripped those in Shanghai. Analysts disagree: they're the most bullish on the company in at least two years. For Castor Pang, head of research at Core-Pacific Yamaichi Hong Kong, the debate pivots on whether the government will be able to cool demand for real estate without sparking a selloff.
"It really boils down to how China's property market will perform in the face of stricter curbs," Pang said. "There's strong Chinese demand for cement, driving up Anhui Conch's share price and prompting brokerage houses to upgrade their recommendations. This view collides with the central government's recent restrictions imposed on the housing market which are worrying investors."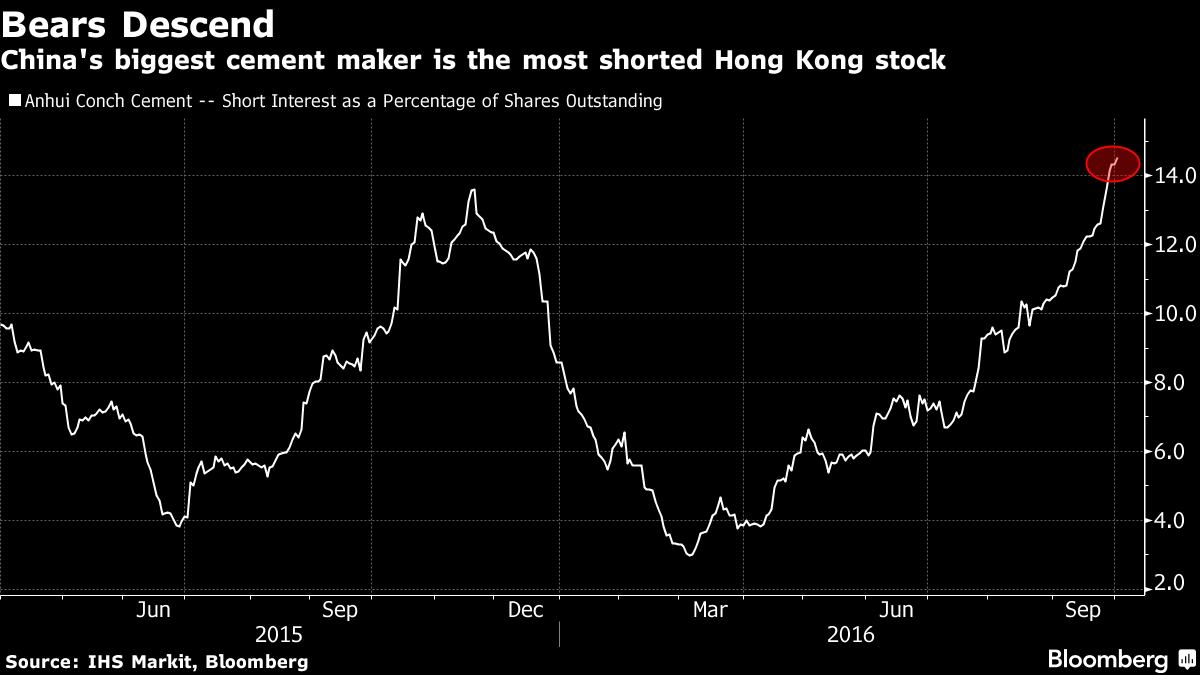 In recent days, administrations in several centers including Shenzhen, the city bordering Hong Kong, and Sichuan's provincial capital, Chengdu, have rolled out measures such as higher down payments and limits on purchases.
Anhui Conch isn't alone among manufacturers of raw materials in attracting short sellers. Wagers against China National Building Material Co. account for 11 percent of shares outstanding, making the company the third-most shorted among 470 listed companies in Hong Kong, according to Bloomberg calculations, while Aluminum Corp. of China Ltd. comes in fifth with 8.8 percent.
Two calls to Anhui Conch's headquarters in Wuhu city in Anhui province went unanswered, while no company official at its Hong Kong office was immediately available to comment.
Foreign investors have shown more confidence in the stock than their mainland counterparts. The company's Hong Kong shares have rallied 7.2 percent this year through Wednesday to trade at a 14 percent premium versus their Shanghai peers. That makes it the second-most expensive among dual-listed equities.
The stock rose 2.9 percent in Hong Kong on Thursday. Mainland markets are closed for holidays this week.
Bulls Stance
While warnings are growing louder that the housing market faces a reversal, analysts are undaunted when it comes to Anhui Conch.
Nineteen of 23 analysts tracked by Bloomberg recommend investors buy Anhui's Hong Kong shares, the highest proportion since at least 2014, while the stock is projected to rise a further 15 percent over the next 12 months, according to the consensus target price. Jefferies Group LLC raised its recommendation on Anhui to buy in an Oct. 4 report, citing higher earnings this year and the next.
"As long as property prices remain where they are now, developers will continue to sell as much as they can," said Po Wei, Hong Kong-based equity analyst at Jefferies. "Fourth-quarter demand especially for cement will remain definitely strong. I am pretty confident until the first half of 2017 that the property market will still grow. Beyond that, it really depends on how hard the government will crack down."
Before it's here, it's on the Bloomberg Terminal.
LEARN MORE