'Alphabet Soup' Is Behind a Famed Short Seller's New Bet
Marc Cohodes is betting against Canadian financials, pharmaceuticals, and gaming companies.
By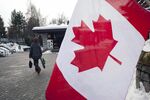 Twenty five minutes into a profanity-ridden presentation at Jim Grant's Fall 2016 Investing Conference in New York City, Marc Cohodes paused his speech to don a red jacket emblazoned with a maple leaf on the right breast.

So attired, the short seller proceeded to launch into his bearish theses for the collection of Canadian companies he's betting against.
Cohodes, the former managing general partner at Copper River Management and current chicken farmer at Alder Lane Farm in California, revisited the cases for why he's short Valeant Pharmaceuticals Inc., The Intertain Group Ltd., Concordia International Corp., and Home Capital Group Inc. 
At the conference on Tuesday he also unveiled a short position in Equitable Group Inc., a Toronto-based provider of mortgage financing which disputes Cohodes' claims about its vulnerabilities.
While Cohodes only manages his family's account at this time, he was praised as "the highest-profile short-seller on Wall Street" by the New York Times back in 2001. He's also one of the most rambunctious, having famously sparred with companies like Lehman Brothers, Overstock.com, Krispy Kreme, Adobe Systems, and Lernout & Hauspie, becoming well-known for his unusually blunt speech and theatrical antics that include throwing a penalty flag at an executive who refused to take his question.
Shares of Equitable tumbled in Toronto during the short-seller's presentation and ended the session down 6.3 percent, helped on their way by measures to cool the real-estate market that Canadian policy makers had announced the previous day.

When asked why the Great White North has proved such fertile ground for short-selling, Cohodes highlighted the nation's patchwork regulatory regime, which he dubbed the "alphabet soup bunch." Oversight of financial institutions, he noted, is much less centralized in Canada than it is in the United States. 
The crux of Cohodes' case against the mortgage provider lies in its exposure to Alberta, the oil-producing heartland of Canada, which is still reeling from the downturn in crude prices. The province's unemployment rate has spiked to 8.4 percent as of August, up from 4.9 percent in June 2014 when oil was still above $100 a barrel. "They have $1.2 billion of uninsured loan exposure in Alberta," he said. "That's 130 percent of book."
A second-quarter earnings report indicated that Equitable's provision for credit losses was less than one basis point of its mortgage portfolio. If Equitable's experience ends up anything like that of Texas banks during the last supply-side driven oil crash in the 1980s, loan loss provisions will move meaningfully higher going forward, he argued. Raising loan-loss provisions by 160 basis points would wipe out one year's worth of the company's earnings, according to Cohodes. 
Andrew Moor, president and chief executive officer of Equitable Group, disputed this reading in a phone interview. "In the last quarter we were able to report that arrears [in Alberta and Saskatchewan] had been reduced quarter-over quarter," he said in response to some of Cohodes' claims. "We've had no meaningful losses and don't expect to have any in the next little while." 
Most of the company's loans in Alberta are in Calgary and Edmonton, which are among the more diversified economies in the province, Moor added.
Cohodes opined that both Equitable and Home Capital Group Inc. — the other Canadian mortgage lender he's betting against — would be unlikely to pass stress tests required by the Office of the Superintendent of Financial Institutions (OSFI).
The short seller also alleged that Home Capital has been "staged" — that is, has been categorized by OSFI as having deficiencies with either its financial condition, policies, or procedures.
"I happen to believe and believe strongly that HCG is being staged by the banking regulator in Canada," he said. "I would love for them to deny it."
Cohodes did not provide evidence for this claim in his presentation, and Home Capital declined to comment through an external spokesman. A spokesperson for OSFI said the regulator is unable to discuss individual financial institutions it regulates and supervises.
In July 2015, the lender revealed that income information on some loans it originated had been falsified. The stock price, which has been a frequent target of short-sellers, is virtually unchanged since this news became public, and closed at C$26.67  ($20.21) on Tuesday.  
In some cases, Cohodes' battles against Canadian companies have turned personal, as is the case with Concordia International, the pharmaceutical firm headquartered in Oakville, Ontario.
Mark Thompson, the company's chairman and chief executive officer, is suing Cohodes in Ontario for defamation and libel over comments the short seller made about his work history. That spat began in late April, when shares were hovering around C$30 ($22.73). They've since slipped by more than 75 percent.
Calls to Concordia International and emails to Mr. Thompson were not immediately returned. "You're going to have to get a chain and put it around my neck to drag me off his carcass," the short-seller said in reference to Thompson. 

And with that, amid nervous laughter from the audience, Cohodes' speech drew to a close.


Click here to listen to an interview with Marc Cohodes on the social benefit of short sellers, and why Canadians can't stand it when someone bets against a domestic company.
Before it's here, it's on the Bloomberg Terminal.
LEARN MORE