Samsung Targeted by U.S. Activist Elliott Urging Separation
By
Elliott entities want Samsung to break in two, Nasdaq listing

Pressure comes as Samsung struggles with smartphone recall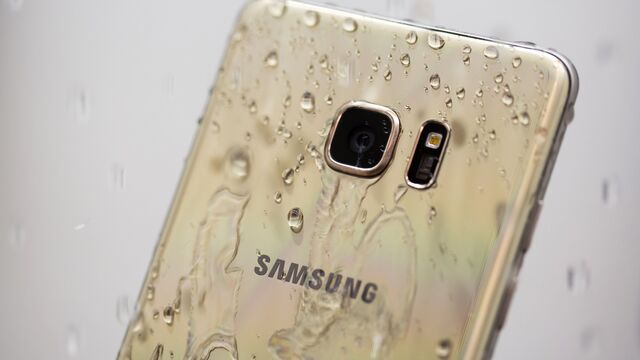 Samsung Electronics Co. is being urged by activist investor Elliott Management Corp. to restructure a business that spans Galaxy smartphones, televisions, semiconductors, screen displays and other consumer electronics.
In a 10-page letter and 31-slide deck released publicly and to Samsung's board on Wednesday, affiliates of Elliott -- Blake Capital LLC and Potter Capital LLC -- called on the company to streamline and separate into two, conduct a tender, dual-list its resulting operating company on a U.S. exchange such as Nasdaq, pay shareholders a special dividend of 30 trillion Korean won ($27 billion) as well as ongoing regular dividends, and improve governance by adding three independent board members, among other steps.
Separating Samsung into an operating company and a holding company would deliver both organizational and tax benefits, while simplifying now-complex family holdings and treasury stock that are an overhang on Samsung's valuation, according to Elliott. Dual-listing the separated operating company on Nasdaq would boost trading volumes and allow more international investors exposure to the core electronics business, helping Samsung trade higher, Elliott said.
Smartphone Recall
The detailed proposal comes at a critical time for the South Korean electronics conglomerate. The company has been operating without longtime Chairman Lee Kun-Hee, who has been hospitalized, while also trying to navigate the aftermath of the disastrous launch of its latest Galaxy Note smartphones, which had to be recalled after batteries were bursting into flames.
Samsung heir apparent Lee Jay Yong, who's been helping to run the company since his father suffered a heart attack in 2014, was nominated to the company's board last month, teeing him up for a bigger role. Samsung has said Jay Y., 48, would become more involved in strategic decision-making. Now co-vice chairman, he's expected to be formally elevated to the nine-person board after a shareholder vote this month. Because scions in South Korea don't typically succeed a living parent, it's unclear when he would ascend to the top job.
Global Investors
The looming succession may make Samsung more open to Elliott's proposals. In one sense, Elliott's providing a blueprint for how Samsung could gain the support of international shareholders by simplifying the conglomerate's structure and making necessary changes while keeping control.
Entities controlled by Elliott, the hedge fund run by billionaire Paul Singer, own about 0.62 percent of Samsung. International investors own almost 60 percent of Samsung, and two-thirds of the company's shareholders would have to vote in favor of such a sweeping restructure.
Elliott's plan creates a path for the Lee family to consolidate much of its ownership at the holding company level. That holding company would likely own about 20 percent of the operating company, and would collect its dividends tax-free. It also separates the operating businesses from some legacy cross-holdings, enabling global investors to own a streamlined electronics giant.
Previous Fight
It's not Elliott's first foray into Korean corporate governance. Last year, Singer's Elliott Associates LP started a proxy fight to contest the proposed merger of two of Samsung's units. The Lee family's Cheil Industries Inc., Samsung's de facto holding company, bid to acquire Samsung C&T Corp., a publicly traded construction company that owned more than $10 billion in shares of Samsung Electronics and other Samsung Group companies.
In that battle, Samsung narrowly defeated Singer when Samsung C&T investors accepted an all-stock buyout from Cheil. Elliott's proposal Wednesday includes a call for Samsung C&T to be merged with the holding company after the parent separation "on fair terms."
Elliott's current proposals "will deliver better capital returns, better corporate governance, and enhanced shareholder value, for all Samsung Electronics' shareholders -- whilst simplifying, and retaining the founding family's controlling interest in, the current Samsung group corporate structure, for the benefit of all stakeholders," the activist wrote in the letter.
Asian Activism
U.S. activists have had mixed success tackling Asian companies. Notably Dan Loeb's Third Point LLC has emerged as one of Japan's most frequent agitators, recently targeting Seven-Eleven retailer Seven & i Holdings Co., robot maker Fanuc Corp. and entertainment giant Sony Corp.
While Japan has taken notable steps recently to improve transparency and address shareholder returns, its companies still have one of the lowest rates of independent directors compared with Group of Seven peers.
Elliott has been one of the busiest activist investors in recent years, but hasn't started a U.S. proxy battle since Hess Corp. in 2013. The firm pushed for an overhaul at EMC Corp., which soon agreed to be acquired by Dell Technologies in a deal completed last month. 
Aggressive even by hedge-fund standards, Elliott is probably best known for a battle with Argentina's government over that nation's 2001 bond default. Argentina settled this year.
Tech Targets
The hedge fund often targets technology companies and prods for strategic deals. CDK Global Inc. reached a settlement with Elliott in August, agreeing to add two independent directors to its board, and Citrix Systems Inc., which added Elliott's U.S. activism head Jesse Cohn to its board last year, is merging its GoTo business with LogMeIn Inc.
Started by Singer in 1977, Elliott Management's two funds invest across all its strategies, which include long-short hedge funds, distressed credit, arbitrage, real estate and shareholder activism. The firm recently branched out into private equity, starting Evergreen Coast Capital Corp., which agreed in June to acquire Dell Inc.'s software unit in partnership with Francisco Partners Management.
— With assistance by Jing Cao, and Adam Satariano
Before it's here, it's on the Bloomberg Terminal.
LEARN MORE